Happy Wednesday, peeps! It's another edition of The Daily Dime, and I wanted to change things up a bit. Last week, I shared with y'all my version of the perfect fall capsule wardrobe, but I didn't make much fuss about it because I was crunched for time. So this week for our daily dime, I thought I'd put together 10 outfits from said capsule wardrobe. Fun, huh?
*Don't forget to link up at the bottom of the post to our link party or check out all the other Daily Dime blog posts. There's also a giveaway you don't want to miss, so read all the way through. ;)
The past week has been such a nice relief from rain and heat here in Houston. Even the mosquitos have kept their distance. What does all that mean? I've thrown on jeans and leggings and haven't had to sweat about it.
To recap from last week, here are our essentials for our fall capsule wardrobe.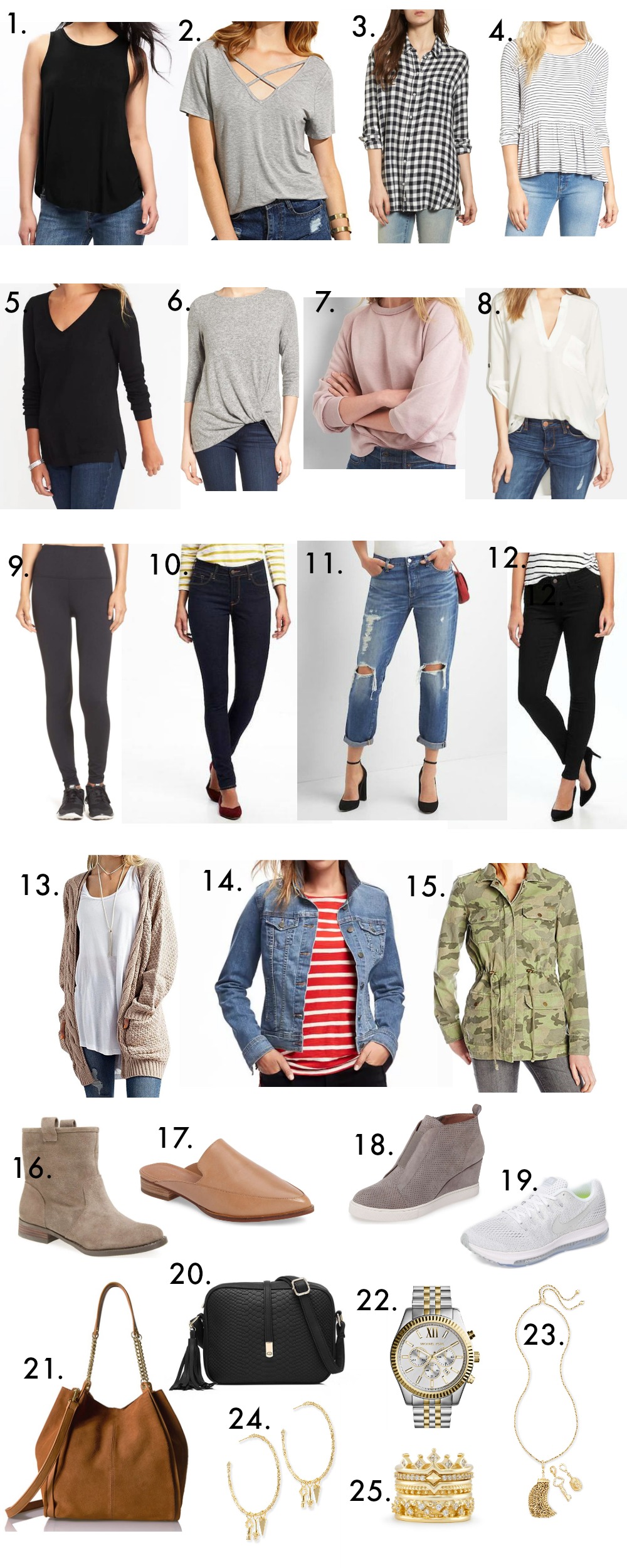 *Affiliate links used below.
Now remember, a capsule wardrobe is something you can invest in because you probably already have most of the essentials in your closet. Which means, you can go ahead and splurge a little on a new pair of shoes or jacket. You're going to wear these pieces A LOT. Therefore, I give you permission to invest in yourself. You're welcome.
Here's what you need:
1.  black tank or black tee
2. gray tee (size up!)
3. black & white gingham button down
4.  stripe peplum tee or long sleeve stripe tee
5. black oversized sweater (size up so you can layer)
10. dark skinny jeans or dark bootleg jeans
11. distressed skinny jeans or distressed boyfriend jeans
13. neutral cardigan (size up!)
14. jean jacket
15. camo utility jacket (size up!)
16. neutral booties
17. mule loafers or these most comfortable mules with tassels
18. wedge bootie
21. suede tote
24. gold hoops
25. stackable rings
Now, who's ready to see ten ways to style some of these pieces?
ONE.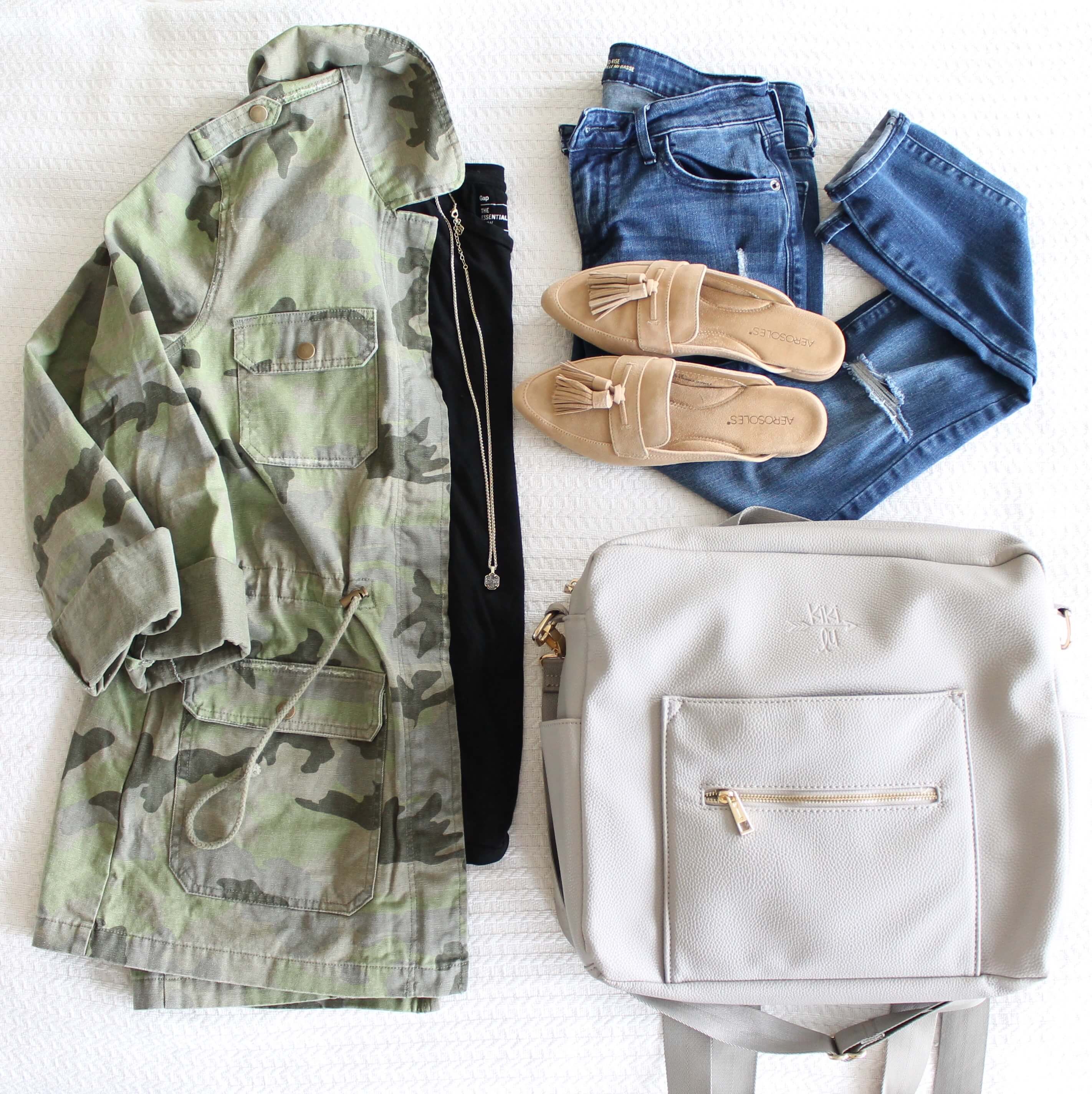 Want to hear a funny story about this flatlay (for my non-blogging friends, a "flatlay" is handmade collage of items to showcase an outfit or products–you see them quite often around here)? Yesterday, I created this super duper outfit flatlay, and in order for me to get the best photo and to make sure the products were in a square frame on my camera, I had to stand on my barstool in my bedroom because I laid out these items on my bed.
Anywho, as I was snapping a few pictures making sure the lighting was good, I lost my balance and began to feel a wobble beneath me. It took me two seconds to realize what was going on, and BAM! My thirty-five-year-old body went crashing down, pulling every muscle I have and severely bruising my tailbone and rear. I also bruised my calf somehow. Where was my family? All in the other room so I could work and bring you this beaut of a picture.
I didn't scream when I fell because I didn't want to scare my kids, and I'm pretty sure I was embarrassed. Who. Does. That. Now you know the behind the scenes of what looks like a great photo but how silly bloggers can be to get the right shot. I am one hot mess of a blogger behind the scenes. For the love.
Now back to the fashion at hand. This camo jacket is a hot item this season, and I love it! I ordered a size up, because I hate when my jackets are tight. The reviews on Amazon also told me to size up as well.
These tassel mules just came in, and they are the most comfortable shoes in my closet! I want to wear these with everything. I probably will.
That big ol' backpack of a purse is my diaper bag. It was my sister's gift to me before Colin arrived, and it's my go-to.
So the rest of my outfit pictures aren't flatlays. Regular computerized collages had to do. I'm still in pain, y'all.
TWO.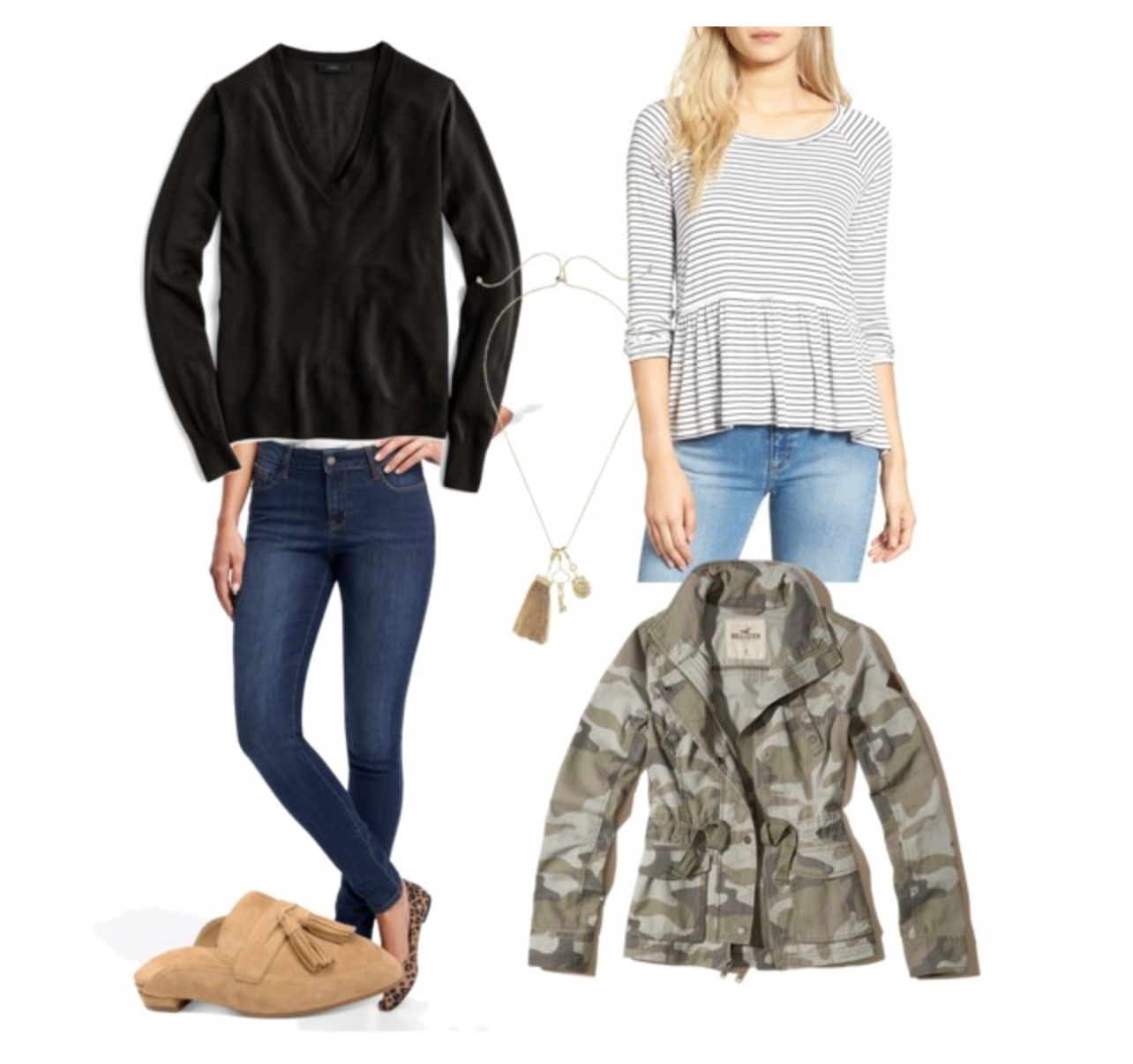 black sweater layered over striped peplum tee, dark skinny jeans, camo jacket, and tassel mules
THREE.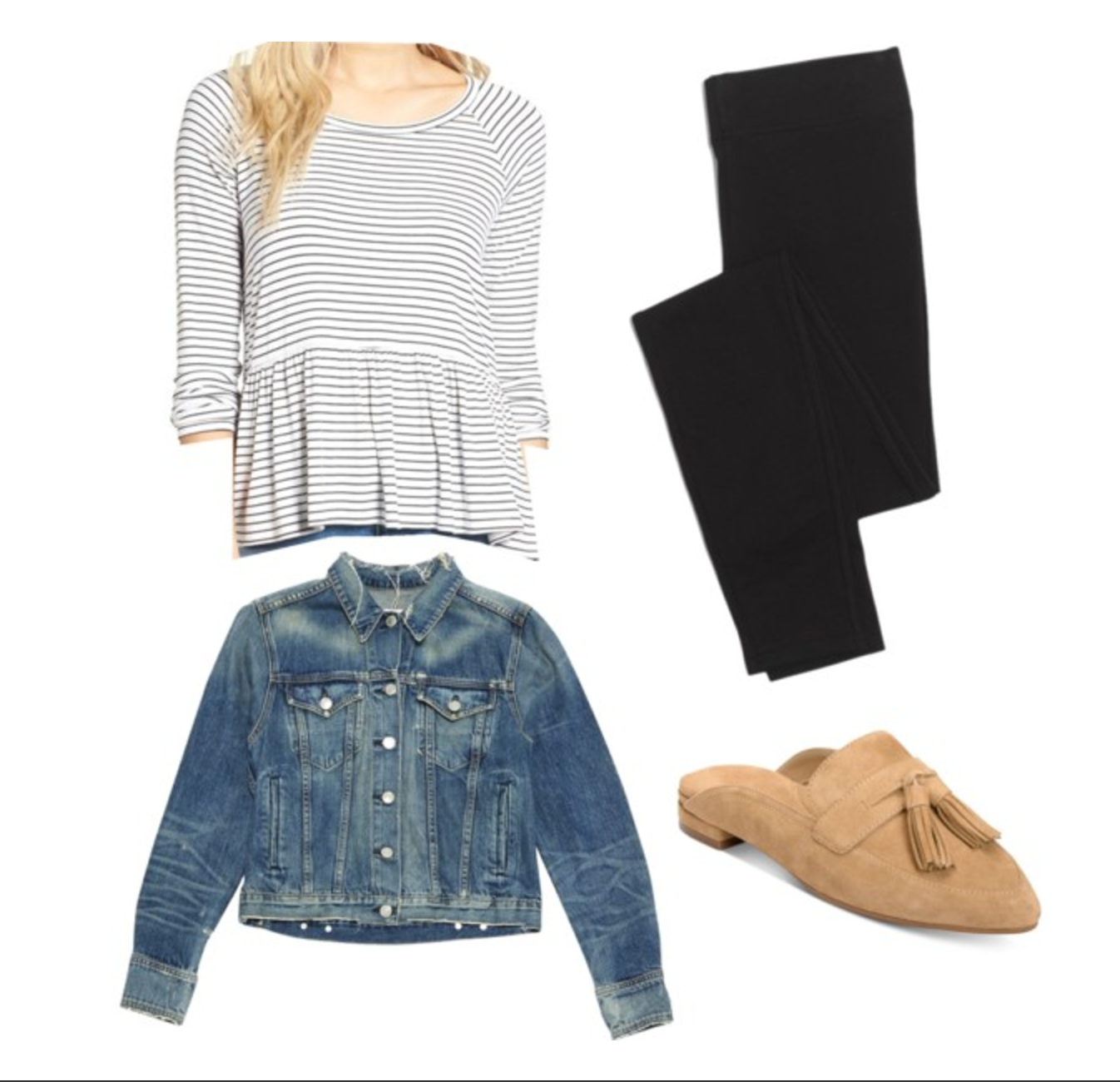 striped peplum tee, black leggings, blue jean jacket, and tassel mules to step things up a notch
FOUR.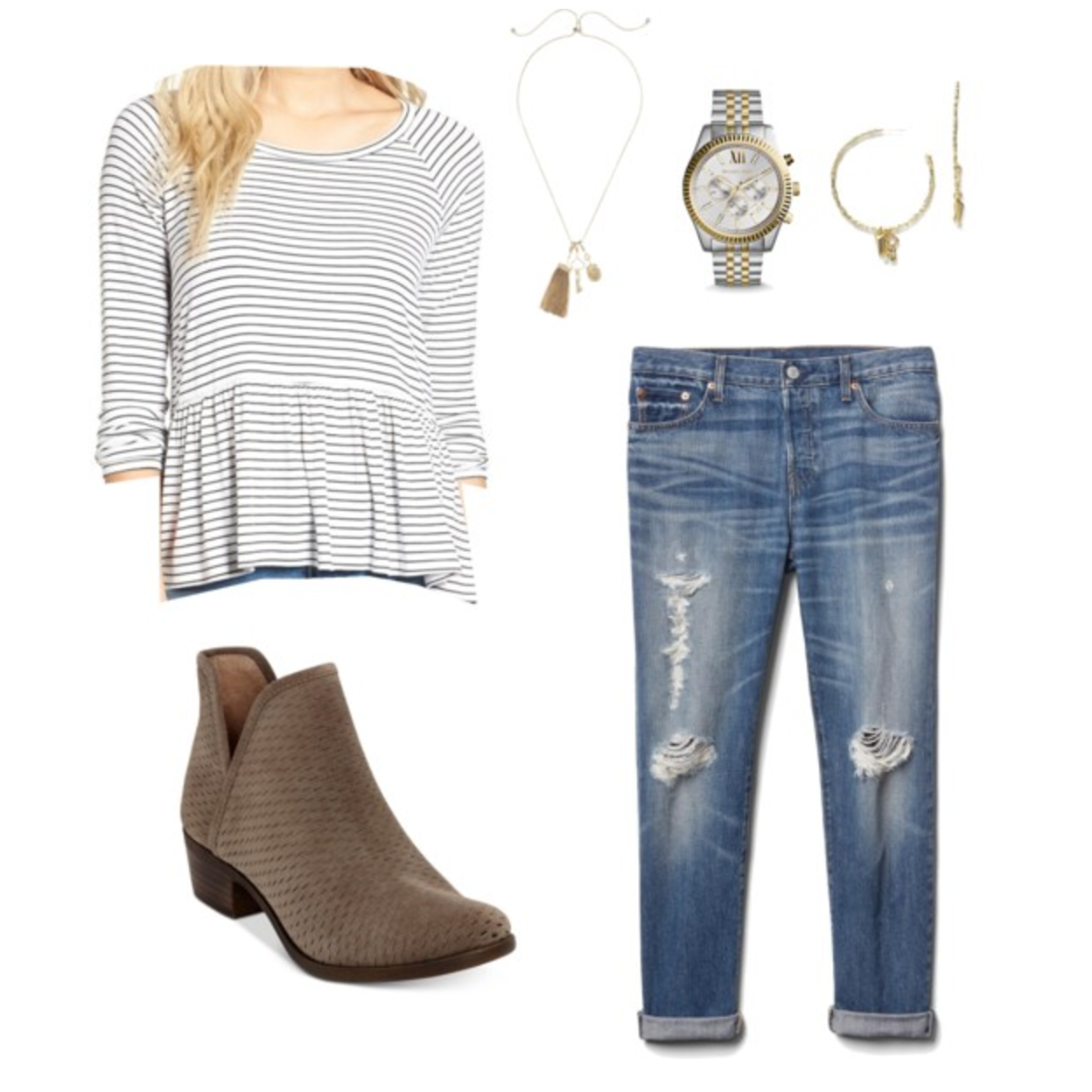 striped peplum tee, boyfriend jeans, booties, and my favorite Kendra Scott jewelry and watch
FIVE.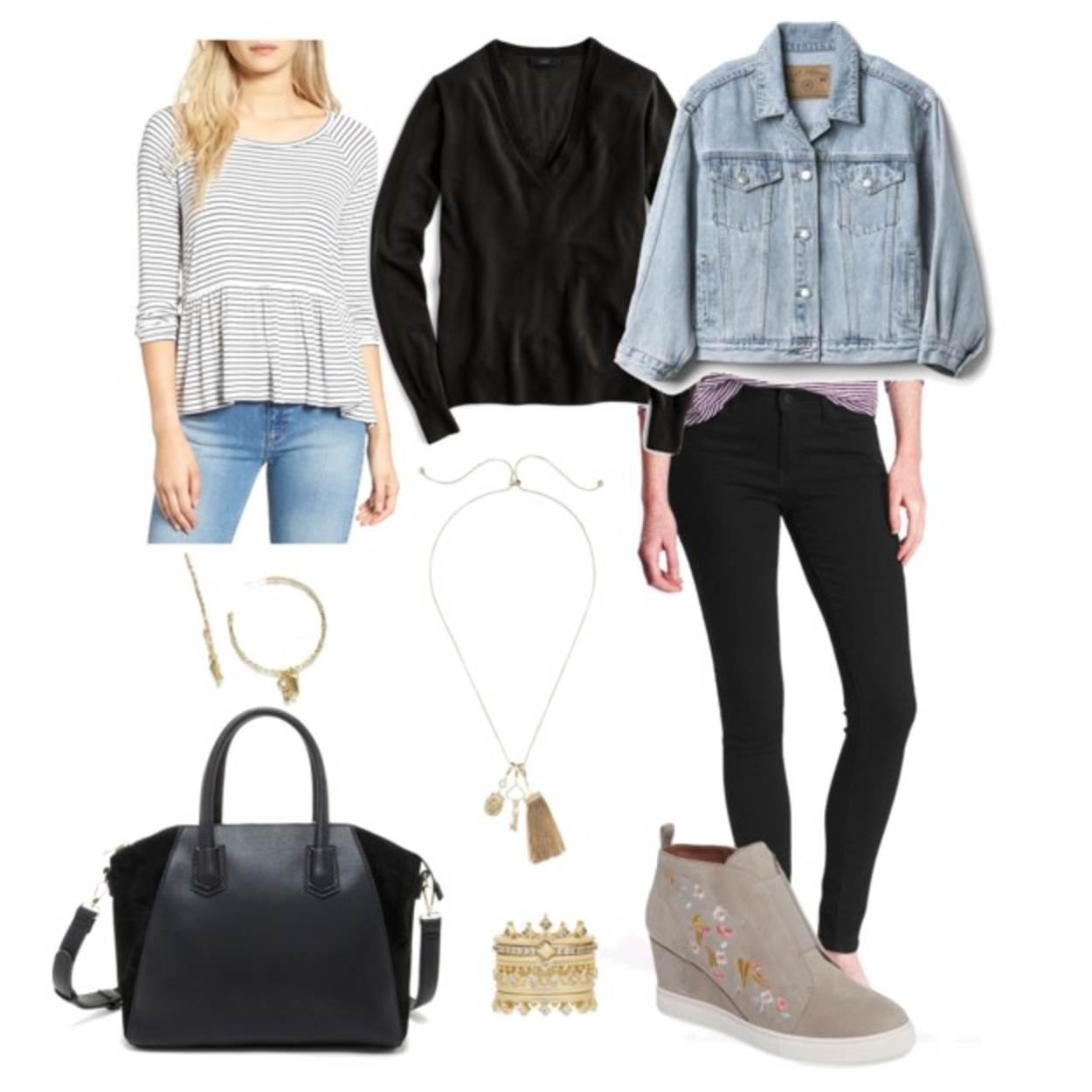 layers, layers, layers: striped peplum tee under black sweater paired with the blue jean jacket, fun KS jewelry, wedge booties, and cute black purse
SIX.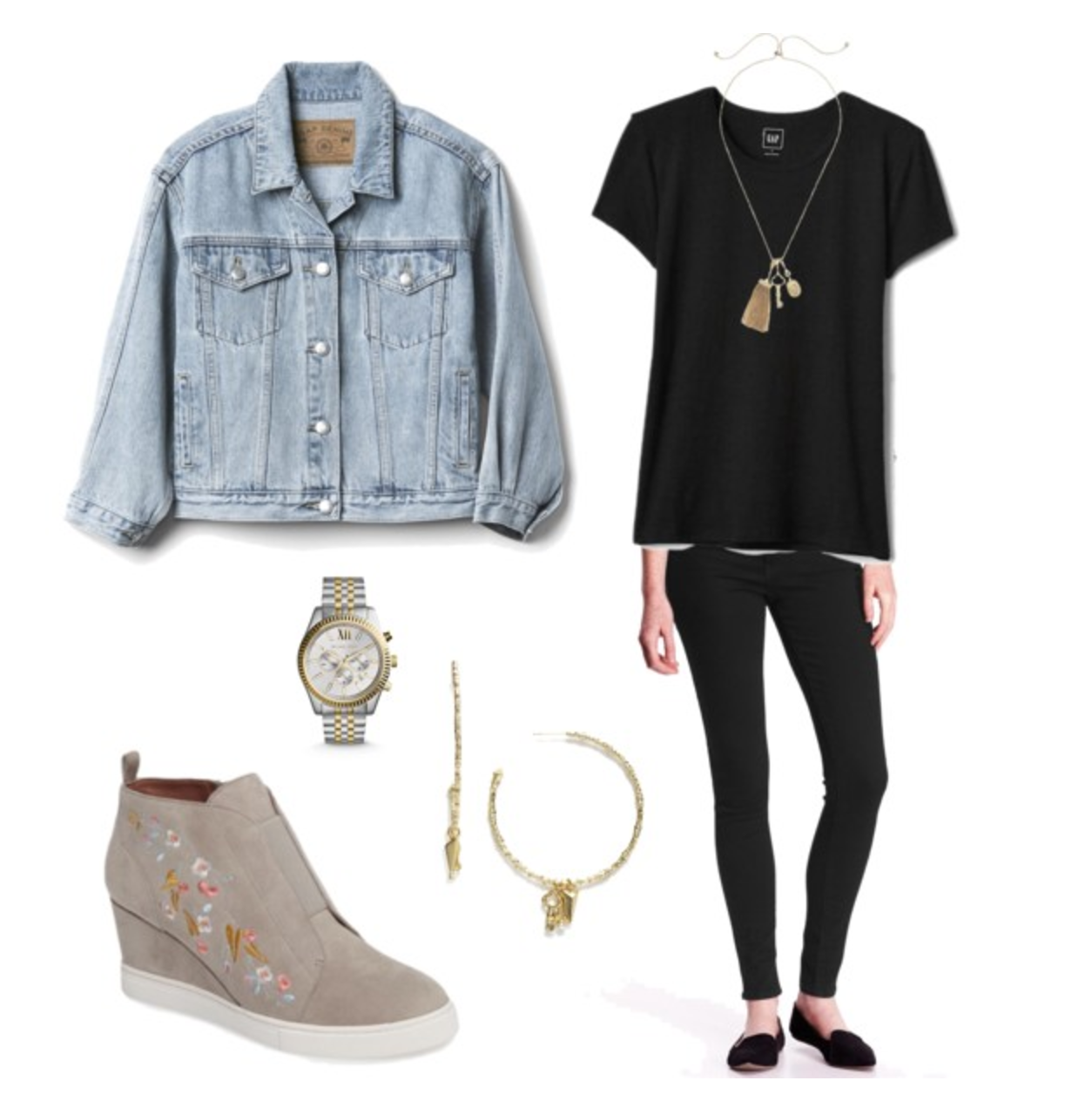 black skinny jeans, black tee, blue jean jacket, favorite jewelry, and wedge booties
SEVEN.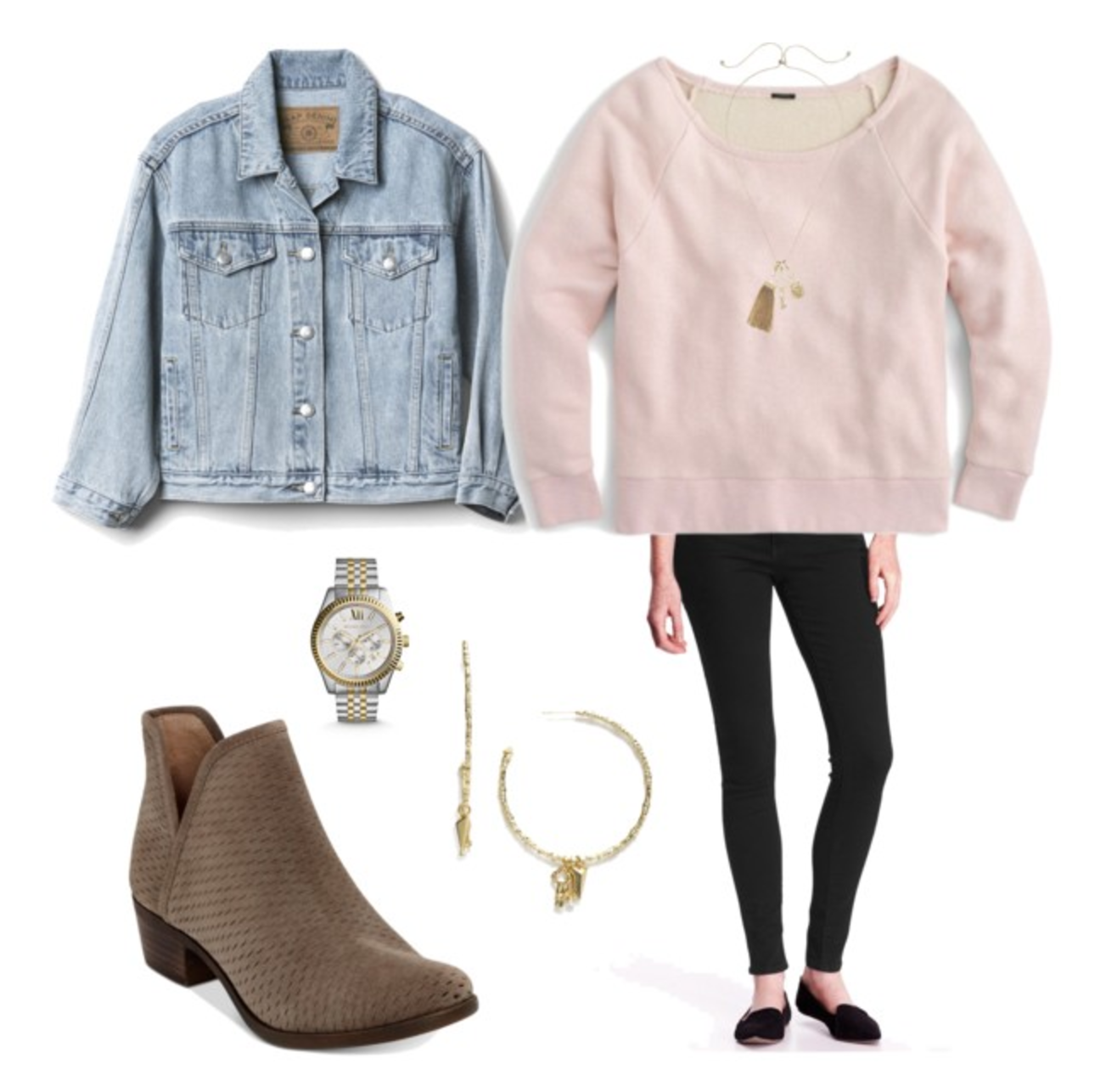 black skinny jeans, pink sweatshirt, blue jean jacket, fun jewelry, and booties
EIGHT.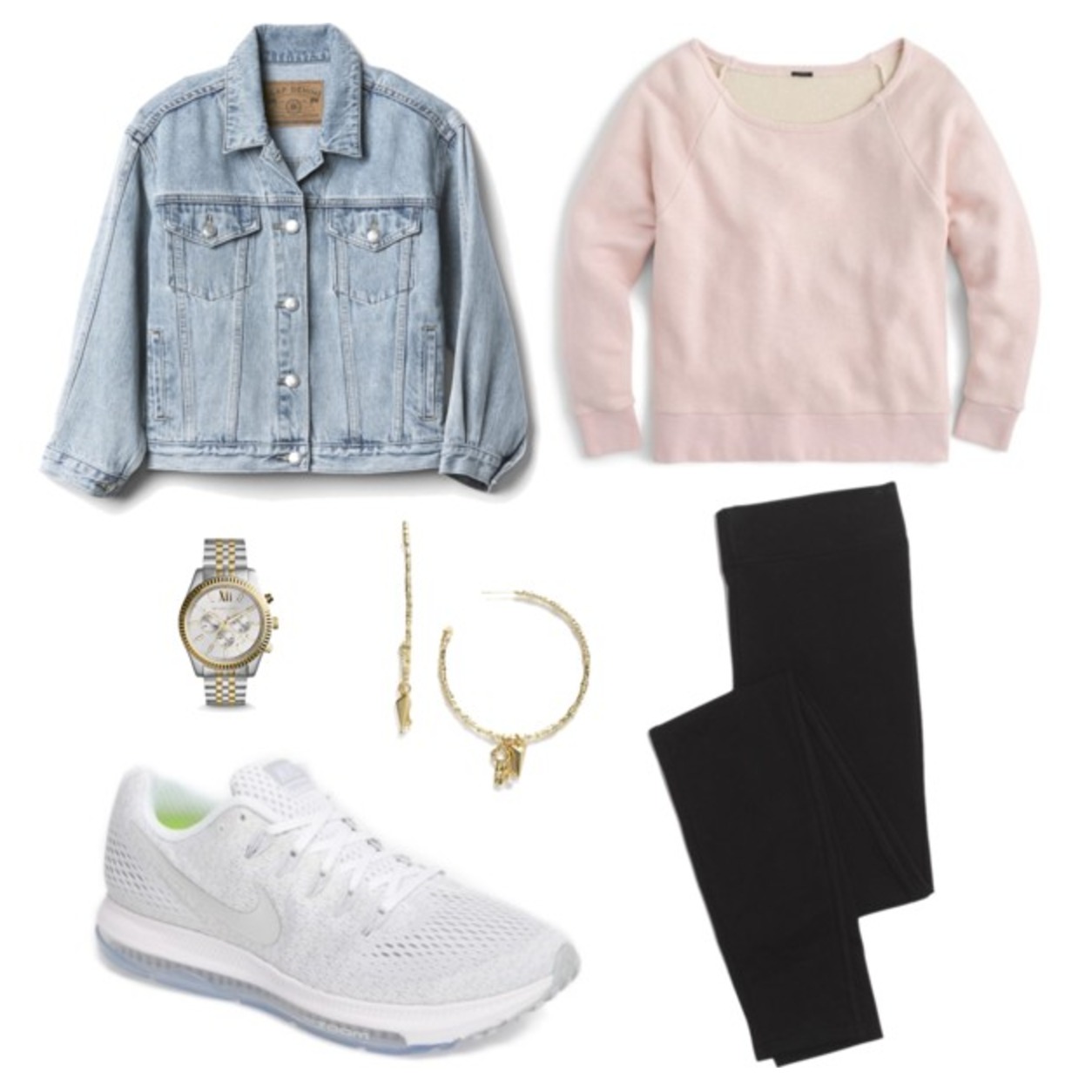 Athleisure at its finest. Pink sweatshirt, black leggings, blue jean jacket, hoop earrings, white Nike's
NINE.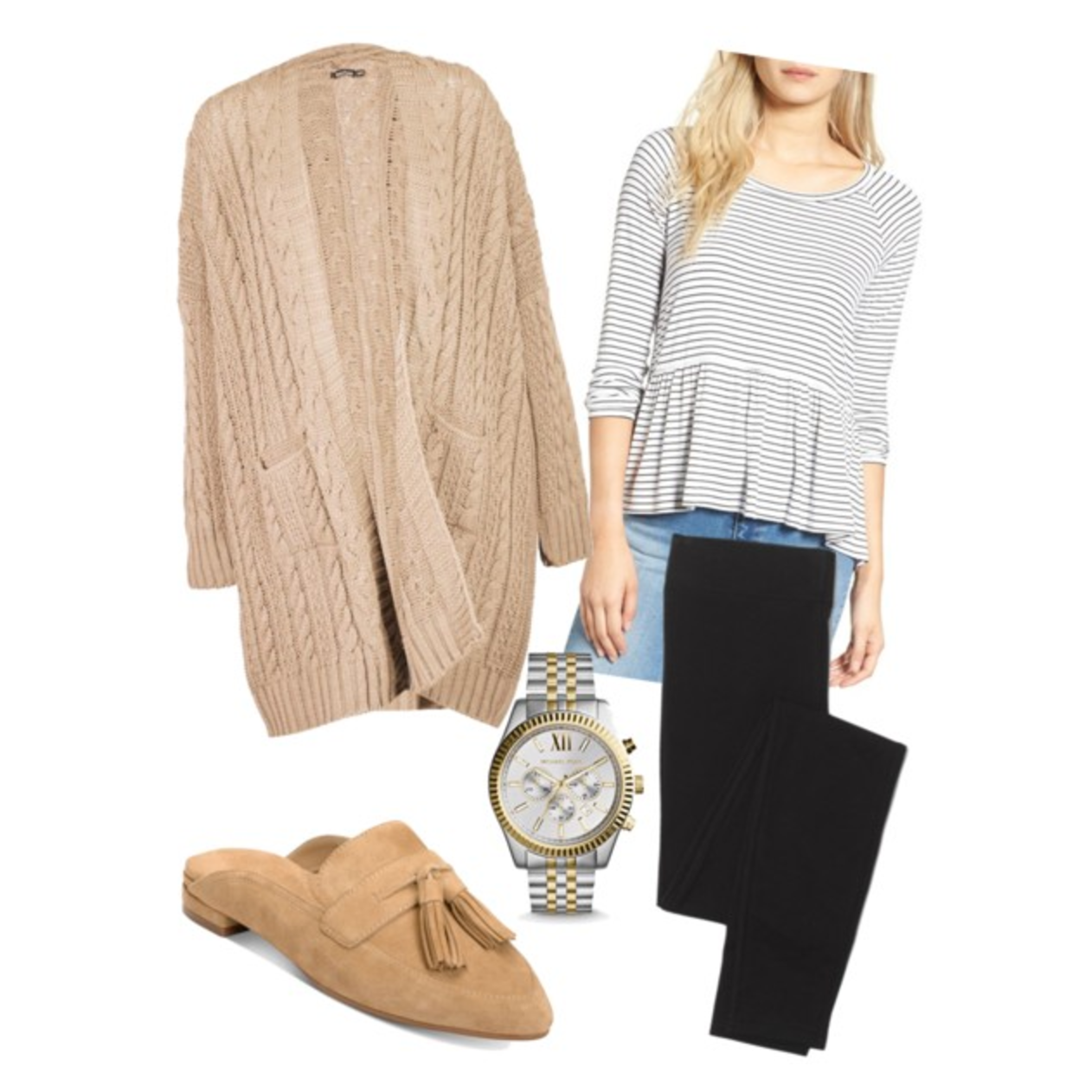 peplum tee, black leggings, chunky cardigan, tassel mules, watch
TEN.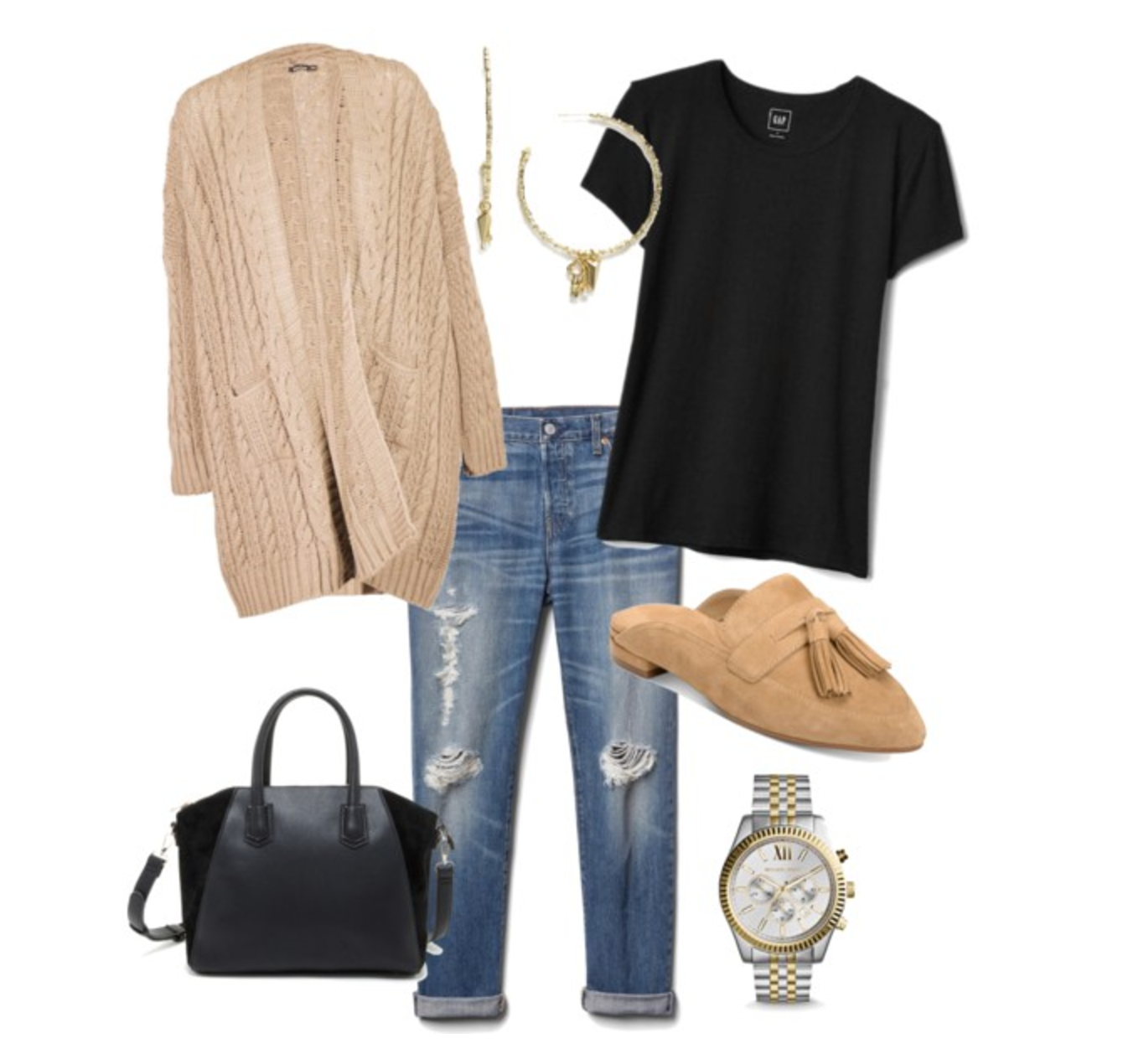 My go-to momiform at all times in the fall: black tee, chunky cardigan, boyfriend jeans, tassel mules, fun jewelry and black purse
As you can see, I created 10 outfits and didn't even put a dent in all of the 25 items. You will be set! We'll chat next week about more ways you can style each piece and how to keep your closet from ever going stale.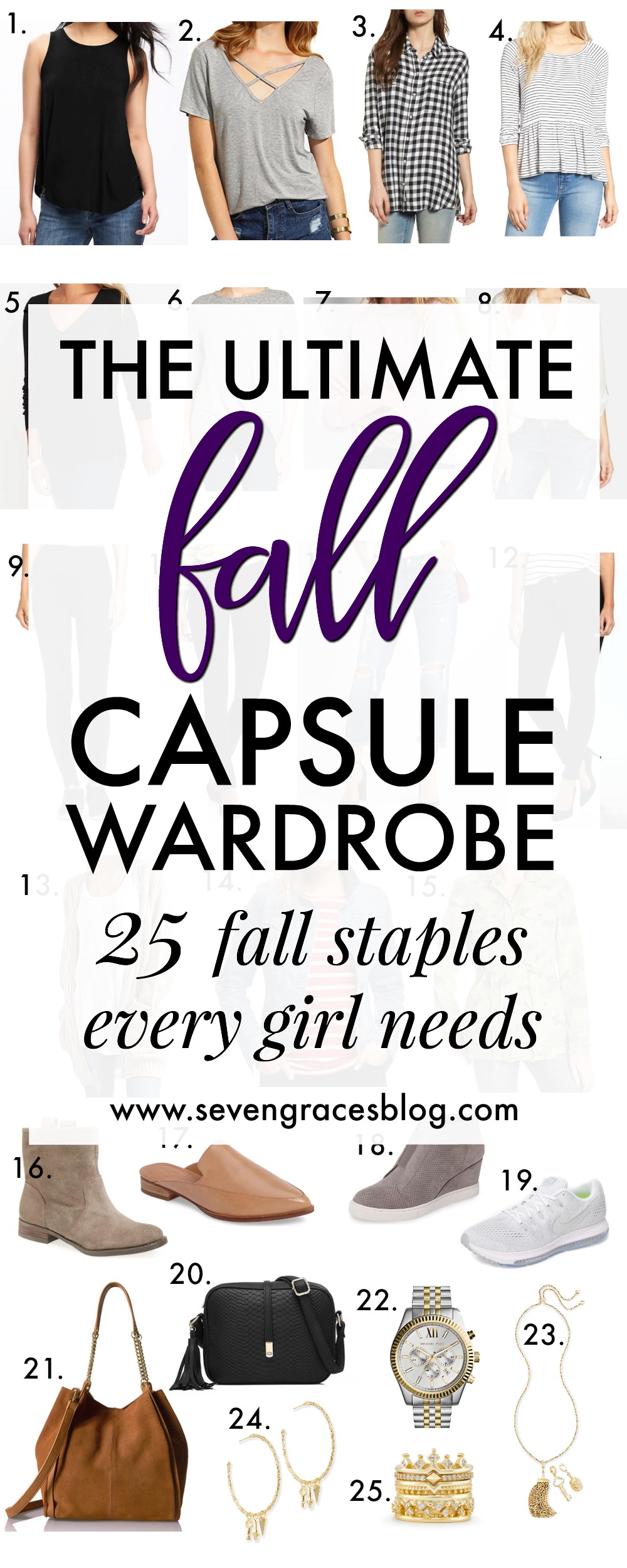 The Daily Dime Linkup
What does your day look like? Join the link-up below and let me know. This one will be open for two weeks, and be sure to mark your calendars for Wednesday, September 13 for next month's linkup. :) Can't wait to see what you're up to!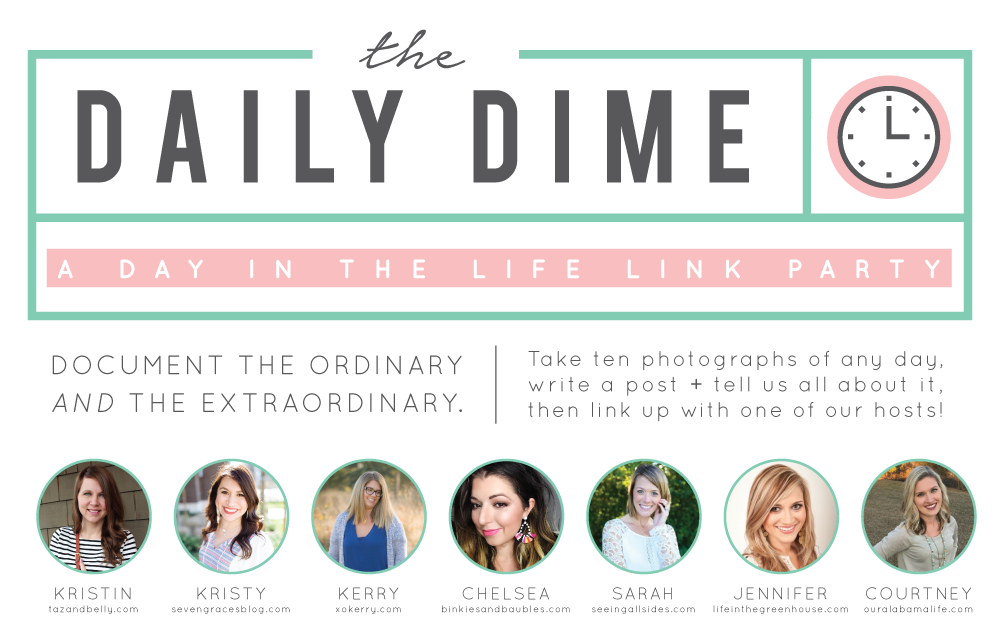 Join any of our hosts or our guest co-host Jacqui German from Drink the Day.
Have a good one, friends!