I'm pretty sure I've mentioned this before, but I have been super lucky to have met some of the greatest ladies through blogging. We not only talk about life and regular friend stuff, but we also talk about writing and blogging, too. Today, I've partnered with some of my favorite blogging friends to give you what we're calling the Better Blogging Blog Tour. Want to learn some new tips about vlogging, growing your Twitter account, blogging with your BFF, getting published on the Huffington Post, switching to Word Press from Blogger, or using Pinterest, Instagram and Facebook pages more effectively? Then you are in the right place. This is like a blog conference but in a one-stop shop to have at your fingertips. Now, we will say that none of us are actual experts in the world of blogging, but we have all learned a thing or two about it, and we wanted to share what we know. I always love to hear how other people do things to see how I can improve whatever I'm doing. I love learning. And I love these ladies. So my hope is that you'll take away some new tips and tricks to help a blogging sister out. Now let's get started.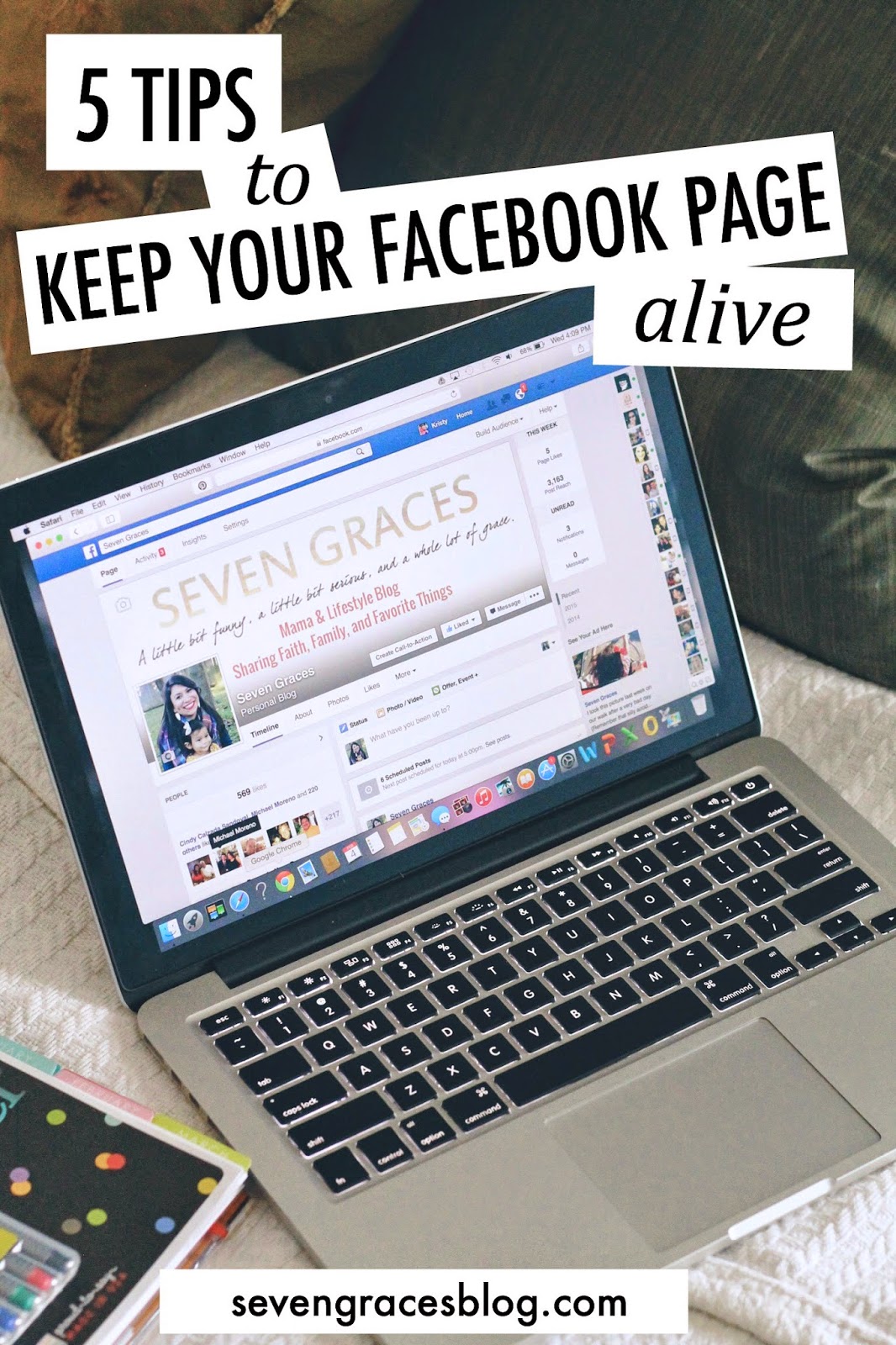 Do you have a Facebook page? Do you get discouraged when you see that one of your Facebook posts reaches about 10 people or .001 percent of your Facebook fans (like-ers?)? I do, too! But there are answers to fix that.
Back in September, I attended
my first blog conference
where I got to listen to Holly Homer explain the ins and outs of utilizing your Facebook page. She is an expert on the matter and listening to her for that hour made my conference. I took what she taught me and put it in action. I've seen tremendous growth since then. Here are the 5 things that I'm doing to keep my Facebook page alive amidst the ever-changing algorithms. You most certainly can do them, too. (To make your life easier, you'll need the Facebook app, the Facebook
pages
app (and make sure it's the latest version), and your computer.)
1. Share quality content.
This should be no surprise. If you're a blogger looking to improve your craft, you've probably heard this a time or two in regards to your blog. Your Facebook page is no different. You are cultivating the same culture as you are on your blog. My blog is about faith, family, and favorite things. So what do I share on my Facebook page? The same thing. If I see something that I think my Facebook community will like, I save it. This is what I do.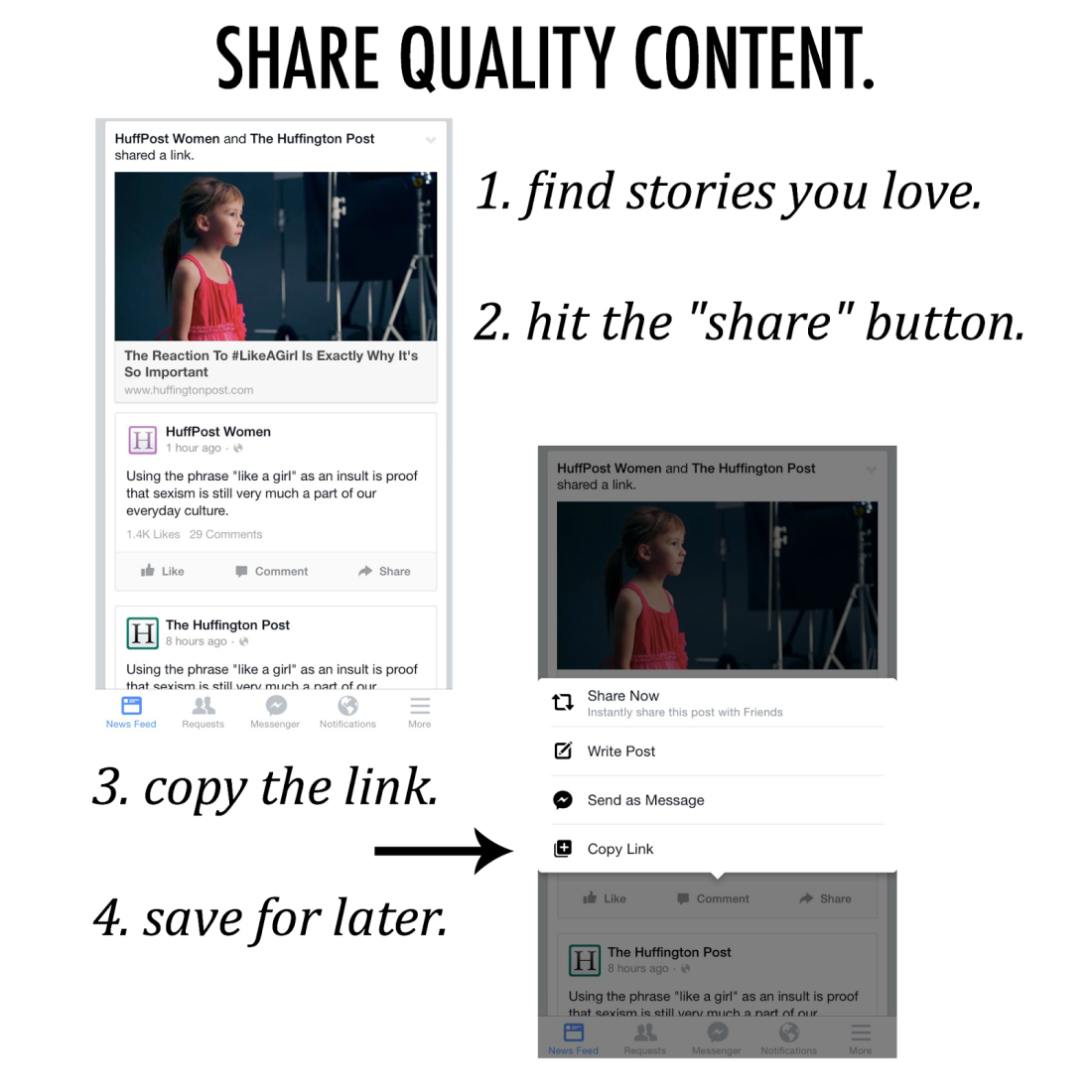 Using a mobile device, I skim my Facebook feed and find articles I love. I follow the best pages in my field (mommy & faith pages). Once I find an article I know my people will love, I copy the link (see directions above), and then I message it to myself using iMessage because it will pop up on my computer. You could save the links in your phone's notepad or start a running email if you don't want to message it to yourself or don't have iMessage.
The point is to find as many posts, pictures, and videos you want to share with your audience as possible, because the key to showing up on people's newsfeed is to NOT be 100% promotional of just your blog. Facebook loves when we share other pages' posts and other sites' content. Why? Because Facebook wants active users. They want content finders. They want people to in turn share it with others. You'll want a 50/50 ratio meaning 50% your content and 50% other pages' content. When I have a good tally of things I want to share, it's time to schedule them.
2. Schedule your posts using Facebook's scheduler.
You're going to want to schedule your posts for your page. I schedule about 6 posts each day. Some people do far more and some far less. But this is what is working for me right now.
For this article's purposes, I'll assume you don't know how to schedule a Facebook share/post via the Facebook scheduler. I had no clue I could do this until about six months ago. When you see my posts pop up on your newsfeed, I'm not sitting by Facebook all day sharing away. I've actually scheduled the post. Mind blown when I found I could do this. You also don't want to use an outside scheduler such as Hootsuite or Co-Scheduler. Facebook is a like a jealous girlfriend and will not share your posts to the masses when you use something other than its own.
Here's my method to scheduling posts using Facebook's scheduler.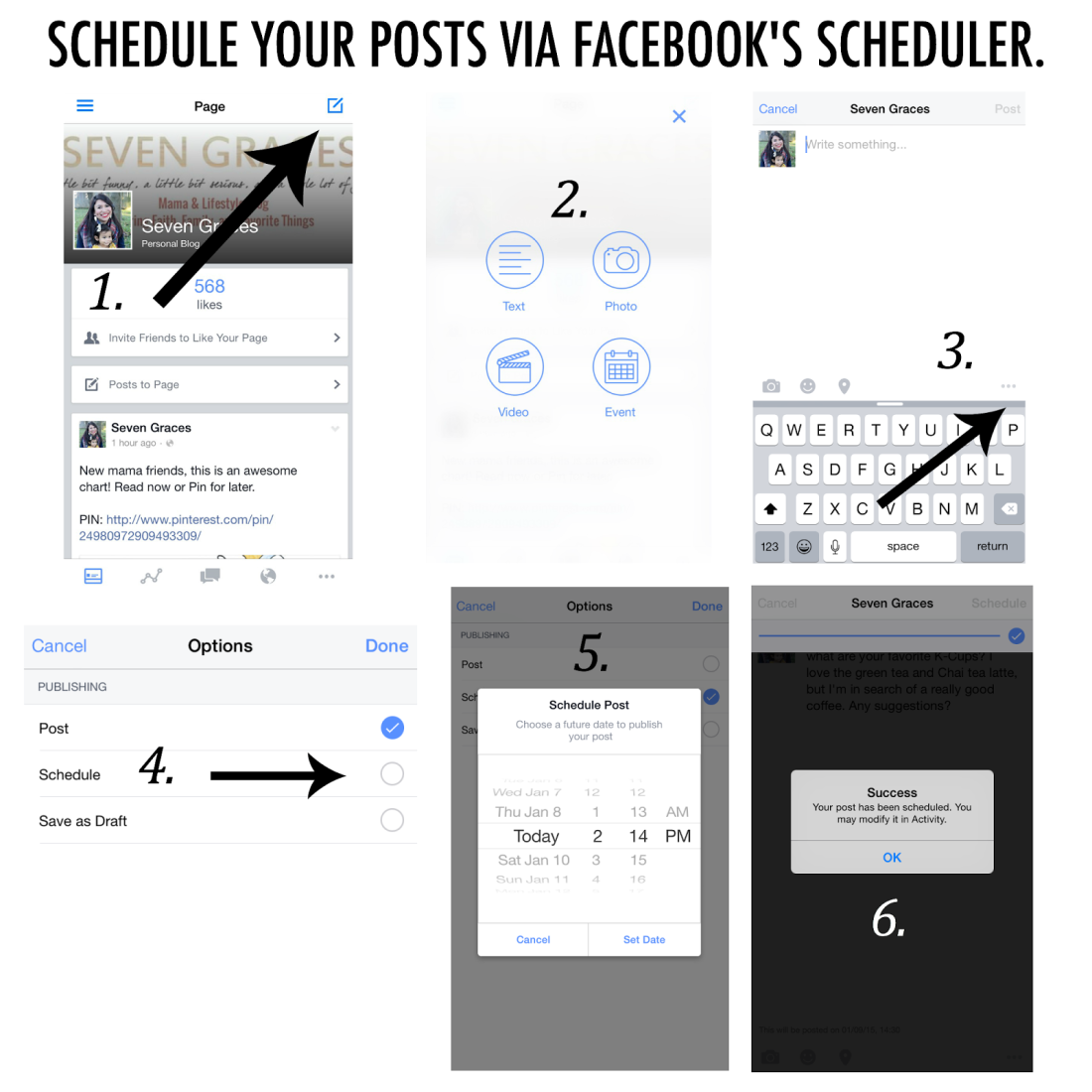 When you open the Pages app, click on the pencil and choose what you're wanting to share. Since I am usually sharing another article or another page's awesome picture, I'll click on "text." Here's where that list of links come into play. I take one of the links that I've copied and paste it into the text box. Once I have it in there with my own personal caption, I then press the three little dots as seen in step 3. To schedule, I click on the "schedule" circle, and a time box pops up. This is where the magic happens. Schedule your post to the time you want to appear on your page's feed, hit "set date," then click "done." You have one last step of pressing "Schedule." If you've done everything correctly, you'll see number 6.
I try to schedule posts for two day's worth of shares. It takes me about 30 minutes to get it all done, and I've found that I do this much faster at my computer. I'm sure you'll find a groove that works for you. I just wanted to show you that scheduling a post can even be done from the app. You may run into some snags here and there, but my best advice would be to play around with the system and do test posts until you get the hang of it.
3. Share your Instagram pictures to your blog's Facebook page.
Did you know that Instagram is owned by Facebook? Of course they are. Because of this, Facebook loves to share other Facebook things, like your Instagram pictures. You can link your Facebook account's page(s) to your Instagram account, and it makes sharing easy peasy. To be sure that you're sharing to your page instead of your personal account, make sure your settings are correct.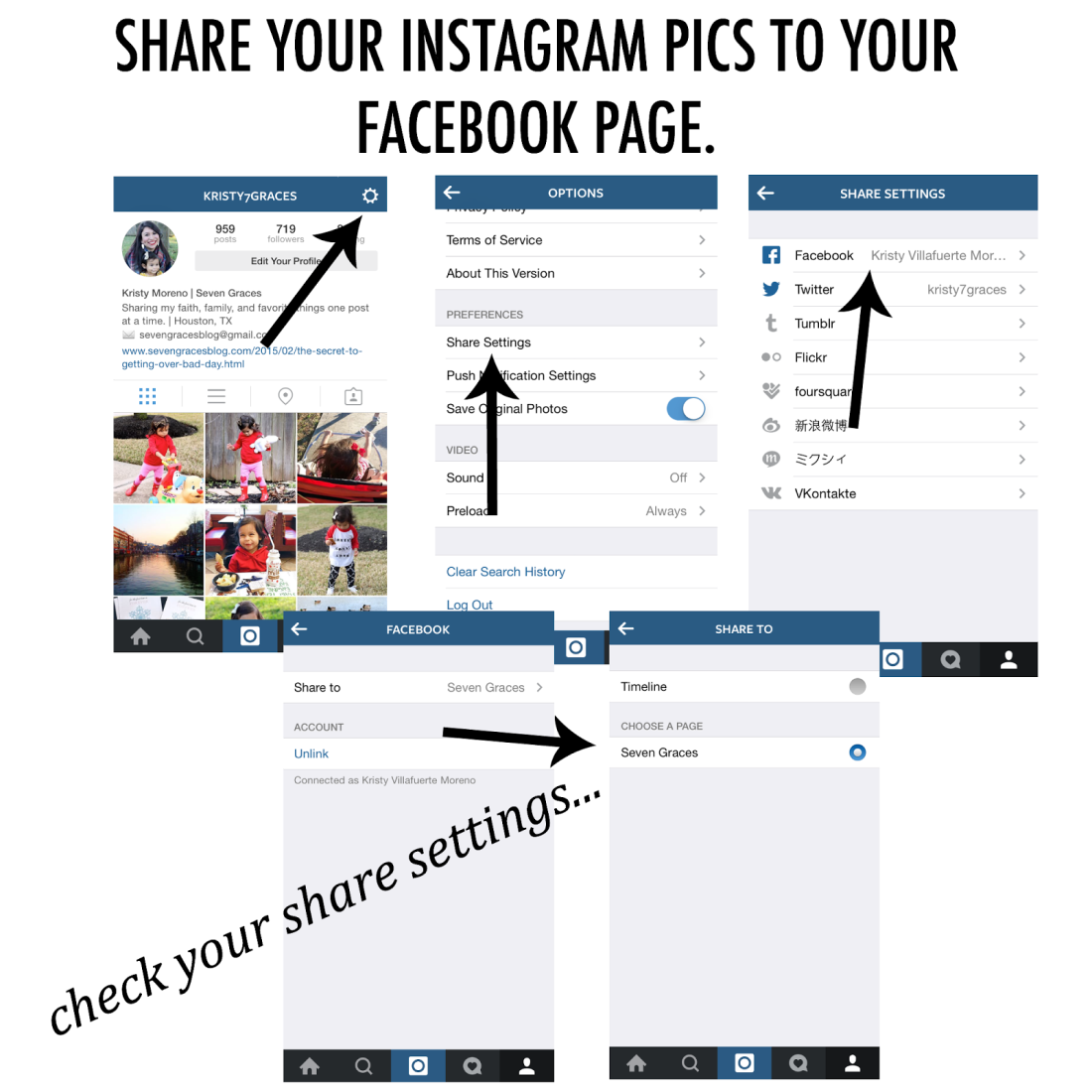 Once I've shared an Instagram picture to my Facebook page, I usually will tag myself in the photo I've shared. The visibility is usually way higher when I do that. Just be sure to ditch the hastags if you've used any on Instagram. I usually will change up the wording when sharing an Insta pic to my Facebook page. Hashtags, although helpful on your personal posts, are seen as spammy on your page. Facebook doesn't like spammy. Also avoid tagging other pages in your post. You can give other pages a shout-out in the comments. The reasoning is the same as the hashtag business.
Now, I'm not saying you need to share every single Instagram picture you post. (Instagram is a whole other ball game.) I'm mindful of what I share and I what I don't to my Facebook page. But regardless of what type of blogger you are, people love to see a personal side of you, and to me that is what Instagram is all about. Share a few Instagram pictures here and there and see if it makes a difference.
4. Share your page's posts to your personal page.
All of my friends know I have a blog because I'm always sharing my page's posts. However, not all of my Facebook friends follow my blog's Facebook page, but a lot of them do. That doesn't stop me from sharing my posts from my page to personal account. Let's say I have an Instagram picture that I just shared to my blog's page. I might have tagged the picture, but I know there is a good chance that half of my friends didn't get to see it because in that great Facebook Pages app, you can see how many people your post has reached (more on that in a second). When I share the picture or article to my personal page, it creates a wider audience. And that's what you want after all, isn't it?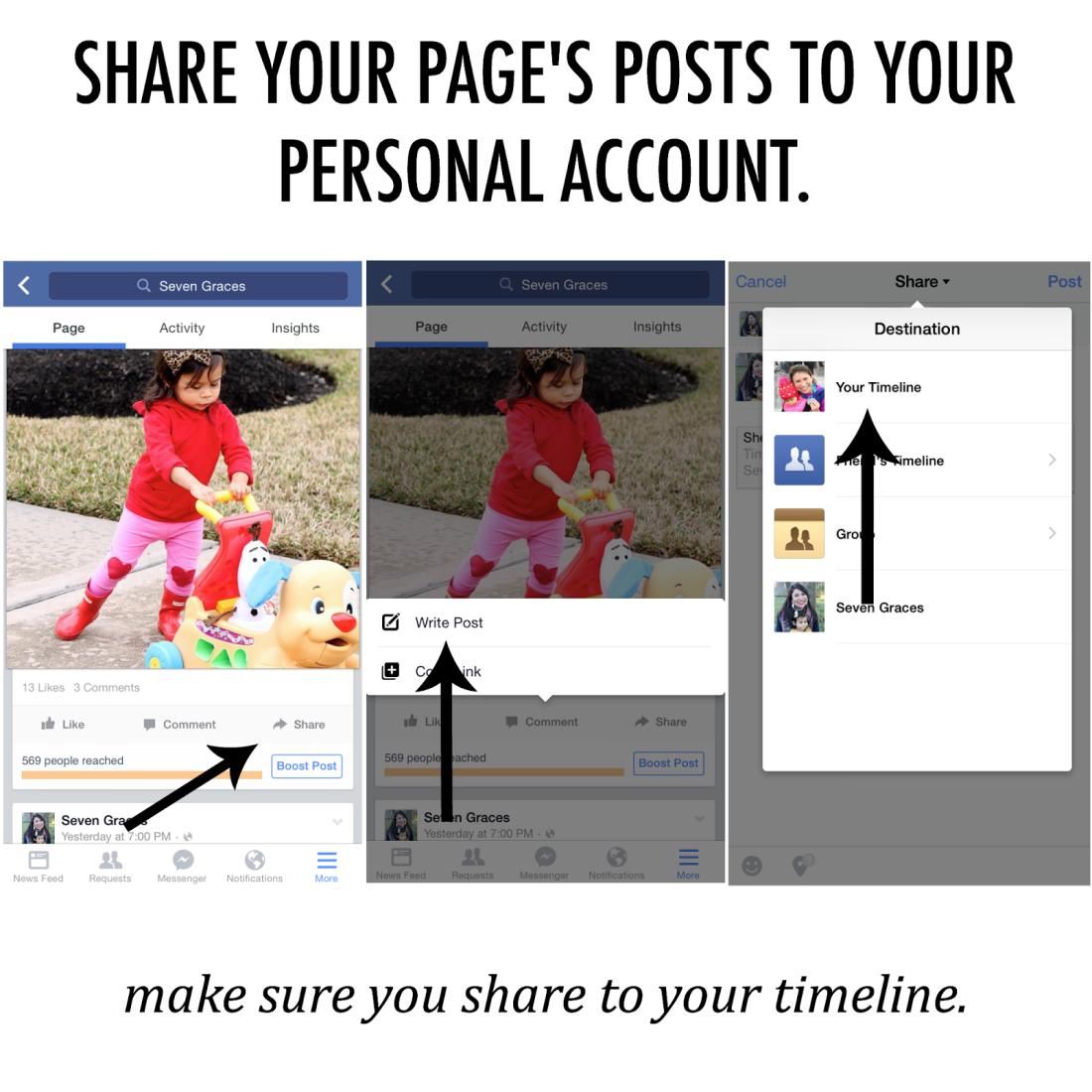 5. Utilize your Facebook Page's Insights.
Also known as analytics, your Insights for your page is the key that holds all of your numbers and just how many people really are seeing what you share. You can analyze the data via your app or you can see the full analysis from your desktop. If you're just starting out with putting some of these tips to use, give yourself a little bit of time to assess the situation. But you most certainly will want to delve into this useful tool.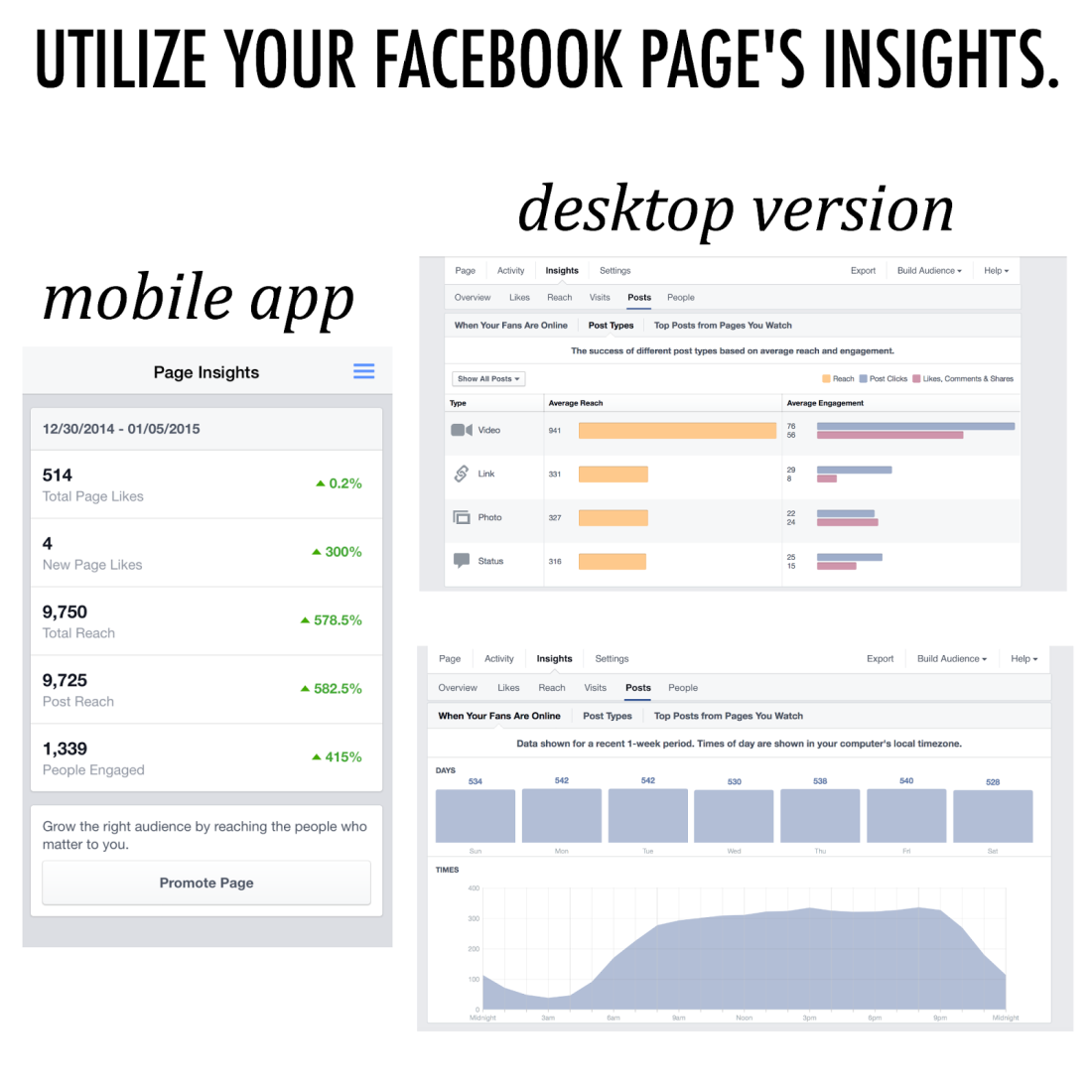 There is a lot of data that could overwhelm you, but two key things to look at are 1) what types of posts do your people like the most? and 2) when are they online? As you can see, my people love videos right now. So I'm going to share more of that. They also love the links I'm sharing. I'll review what types of links I've been sharing, and then I'll share what they want to see. I'll also schedule my posts according to when majority of my "fans" are online. No point in sharing something at 3 a.m. if no one is going to see it.
It's all about the people. Give them what they want, and Facebook will make sure they keep seeing it.
To see a few more Facebook tips and to see what not to do, check out this post.
And that's all from me, folks! That was quite a bit of information to process, but it'll be right here when you want to come back to reference it. Be sure to pin this article or bookmark it or even share it on Facebook. Do you have any questions about anything I covered? Be sure to leave a comment if you do. I'll try my best to come up with an answer. ;)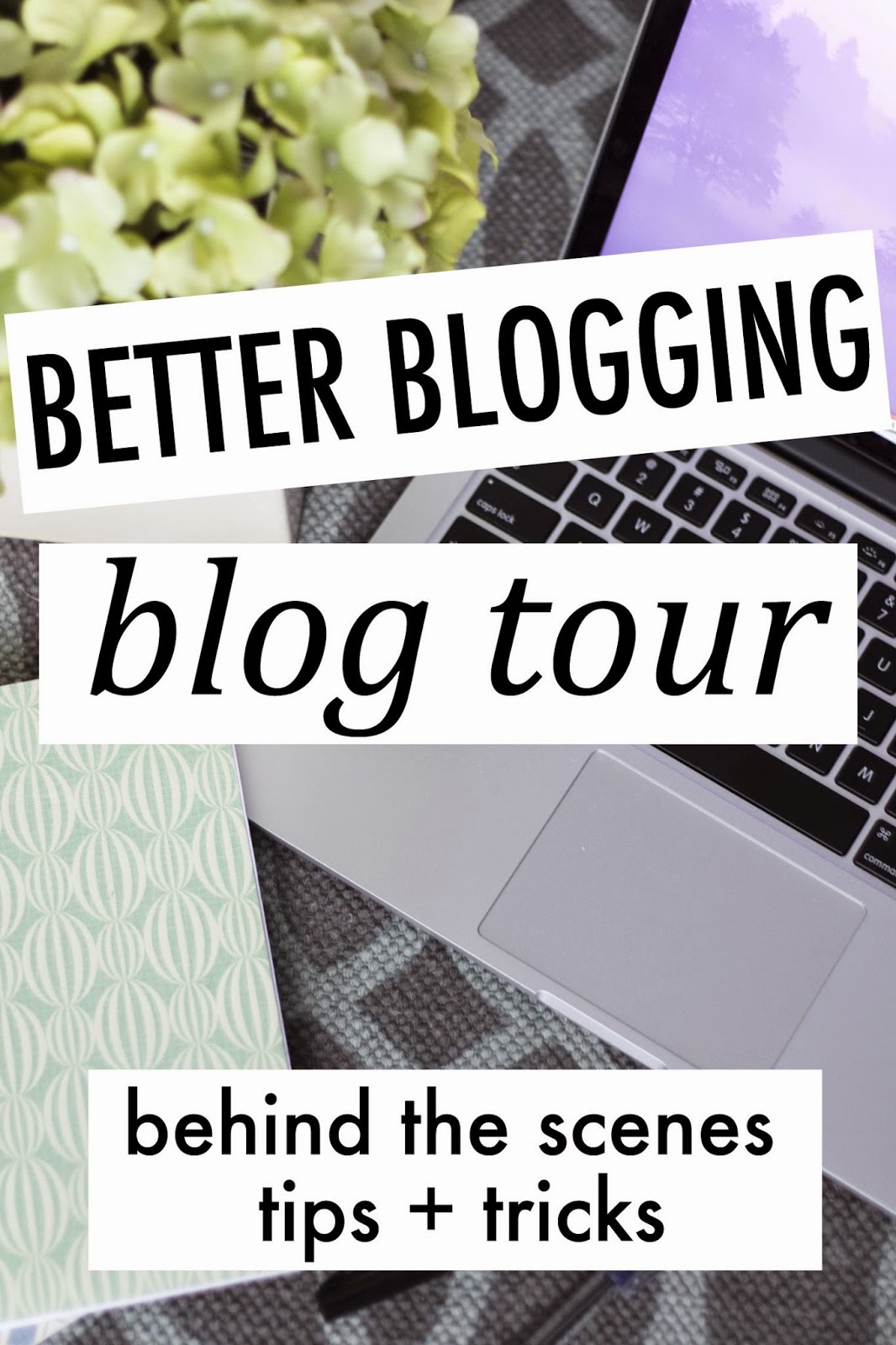 I told you today was a super special day. I am so excited to share the rest of the blog tour with you. Next stop, these seven ladies! You won't want to miss these amazing tips and tricks shared by some of the best bloggers I know. I'll be reading fiercely with you.
7 Twitter Tips to Increase Your Following by Fresh Mommy Blog
8 Must Know Pinterest Tips for Bloggers by All of Life's Little Adventures
10 Tips to Using Instagram More Effectively by Crazily Normal
Blogging With a Partner 101 by Moms Without Answers
How I Got on the Huffington Post by Pig & Dac
My Favorite Vlogging Tips & Tricks by Meg O. on the Go
What to Know When Switching from Blogger to Word Press by A Touch of Grace
Blogging friends, if there is something we missed that you are dying to know more about, let us know! We might just do this again.
Thanks for reading, friend!
Follow along on…