Disclosure: Thanks to KEEN shoes for sponsoring today's post. As always, all opinions are my own. #keenkidssummer
Happy Monday, friends! The countdown is on until summer vacation begins. How I'll ever get anything done business-wise is beyond me, as this will be my first summer with two kids. But since babies don't keep, I hope to worry less about work and care more about having fun in the sun, looking ever so stylish while we're at it. Charlotte loves being outdoors, and in the summer, it's all about cool clothes to run and jump in.
Charlotte is already to the age that she gets bored pretty easily, but I'm hoping to have a bucket list full of fun things to do so that we both stay sane. ;) I'm sharing our 50 summertime boredom busters, but first I need to tell you about the perfect summer shoes!
The Perfect Summer Shoes
My little lady just got a pair of the Keen Kids Moxie sandal, a super stylish closed-toe sandal with a secure-fit lace-capture system (aka no shoe laces), and they are the cutest! The colors offered are bright and fun, and these sandals are water-friendly and washable. Say what?! They're rugged and feminine, and just the perfect sandal for all of our summer adventures. These also make for the perfect shoes for school as well.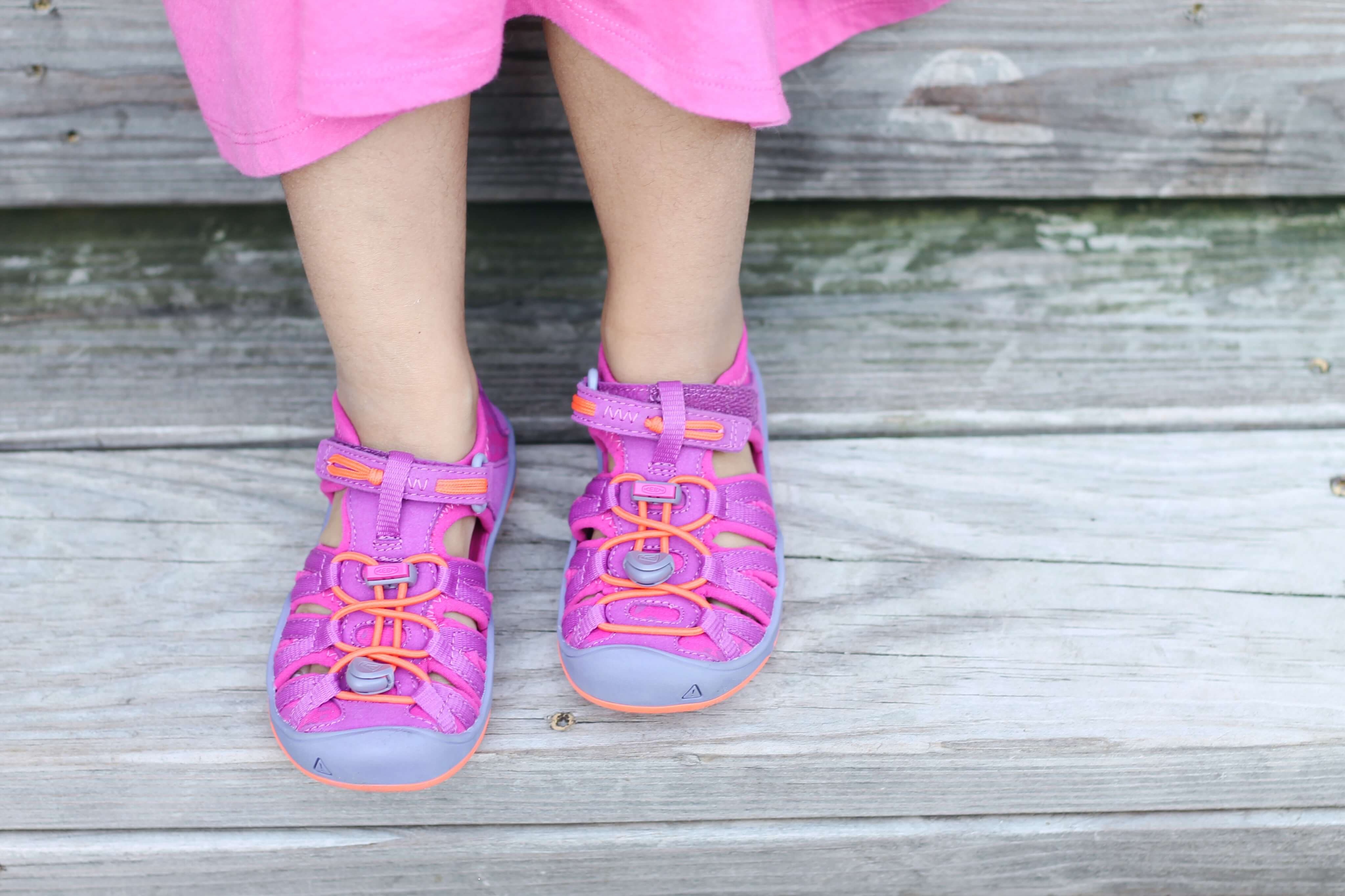 Charlotte's Keen Moxie Sandals
This past weekend, we headed to Grandma's house, whose backyard is a playground. Charlotte put these Keen shoes on all by herself, and wore them everyday to play and and run around in.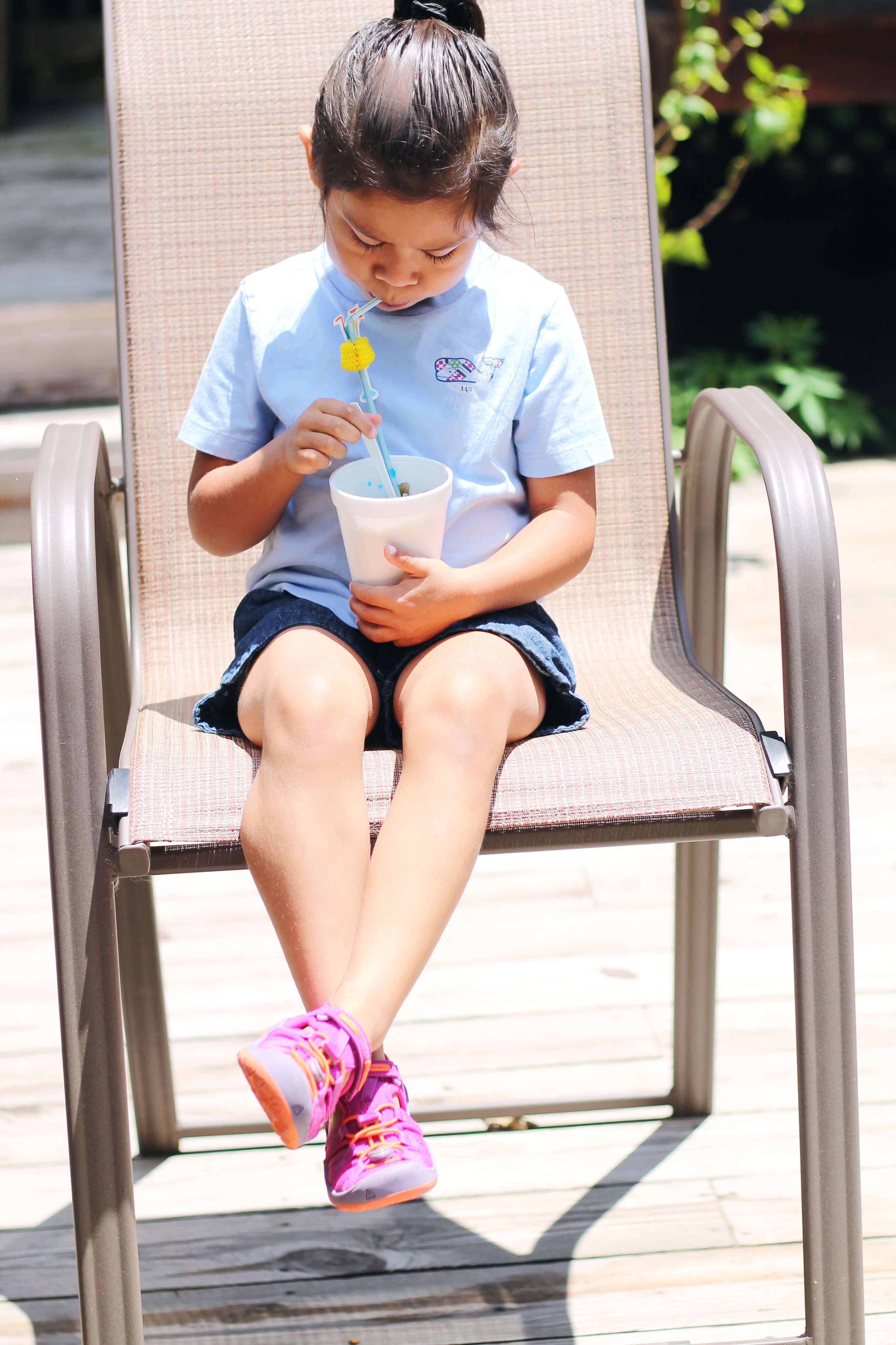 Her favorite thing to do right now is to twirl in her dresses, so she definitely looked way too cute in her dress and new shoes.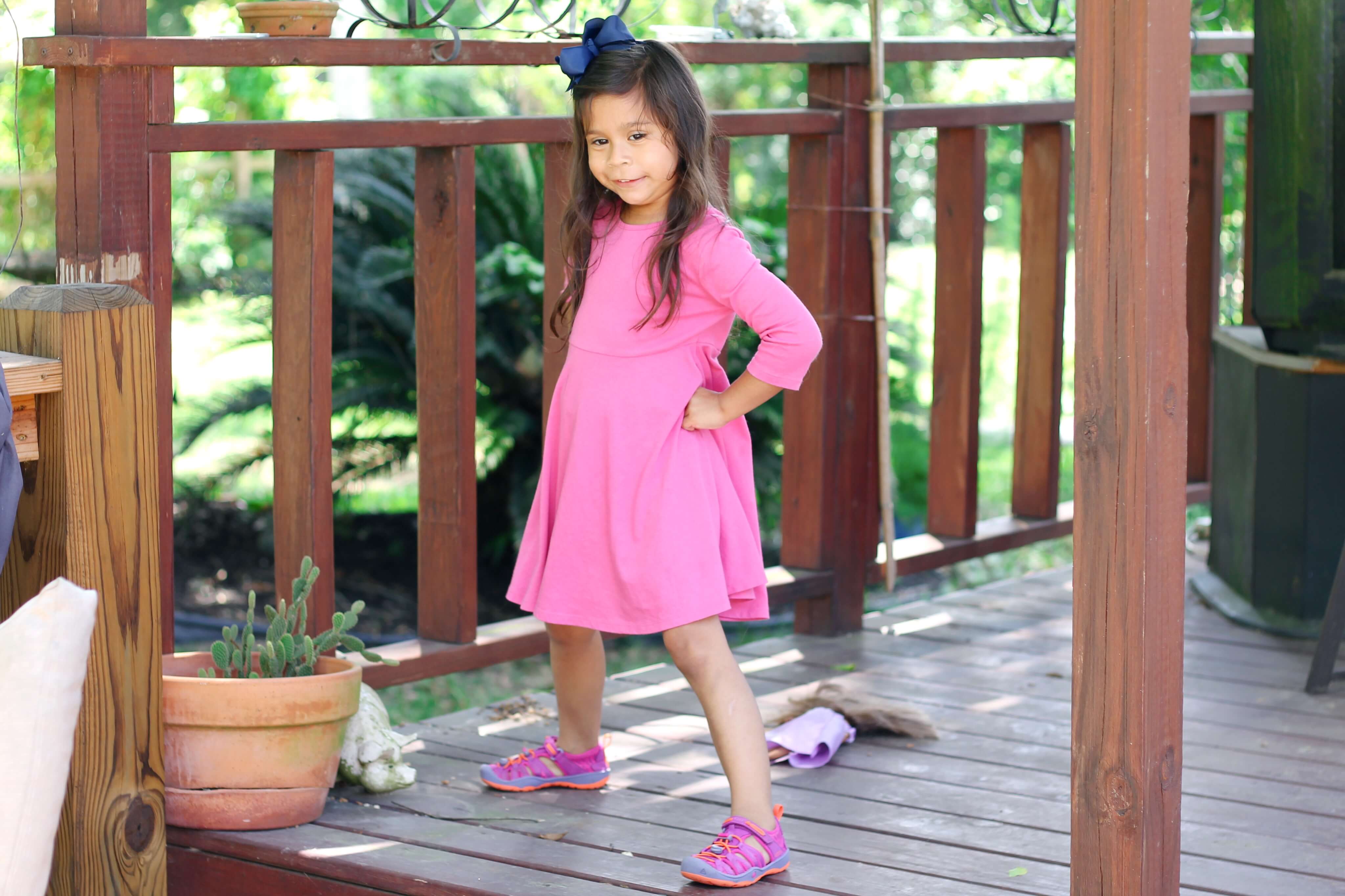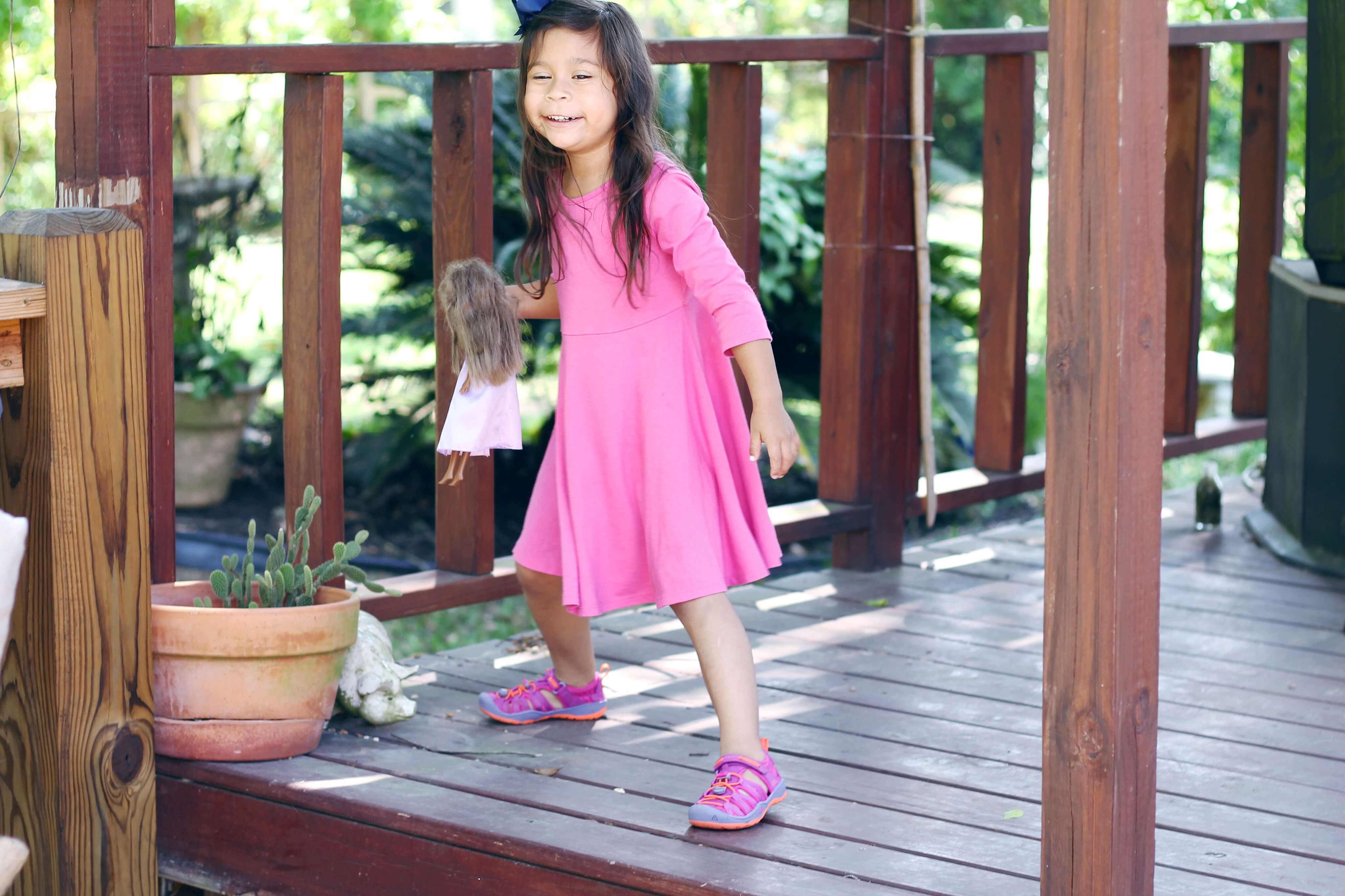 She even wore them to jump on the trampoline.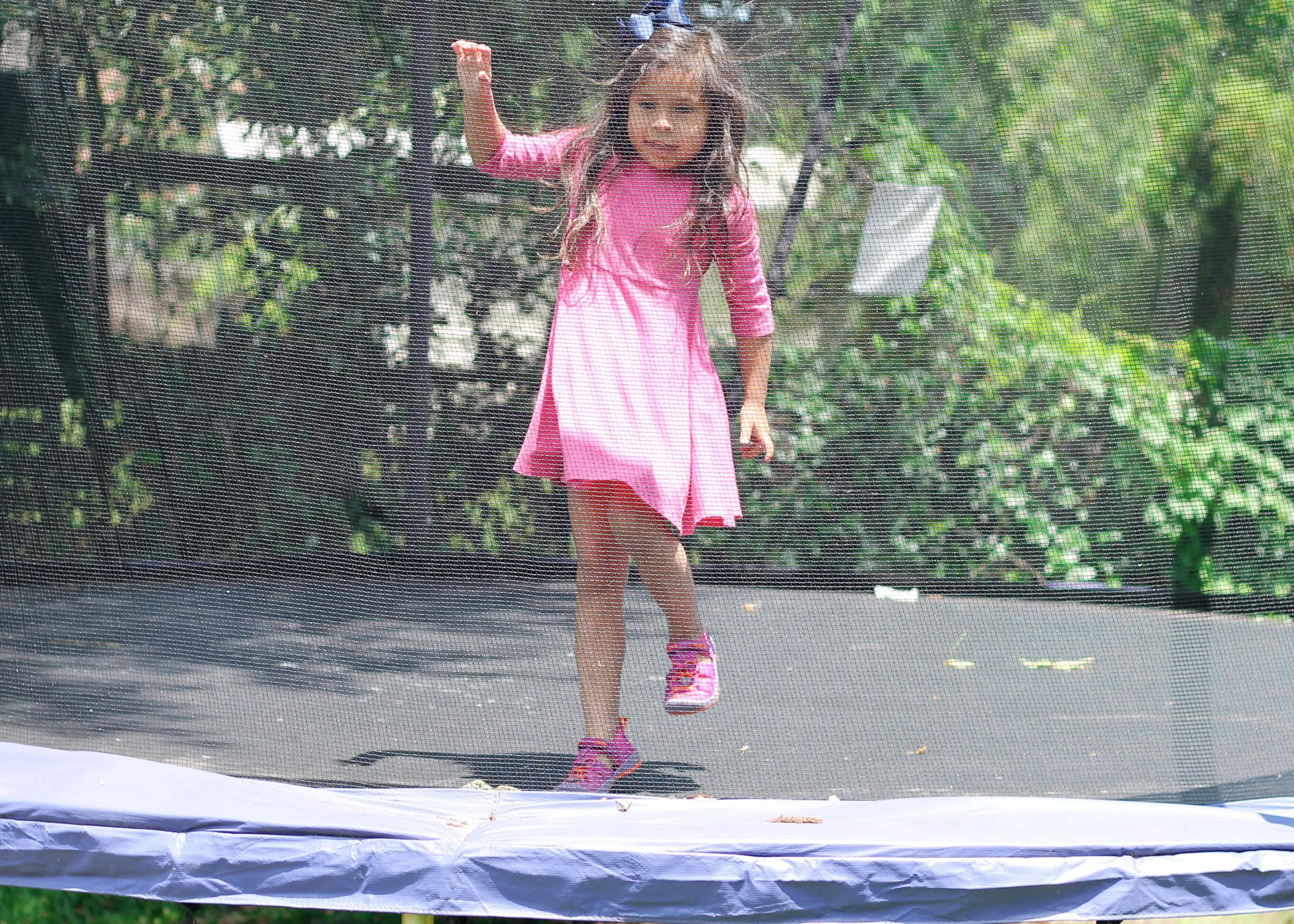 I'm so excited to finally have a go-to summer sandal that she can wear at a water park, splash pad, or playground! She absolutely loves these, and I'm so happy to not have to fight her to wear something cute and safe. Because you know how picky four-year-old little people can be. ;)
Summer Boredom Busters
A couple of years ago, I came up with a summer bucket list for toddlers, and we'll definitely be looking to it for inspiration this summer.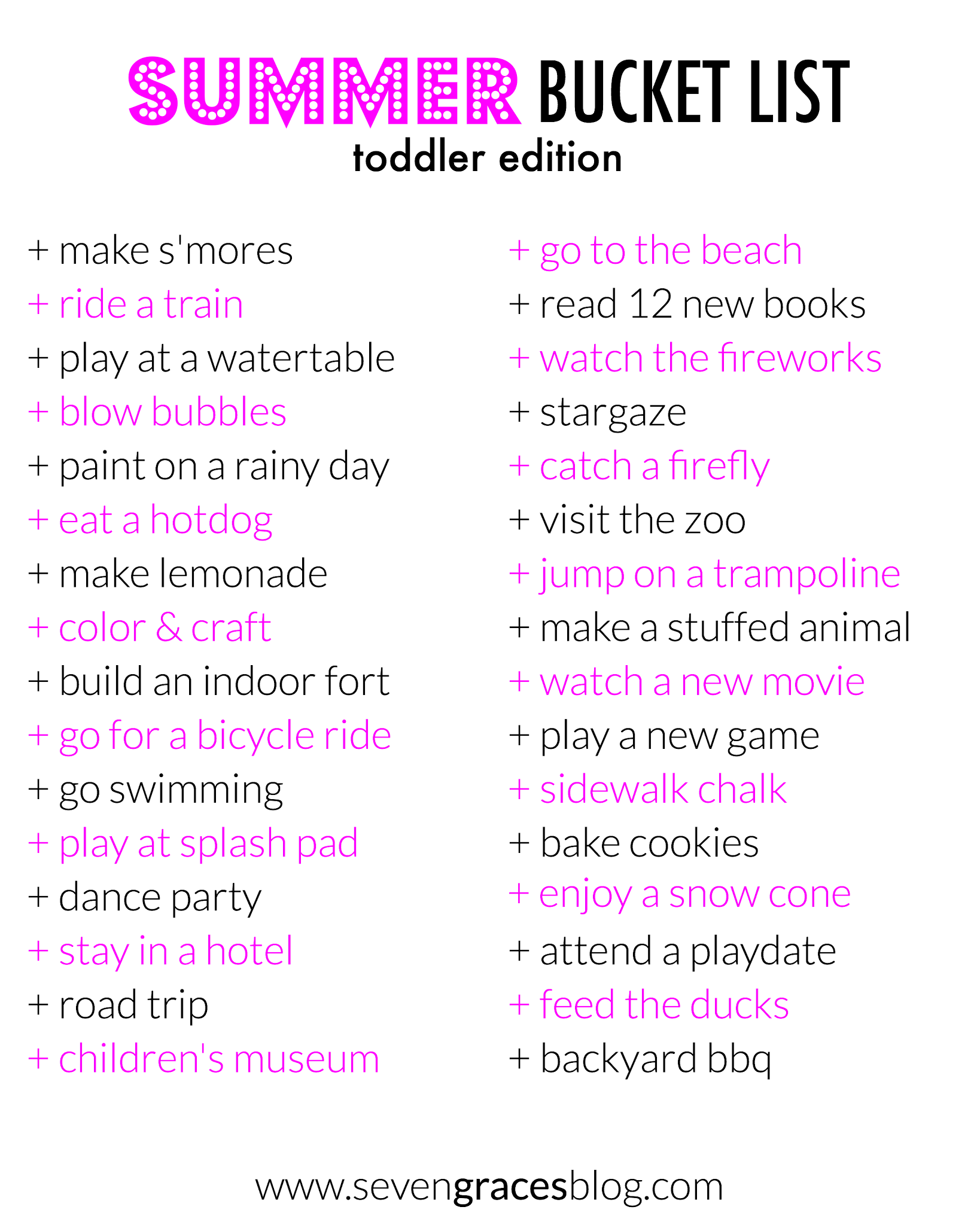 Here a few more things we'll be adding to our boredom busters list this summer…
Go to the library.
Have a Chick-fil-A picnic.
Check out a summer movie (see my tips for going to the movies with your kiddo).
Scavenger hunt.
Play with water balloons.
Try out paddle boats.
Paint pottery.
Check out the aquarium.
Make our favorite trail mix.
Camp in the backyard.
Complete a puzzle.
Fly a kite.
Ride a carousel.
Paint a masterpiece.
Practice writing our name and numbers with shaving cream or playdough.
Fly on an airplane and go to New York or somewhere new. (Because it's really on our list!)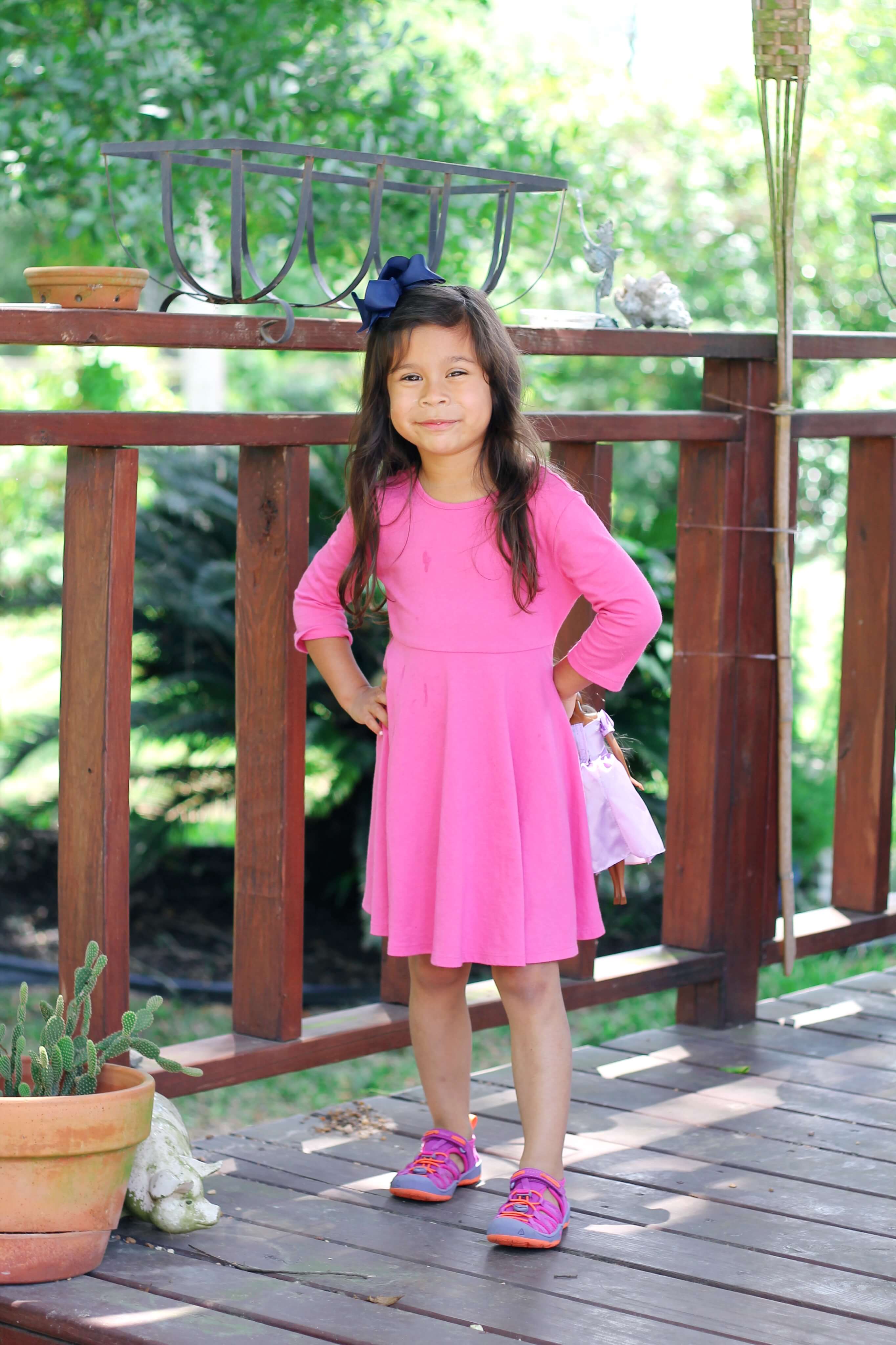 You definitely need to check out the entire Keen Moxie collection for your little lady or beau. They will be ready for any summer adventure, looking too cute to boot! These will also be the perfect shoes for all the walking we'll be doing in New York.
KEEN Shoes Giveway!
Visit our friends The Chirping Moms for 10 fun reasons KEEN Kids are great for summer time! KEEN Kids styles are also great for travel. Check out Wanderlust Crew, Global Munchkins and Sarah Tucker for why they choose the shoes for travel.
KEEN Kids are awesome for summer camp. See why I Love You More Than Carrots, Hello Happiness & The Vanilla Tulip will be using them this summer. They're also perfect for toddlers, check out how The Girl in the Red Shoes and Toddler Approved are keeping toddlers busy and active in the KEEN Kids shoes. The KEEN Moxie styles are fashionable and functional, check out how Seven Graces Blog is styling them this summer.
We're happy to team up with a great group of bloggers to share KEEN styles for kids AND an awesome giveaway. FOUR lucky families will win KEEN shoes for their whole family, up to 4 pairs (Combination KEEN + KEEN Kids styles). Please enter using the Rafflecopter below.
Don't forget to visit all of the participating blogs too!
The Chirping Moms // Wanderlust Crew // Global Munchkins // Sarah Tucker // I Love You More Than Carrots // Hello Happiness // The Vanilla Tulip // Girl in the Red Shoes // Toddler Approved // Seven Graces
Giveaway: Enter using the form below
What are your summer plans?