Hey, my peeps! I hope you all are having a great week so far. I am still getting into the swing of things with Charlotte being back in school, but so far so good! How about you?
Throughout the years, I have received many, many questions about blogging. I'm finally taking some time to talk all about my journey and answer some things you've all been wanting to know. I've been blogging for a little over three and a half years now. Can you believe it's been that long? I can't. Blogging is such a passion of mine, and I am so, so thankful that I get to do this as a side job. It honestly would be nothing without YOU, my trusty and loyal reader, so THANK YOU. I cannot thank you enough for coming to this little space of the Internet, reading, sharing, and reaching out to me and others, and just being your awesome self to make this all possible. So let's start from the very beginning.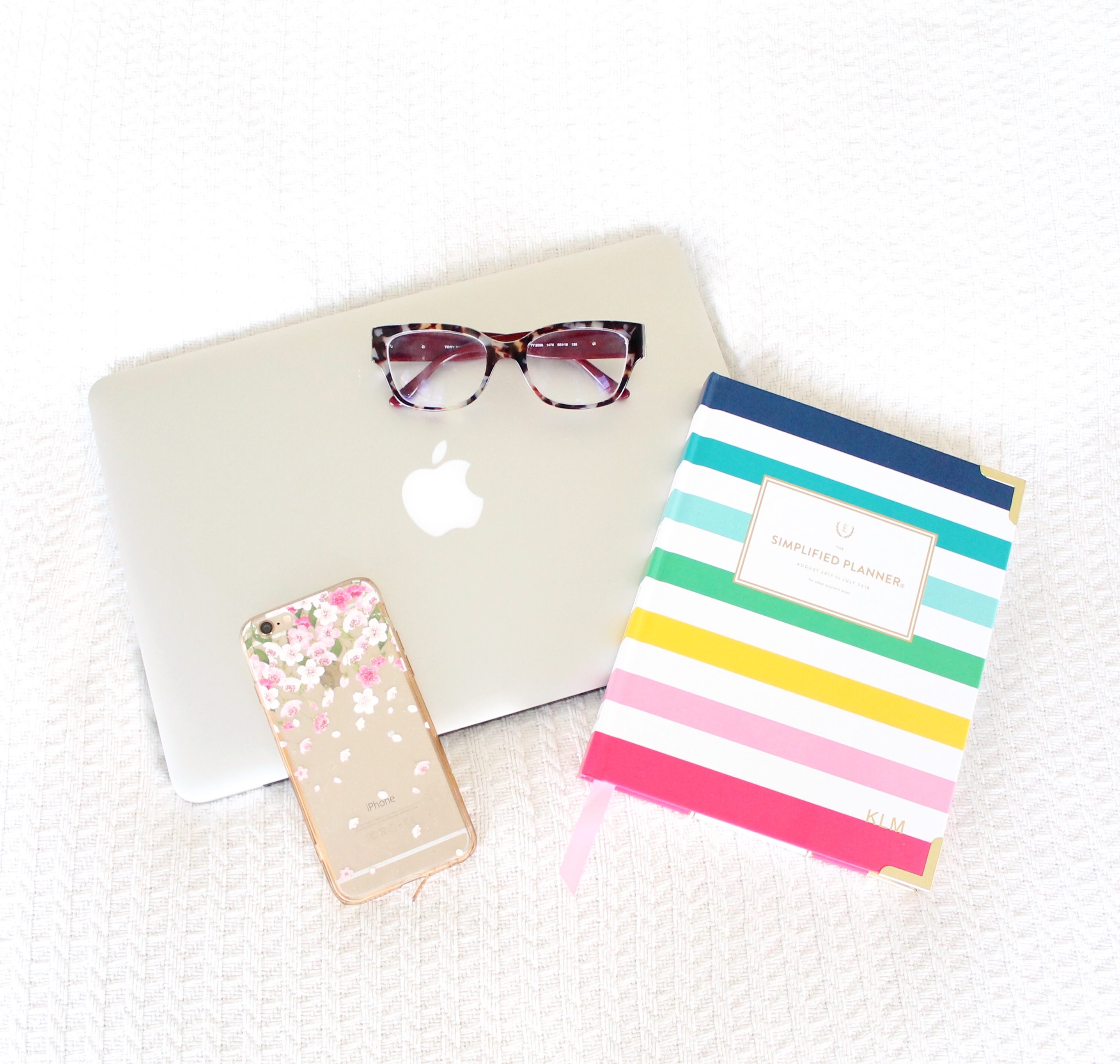 Back when Charlotte had turned one, I had a year under my belt of being a lonely stay-at-home mama, and I went to a Bible Study given by the incredible Beth Moore. While there, I experienced a huge "AHA" moment. My AHA moment just so happened to be that I needed to start a ministry of blogging.
Coming from the world of education where I taught English to high schoolers for nine years, I had a need to use my voice of wanting to help people be the best versions of themselves. Teaching English was so much more to me than teaching a textbook. It was my calling to be a listener and to spread my message of hope and grace and to teach people how to be the best person God has called us to be. When I left that profession, I still craved the calling to serve. Sure, I love my job of being a stay-at-home mom, but I still longed for that extra bit of community. I'm a true believer in not wasting the talents God has given you. I love to write, and I love to tell my story. That's where Seven Graces came into play.
Like I said, my background is in education. I have a bachelor's degree in English & Public Relations. I also have a master's degree in Education Administration with a principal certification. Who would have thought, huh? All that I've ever learned from both of my degrees have helped develop who I am, and they've been huge assets in what I do now: blog. It's all God's divine plan for me. Everything that has gotten me to this place is part of my tapestry.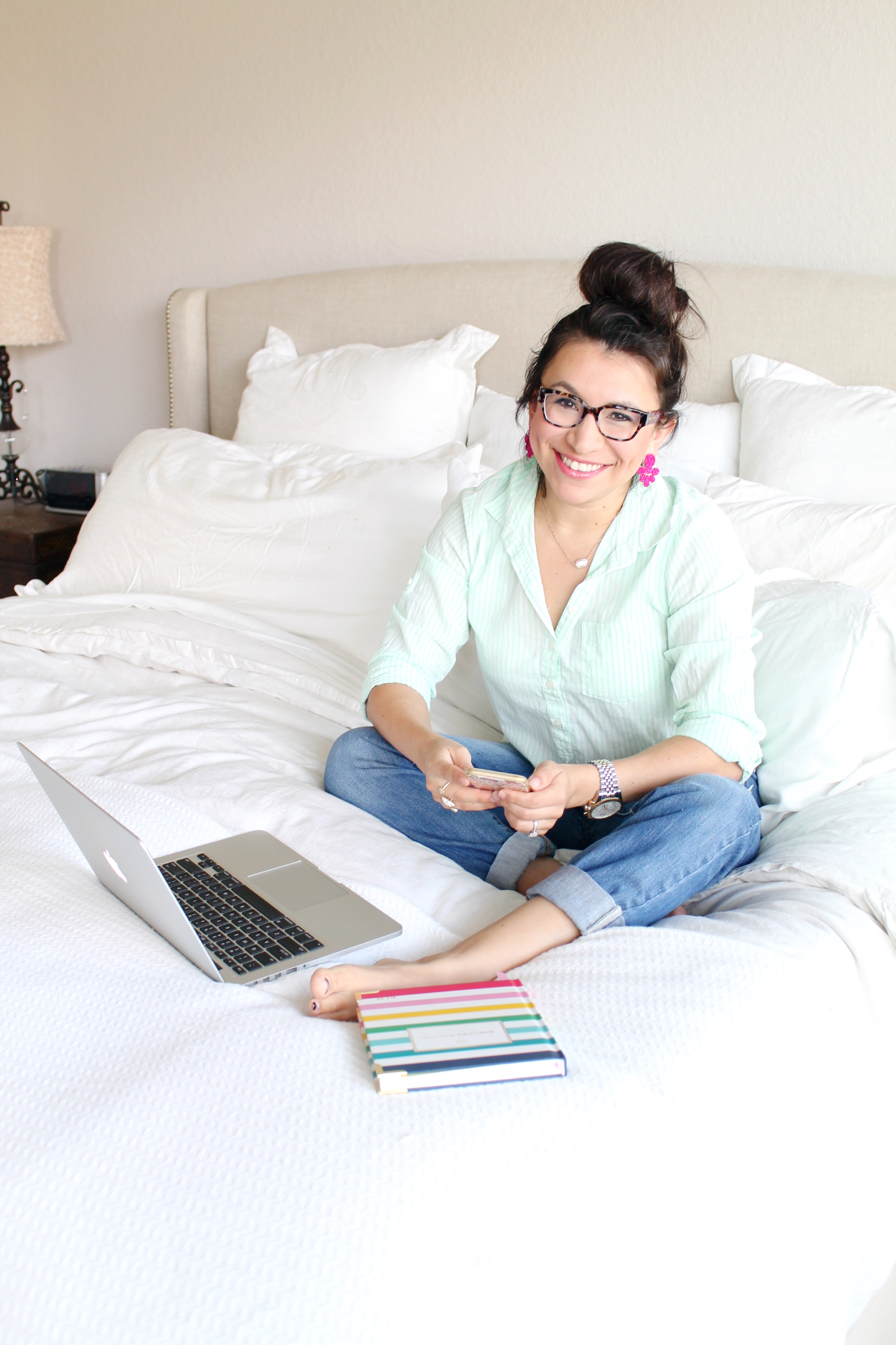 I have written about what it's like to be a mom blogger before, and you can read that post, too, for a full picture of how things have evolved. But know this: there are so many facets to the world of blogging. Here are some frequently asked questions that I get asked over and over.
How do you start a blog?
Anyone can start a blog, and if you want to start one, you should! I started on Blogger. It's a free program, and you can design it however you want (to an extent). I used pre-made designs I found on Etsy (this template was my last design) and then hired people to install things for me to get it just right. If you have an idea and a desire, I say go for it! Buy a domain name and go to town.
I now run this blog self-hosted on Word Press. What does that mean? I pay for hosting monthly (to keep this site up and running), and I have more freedom to design things how I want. However, there is so much to learn about hosting your own site. Optimizing your site for mobile, having a user-friendly website, making sure your load-time is quick, and publishing strong SEO content are just a handful of things I have to worry about on a daily basis.
If you're already a blogger and want to transfer your Blogger blog to Word Press, I hired High Notes Design to do mine. I use Blue Host for hosting my blog as well.
How do you grow your blog?
If you're blogging as a fun hobby, that is awesome! There is no pressure of when to post or how, just have fun with it. Share what you love because you love to do it.
Like anything, learn and grow every day. What that means is do your research: learn, grow, and then do it all over again. Your blog is your baby so treat it as such. There are TONS of specific articles to learn the ins and outs of building your blog, so dig in! I have a specific Pinterest board filled to the brim with articles covering Blogging 101. Take a peek if you're interested.
If you're blogging because you want to build an online presence and you want people to actually read what you're sharing, you'll need to utilize social media. Social media like Facebook, Pinterest, Instagram, and Twitter are how I primarily share my blog posts. Everyone starts from zero, so share it with your friends and family first, then your friends will begin sharing.
Pinterest is how I've grown my page views exponentially, so start there if you're wanting to get serious. Perform on Pinterest is an amazing program to help you learn the ins and outs of how to best utilize the platform, and it's run by two of my dear friends. I highly, highly recommend them to get you jumpstarted.
Most importantly, put 90% of your effort into your BLOG, your website and your email list. Everything else could go by the wayside, you just never know what social media is going to do. There are tons of headaches right now for bloggers and business in regards to Facebook and Instagram. So do everything in your power to make your website a place where people want to be.
The key to growing, like anything else, is time and dedication. Growing your blog into a substantial business DOES NOT happen over night. Think about how you can add value to your reader's life, engage with your audience, and your page views and audience will grow naturally. Create quality content that shines above the rest, put your whole heart and soul into what you do, and watch big things happen.
Most importantly, BE YOURSELF. Don't try and be or sound like anyone else. People will see right through that. There's someone for everyone, and your audience will be unique to you and for you.
Also, it's very easy to play the comparison game when you're a blogger. But don't fall into that trap! Everyone has a story to tell and everyone has a different journey. Some bloggers become "successful" in a matter of months, others become successful after several years. But success is a all relative, you know.
When you're a blogger, focus on the followers and readers you DO have, and not the ones you're trying to gain. Most importantly, know who you're talking to when you're writing and sharing. I know that my readers are lovely ladies between 20-55, majority are moms in the US–primarily in Texas, love to relate to the mundane mom-life, appreciate deals and steals, and trust my opinion on everything from faith to fashion to food. If I didn't know all of that, I wouldn't know what to share.
Every time you like a picture of mine on Instagram, like a Facebook status from my Facebook page, leave comments on any of the above, watch a video, click through a link on my post, you are helping me, and I just want to give you a big hug for it. All of that matters to bloggers and helps us grow, so thank you, thank you, thank you!
How do you make money?
First let me say that I never started my blog to make money. My end goal was to write a book one day, and it still is. But something happened about six months in to blogging that led me to start monetizing. I went to a blog conference and realized that my everyday stories I had been sharing could be a place for me to start making money. I had no clue!
After I had been blogging for a year, my page views were at a place I thought would be beneficial to brands. Originally I worked with networks who partner brands with bloggers. Now I work with brands directly and occasionally work with networks.
When Michael lost his job a year and a half ago, we had to figure out a way for me to get back to work. Going back to the classroom wasn't an option since I was pregnant and due in September, so I knew I could work on my blog. You might have noticed an uptick in sponsored work and that's why. I had to help supplement our income, and I am so thankful that I have had the ability to work from home.
I have been able to turn my blog into a business, and I am beyond grateful for that. You coming back to read and engage tells me that I'm doing something right. I wouldn't be able to do it without you, so thank you from the bottom of my heart for helping support my blog and business.
Sponsored Work & Campaigns
I take my work very seriously and never partner with a brand that I don't already use or love. Just because I am paid for my work doesn't mean they are buying my opinion. It is ALWAYS my own, and I go above and beyond to make sure it's as real life as it gets. I am paid for my time, story-telling, photography, styling, and promotion. Brands pay me because they want to reach you, my trusted audience, and I am so proud that I am able to make that happen.
Affiliate Sales & Commission
I originally started using affiliate links with Amazon. As a mom, Amazon Prime is my best friend, so it was the perfect way to start my affiliate sales. I was already linking baby products to their site, so why not get paid for it? I signed up for their affiliate program and the rest is history. I make a small commission every time someone makes a purchase after clicking through one of my Amazon links.
For most of the clothing I link to, I am now part of the 3rd party affiliate program, RewardStyle, also know as LiketoKnow.It. It's the program that gives me the ability to share my outfits and home decor items through Instagram. I personally love the app, because I love scrolling through other fashion bloggers' feeds and finding new items I want buy. When you like a picture that is associated with LiketoKnow.It and you have signed up for the program as a buyer, you're sent an email with the products linked to shop. If you have the LiketoKnow.It app on your phone, you can open your app and get the information there.
I only get a commission if you make a purchase after clicking through my specific link on a computer or tablet or if you make a purchase within the LiketoKnow.It app on your phone.
I also share affiliate links in my Instagram stories with the new "swipe up" feature, but I only receive a commission if you actually make a purchase right then and there inside the Instagram app.
Who takes your pictures?
Throughout the years, I have received so many questions about my photos. Great photography is so important in this industry, and great imagery is what is going to catch your audience's eye. For any sponsored work, I always take my own photos with my own camera. I have a super old one, but it does the job. I've taught myself photography, and it's paid off tremendously. When it's an outfit or a photo I'm in with my kids, my awesome husband has taken it.
I take most of my photos on my Canon EOS Rebel T5, and then I upload the pictures to my iPhone 6 by using my FlashAir wireless SD card. I use AV mode when shooting on my Canon, and I typically have to bump up the brightness between 1-2. I strive to shoot in bright, natural lighting at all times. Good lighting is the key!
When I need to brighten an iPhone photo or a dark camera photo, I'll use my favorite editing app PicTapGo or A Color Story. I've created multiple "recipes" to enhance and brighten the photo. THEN, I use the Instagram edit options to get the photo just right. I brighten, bump up contrast, and sharpen. For all of my favorite photo editing apps that I've used for years, you can check out my tutorial for it HERE. A new app that I've been loving is Facetune. You can add the brighten filter, adjust, and then erase on people to not make them look like ghosts, leaving the background alone brighter. Yep, I'm going to need to do another tutorial.
And to be perfectly honest, I curate my Instagram feed to look bright, clean, and clear. What does that mean? I plan out what my Instagram will look like by using an app called Planoly. I love it! It pulls your last 15 or so Instagram photos, then you can upload new pictures and move them around to see how they'll look in your feed. I spend way too much time planning out what my feed will look like. But my Instagram is an extension of my business, so it has to be attractive to not only my audience but to potential brands, too.
Where do you find the time?
There was a time when I would stay up until the wee hours of the morning on my blog to publish content, and it paid off. My page views thanked me for time and effort. Now that I have two kids (one being a baby), things have gotten a little trickier. I blog when I can now, and if I have a sponsored campaign, I work on it while my hubby watches the kids.
First and foremost, I am a mom and a wife. I try not to work when my babies are up or my husband is around. Our time together is too precious! But sometimes work has to be done, so I will work while Charlotte is busy with the iPad or coloring and Colin is napping or sleeping.
Here is a sample of my to-do list just for blogging on a daily basis:
think about new content
photograph outfits or products for blog post and social media
edit photos
write blog post and link products
optimize blog post
share on social media
answer emails
write emails
coordinate sponsorships
create graphics for blog post
share on social media again
It takes discipline to work on my blog and my brain is always thinking about what I can do next for it, because blogging for me truly is WORK. But if you love what you do, it's all worth it. And I love what I do. So there.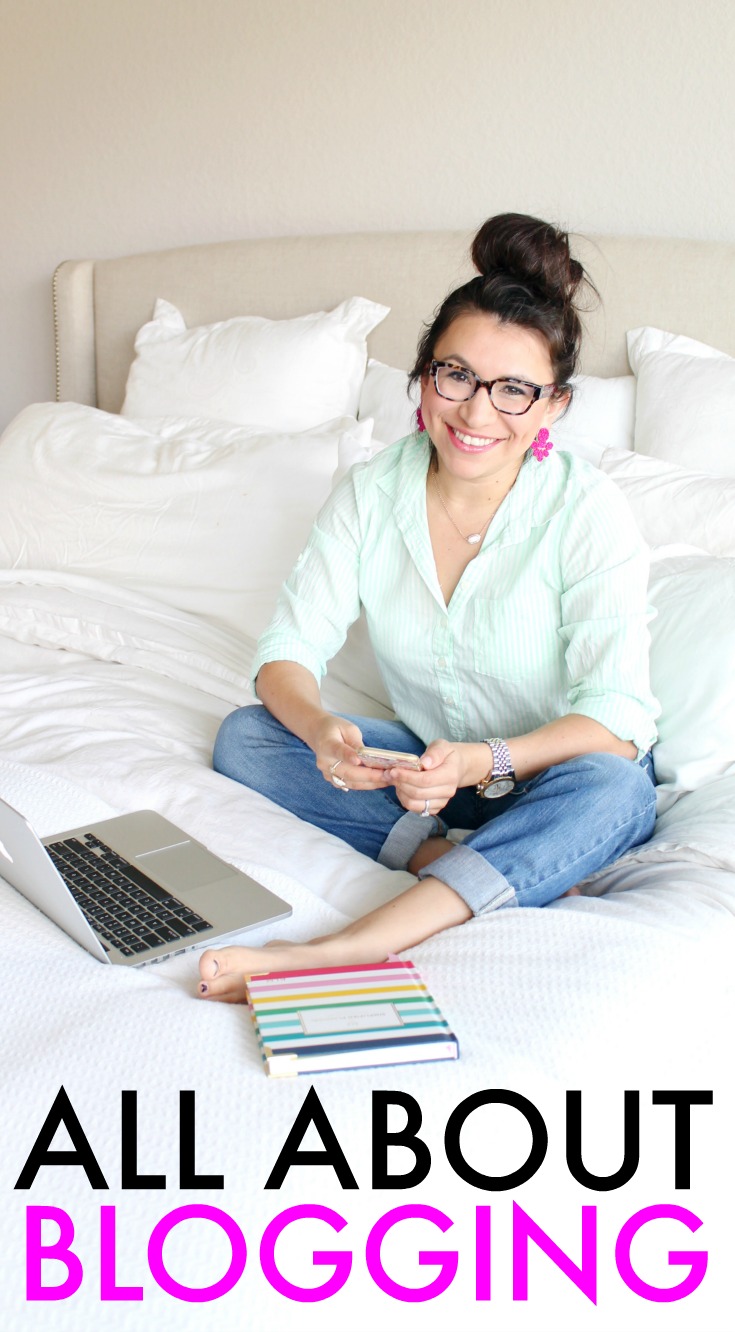 I think that pretty much covers it. If you have any other questions, please let me know! I'm happy to help.
Thank you so much for reading this novel of a post. You truly are a gem!
Be sure to follow along on Instagram for my Instagram Lives (I'll try to plan them better next time) and Facebook for daily shenanigans and info I need to share with you.
Peace out! Xoxo