Hello beautiful people! Long time no talk. I've been taking some time off from blogging, and it's been much needed. And guess what? I've been doing so much more by doing so much less. Magical. Anyhow, I thought I'd pop in today to give you a little update, "currently" style.
ONE.
Loving…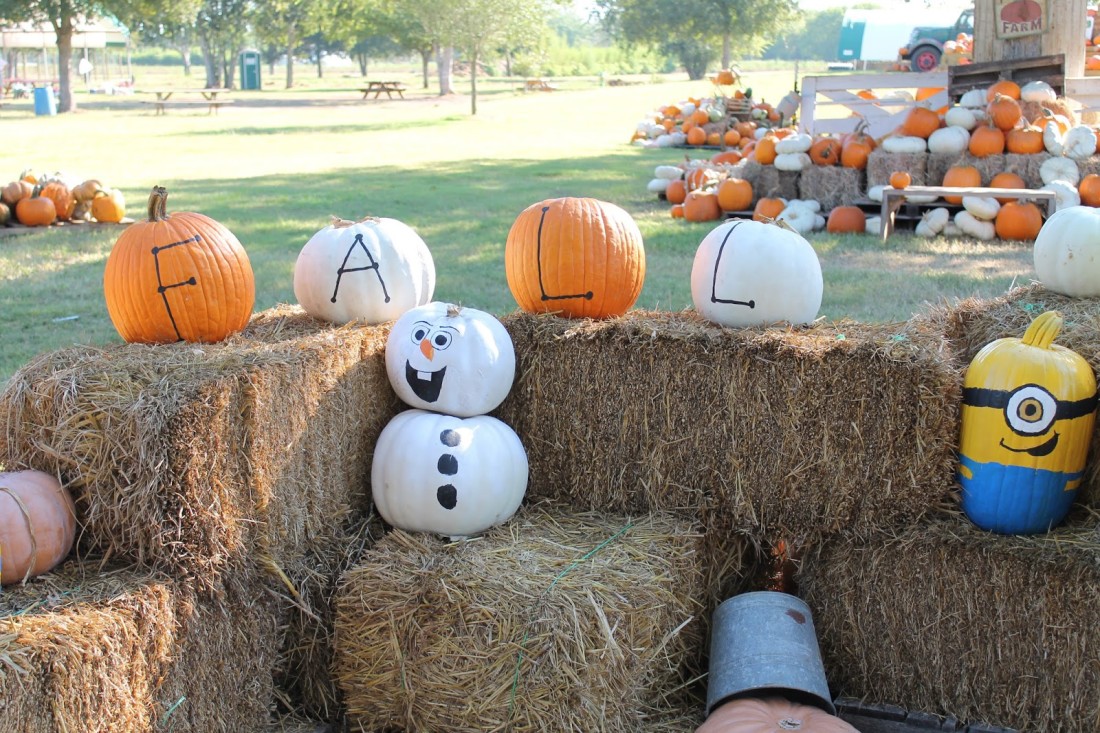 Fall. The weather teased us last week, and it was nice and cool with low humidity. The temps were in the 70s in the morning, and then the afternoon would heat up to the low 80s. Now it's hot again, but oh well. It's Texas. Give it a day, and it'll change again. While it was nice and cool, we enjoyed the outdoors and visited Blessington Farms, the cutest little pumpkin patch about an hour from our house. My mom met us there, and it was the best time. Charlotte loved picking out ALL the pumpkins. She actually loved the little ones, because they were more her size. She's so smart: she only likes what she can handle. There were slides, games, mazes, ponds, train rides, hay rides, and lots of animals. We had a blast. Here are some of my favorite pictures of the day.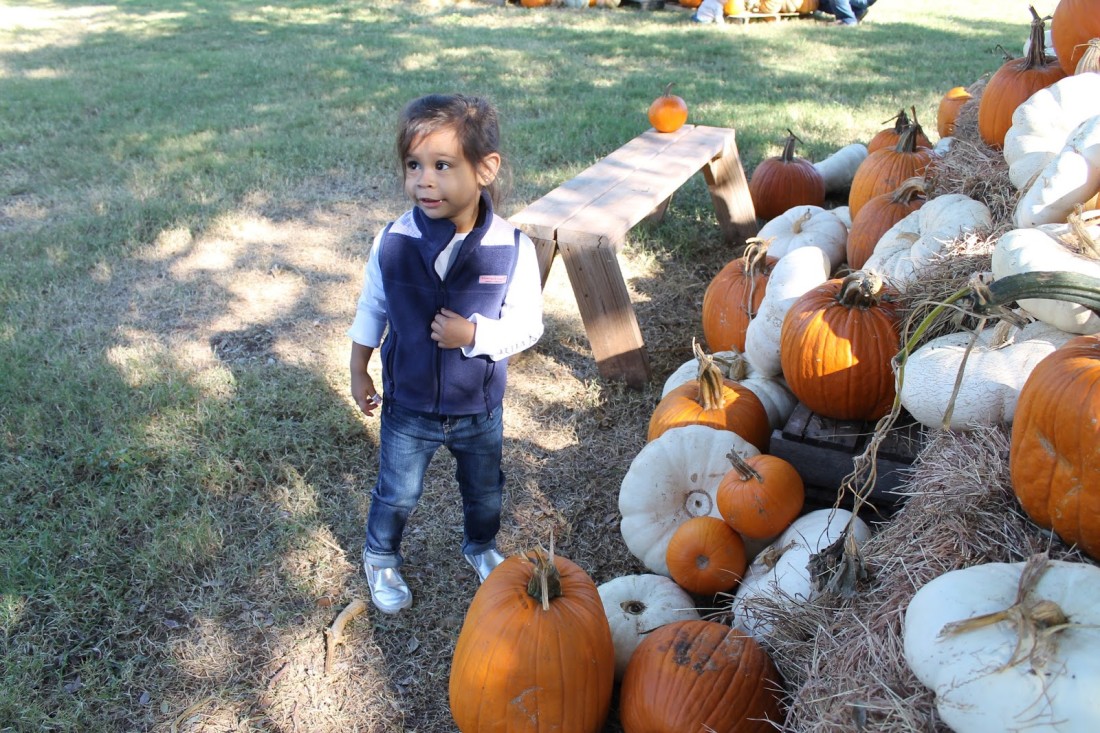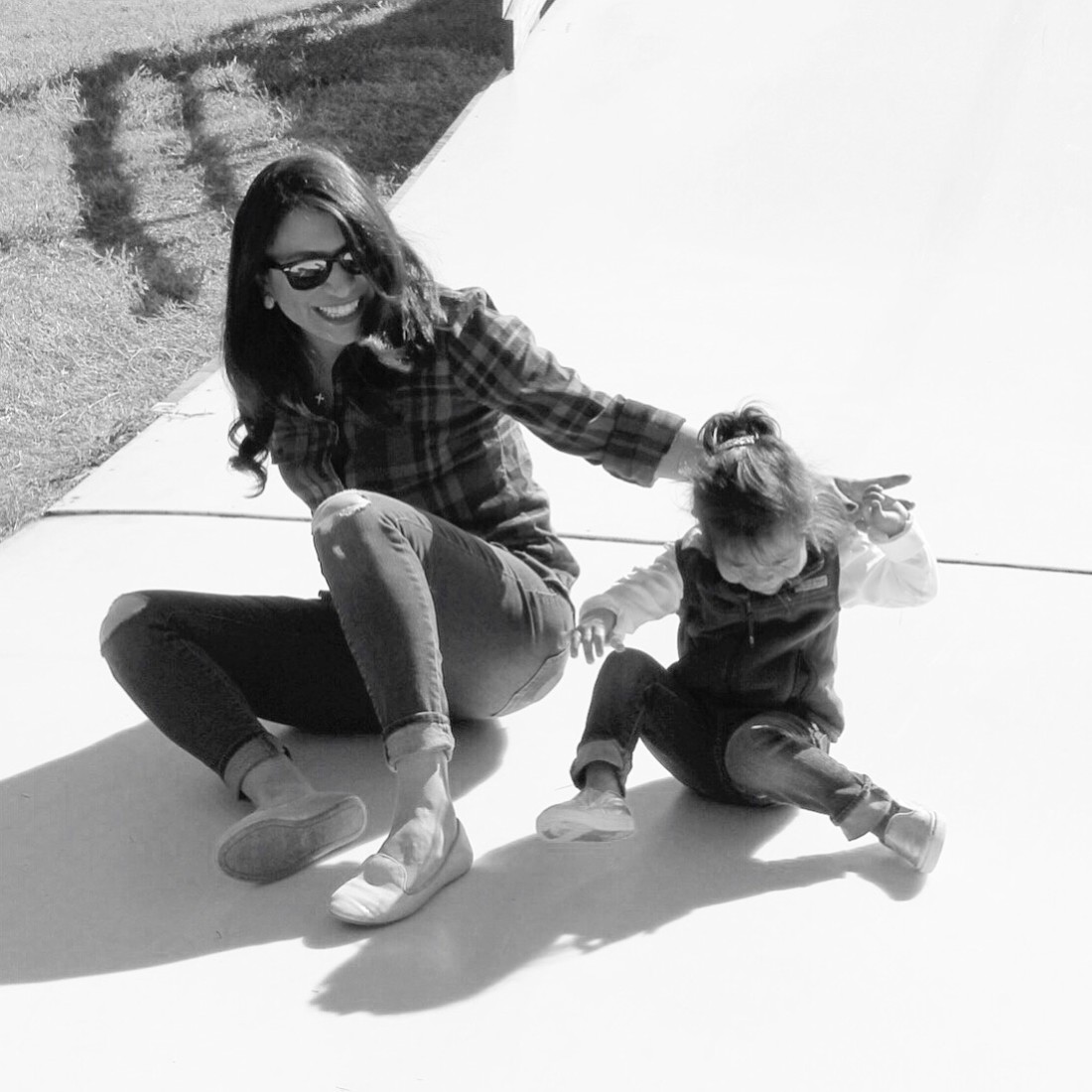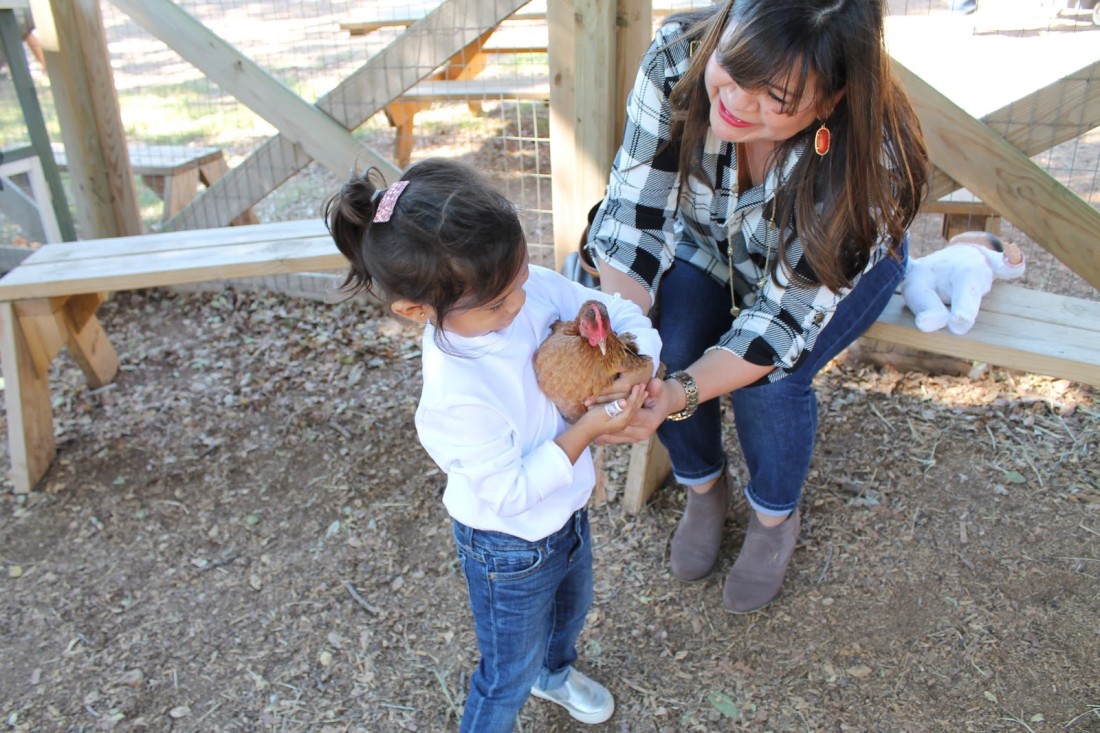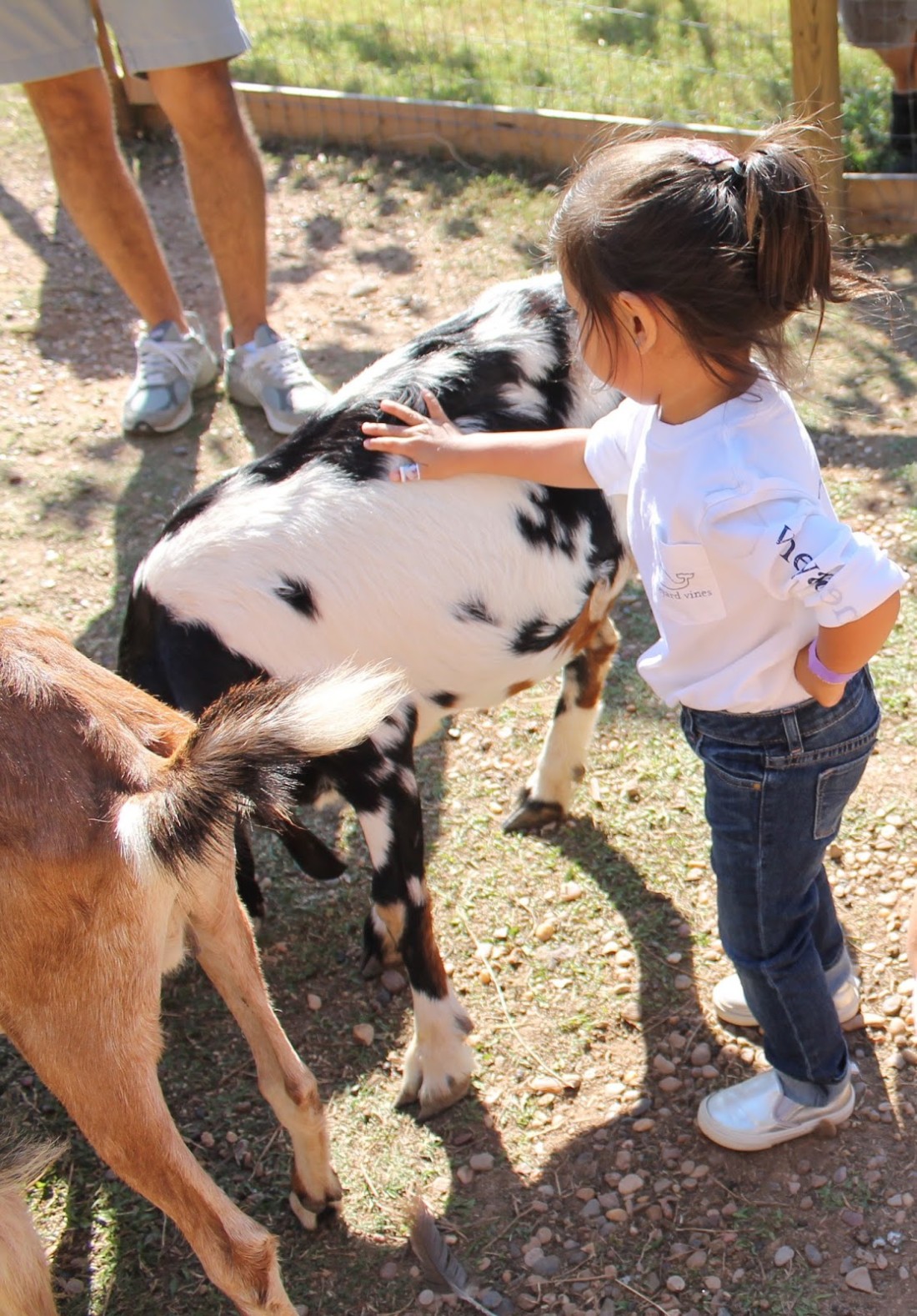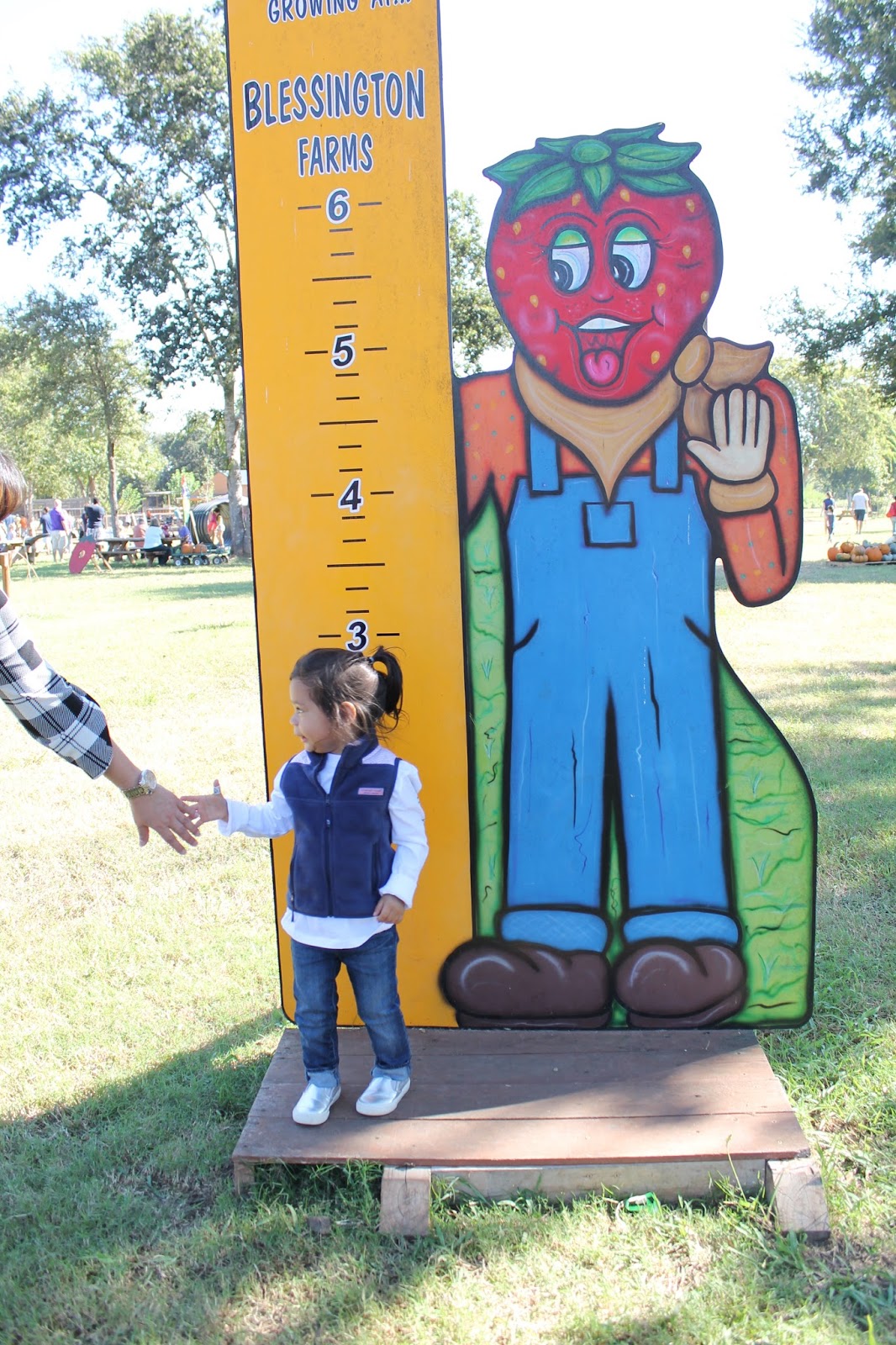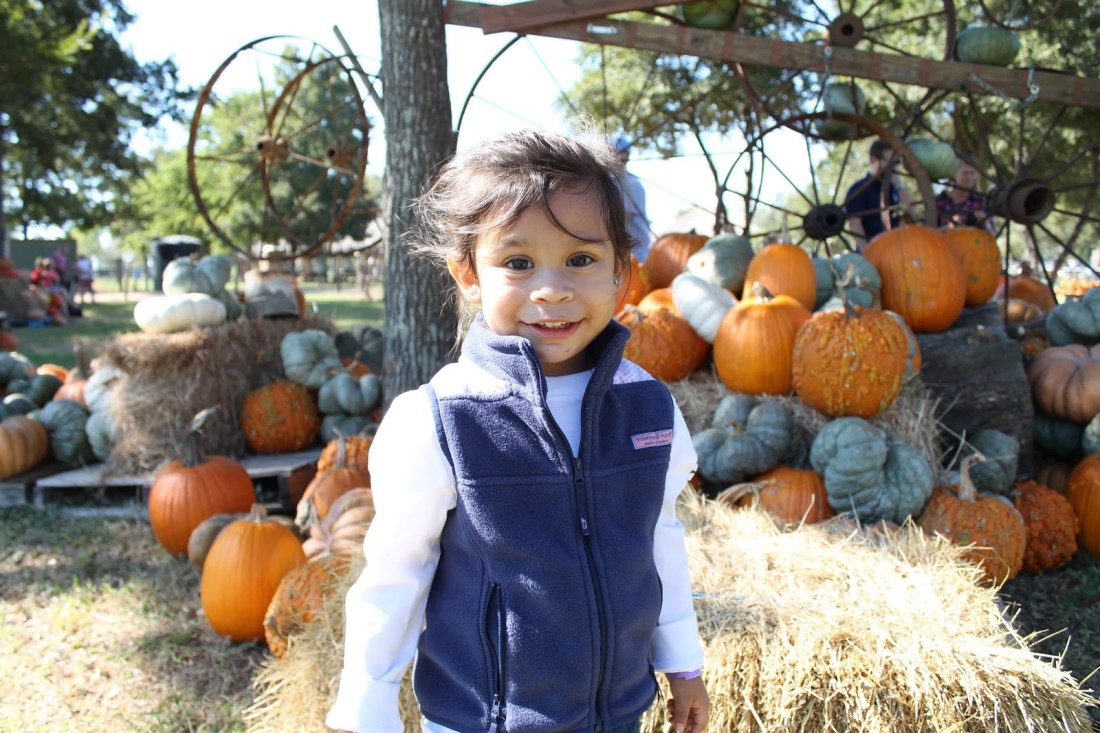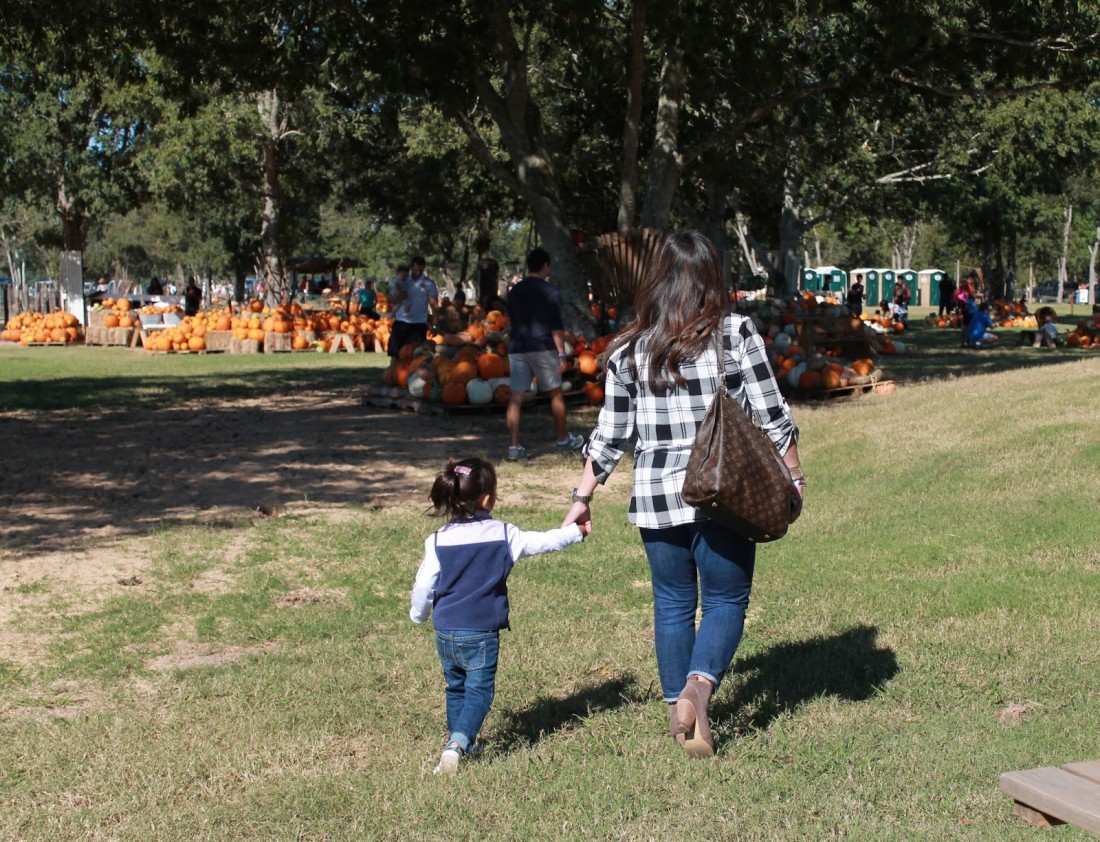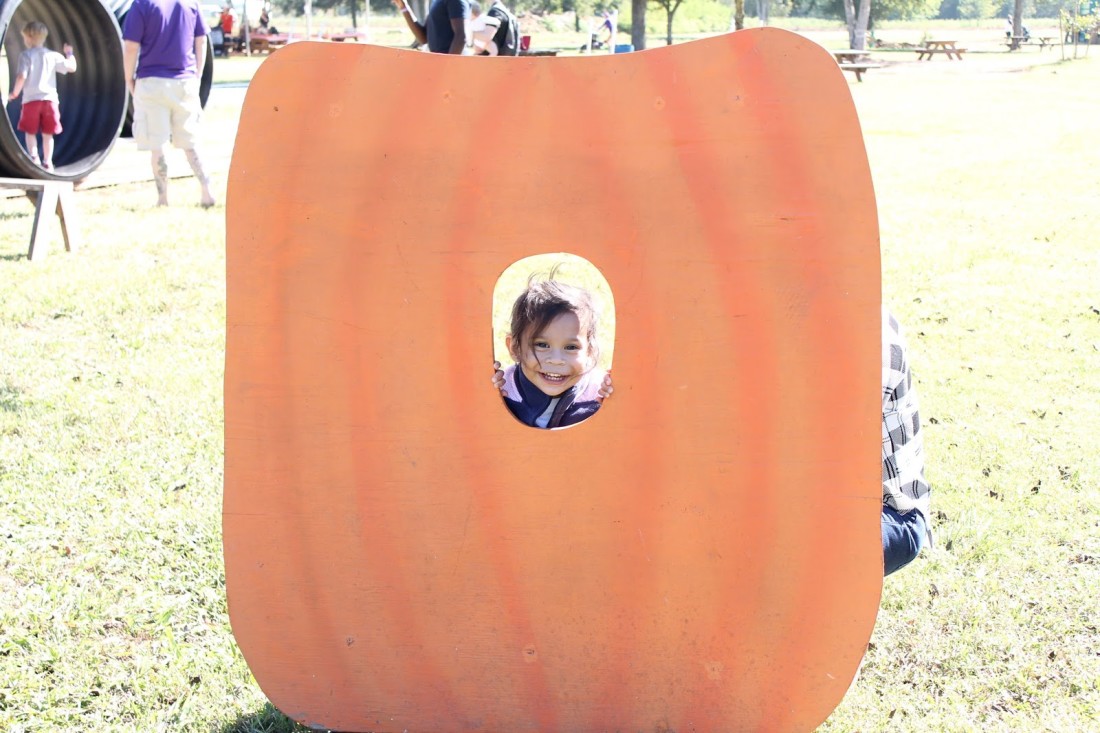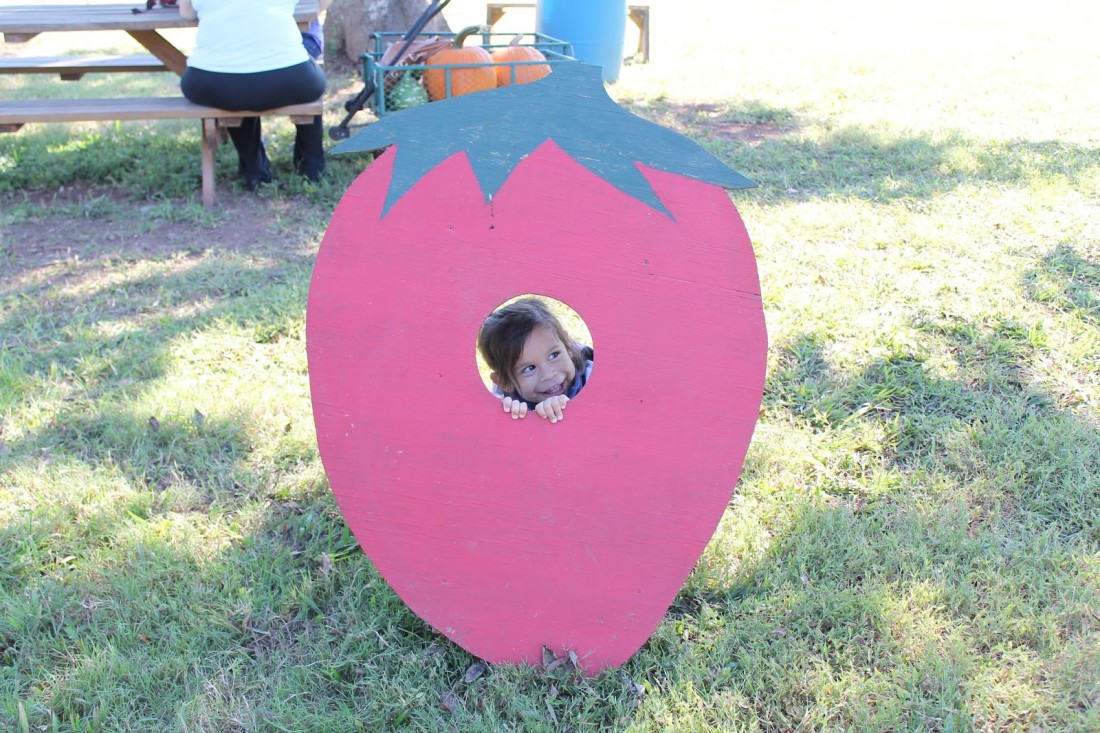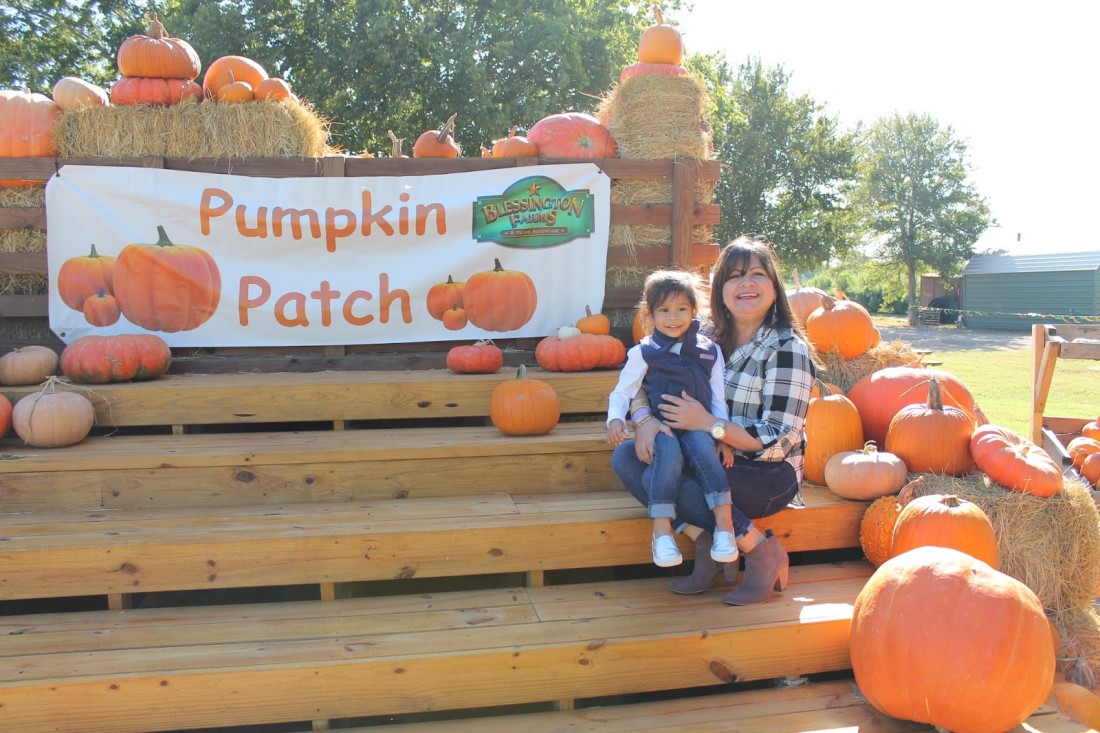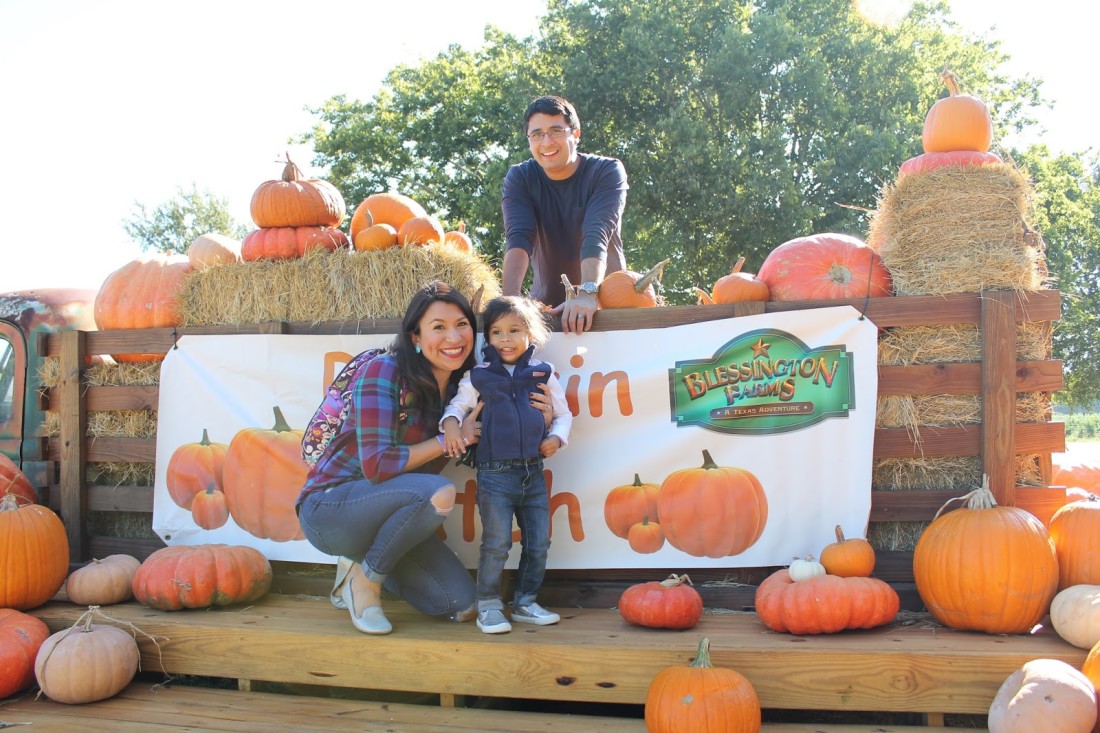 And then here she is at home with her pumpkins from the patch. She is so in love with them.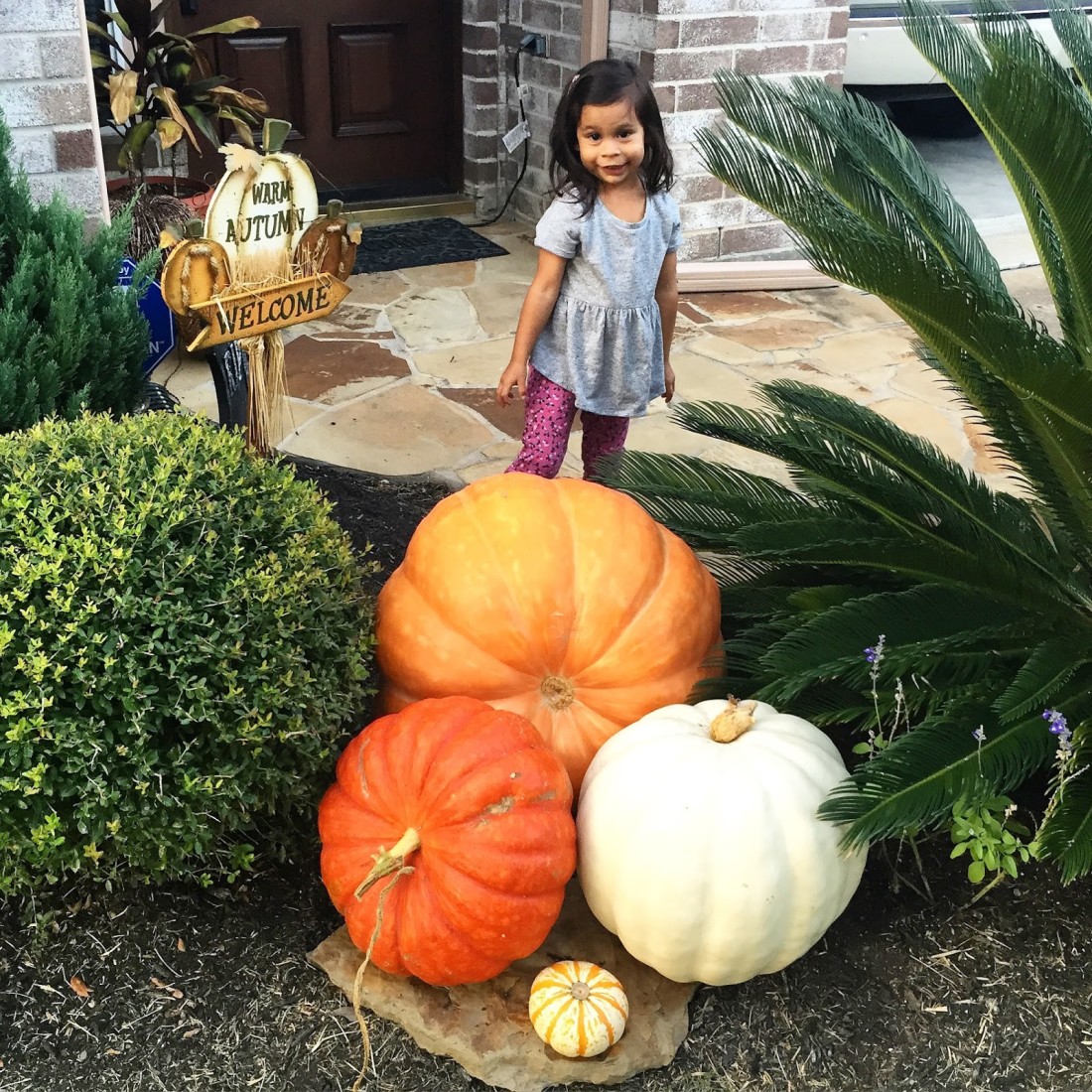 TWO.
Thankful for…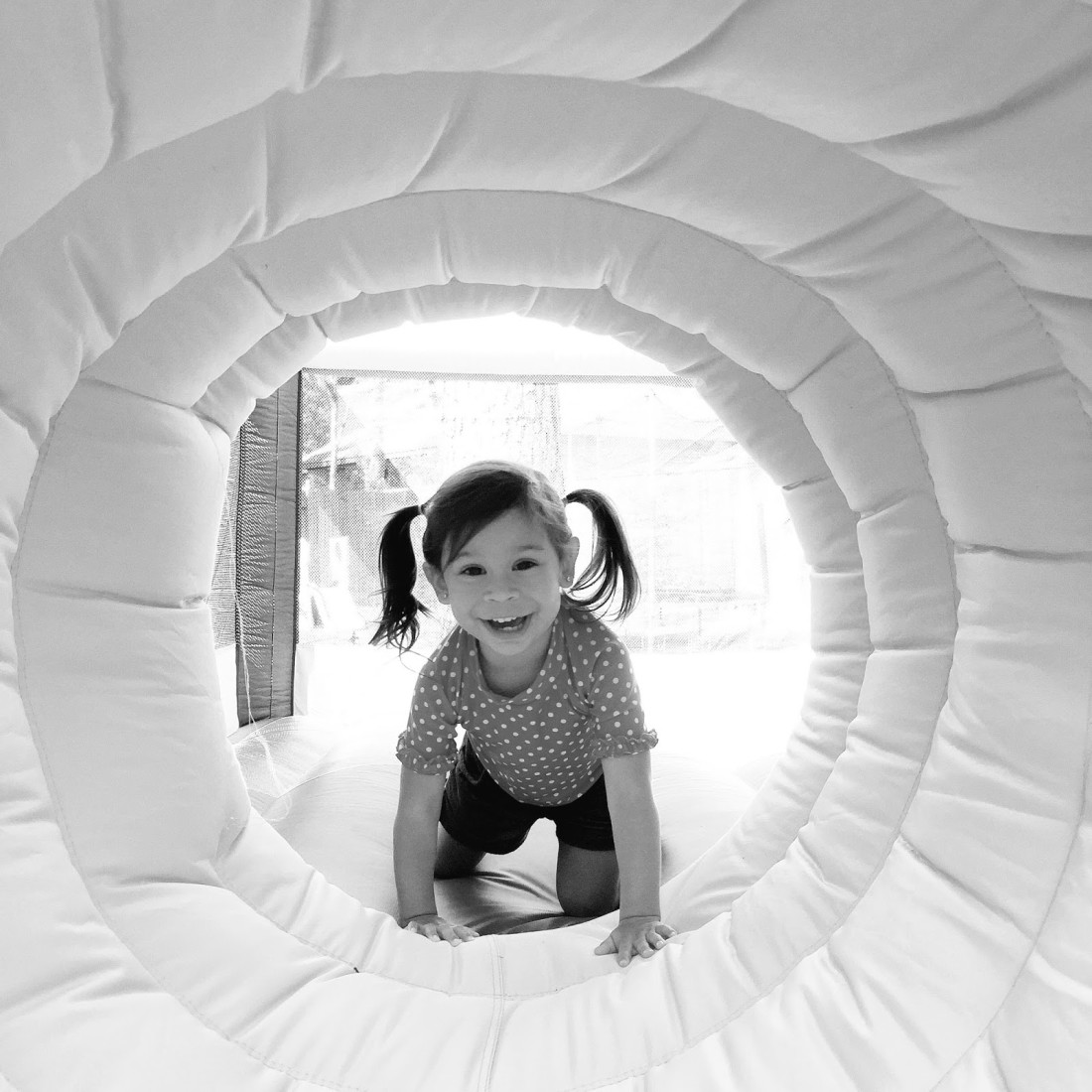 the little things. Lately, I've really been intentional about focusing on the positives around me. Charlotte is definitely my joy, and seeing her light up about the littlest of things, like a bounce house at a birthday party or a bug that lands on her shoe, helps remind me to enjoy the simple moments that God gives us every day. I've been loving the hashtag created by the Laura Casey Shop on Instagram called #clearoctober to focus on everyday blessings.
Just the other day, I was driving home after dropping off Charlotte and finishing a run, and when I turned the corner onto our culdesac, I caught a glimpse of a cross. I got out of my car, walked down the street, and I was right. It was a cross. It reminded me that Jesus is everywhere. He is always there even if we tend to forget.
But here's another cool concept. Have you ever heard about seeing what you're looking for? Let's say you want a new white SUV. Then when you're driving around, you see about 100 white SUVs. You notice because your mind is being intentional. I guess lately, I've really been intentional about looking for Jesus. I need him daily, and lately more than ever. I'm so glad He gave me this reminder in the street. It's the little things.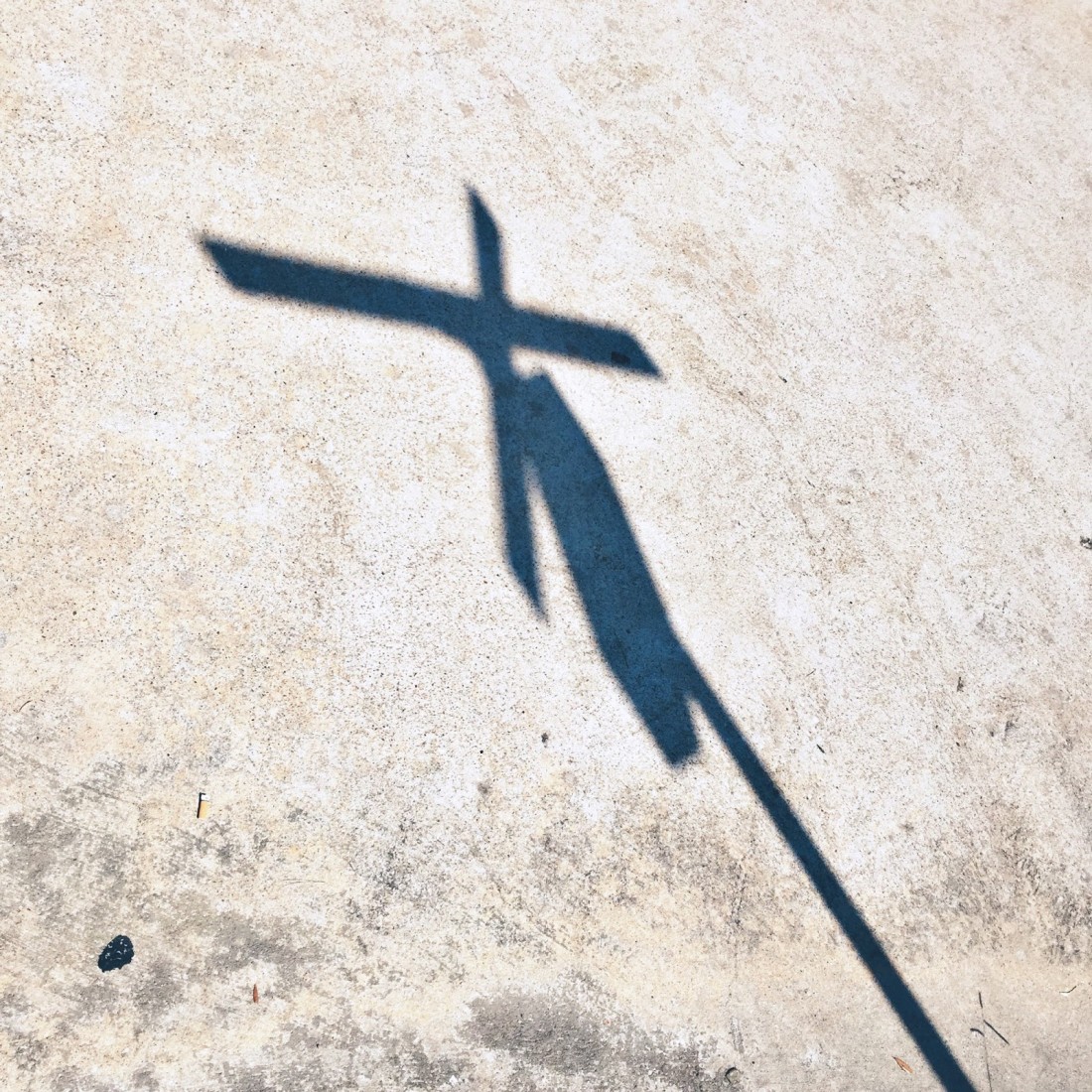 THREE.
Reading…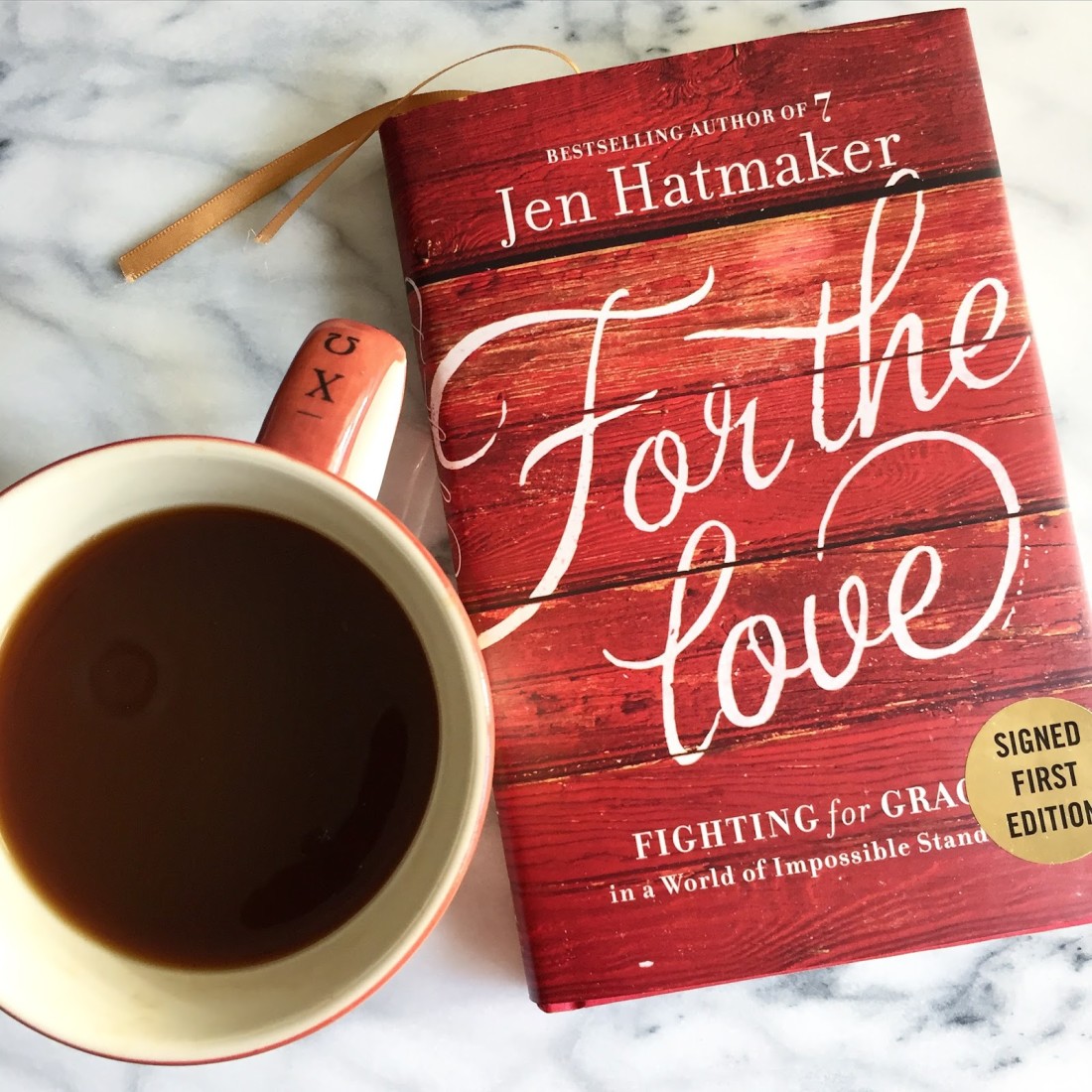 I've shared this book before, but you know how slow of a reader I am. I'm finally delving into
For the Love by Jen Hatmaker
, and it is rocking my socks off. If I can get around to it, I'll highlight some of my favorite quotes from the book, but I just love her voice and love for Jesus. She is hilarious, and every word that I've read feels like a breathe of fresh air. If you're wanting to laugh and talk about Jesus too, I highly recommend this book.
I've also been reading a book titled
Called to Authentic Feminism
. It's for a Catholic bible study I joined while Charlotte's in school thanks to
my friend Kim
who told me about it. The group is national, and our church has one now; it's called
Familia
. The first class was amazing, and I have a feeling that this study will be a huge blessing.
FOUR.
Exited about…
all things Halloween.
These Halloween pajamas from
Two Magnolia Lane
are one of our favorites, and the festive prints from Gap Kids have been too cute as well.
Before we went to the pumpkin patch, I prepared Charlotte by reading her all of these books, and we haven't stopped. She especially loves "A Halloween Scare in Texas" and "Room on the Broom." Oh, and "Where's Baby's Pumpkin?" What can I say. She loves books like her mama.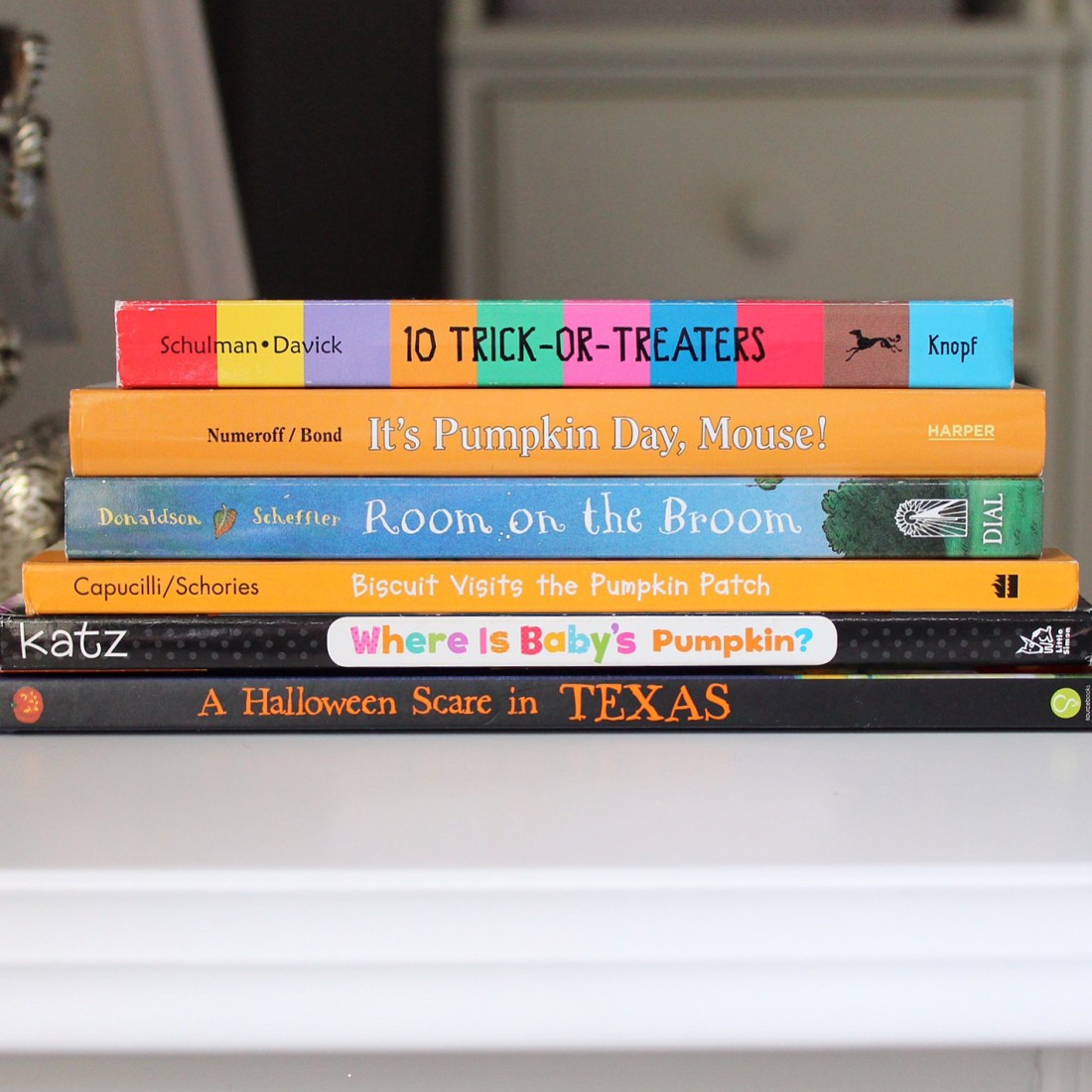 Now we just need to figure out what Little Miss Monkey Princess Pants will be for Halloween. The other night in Target, we came across this monkey outfit, and she was the cutest little monkey ever. But she wasn't a fan of the hood. Although, now that I think back, she loved the monkey suit. Hmm…we might have to go back for this one.
FIVE.
Making…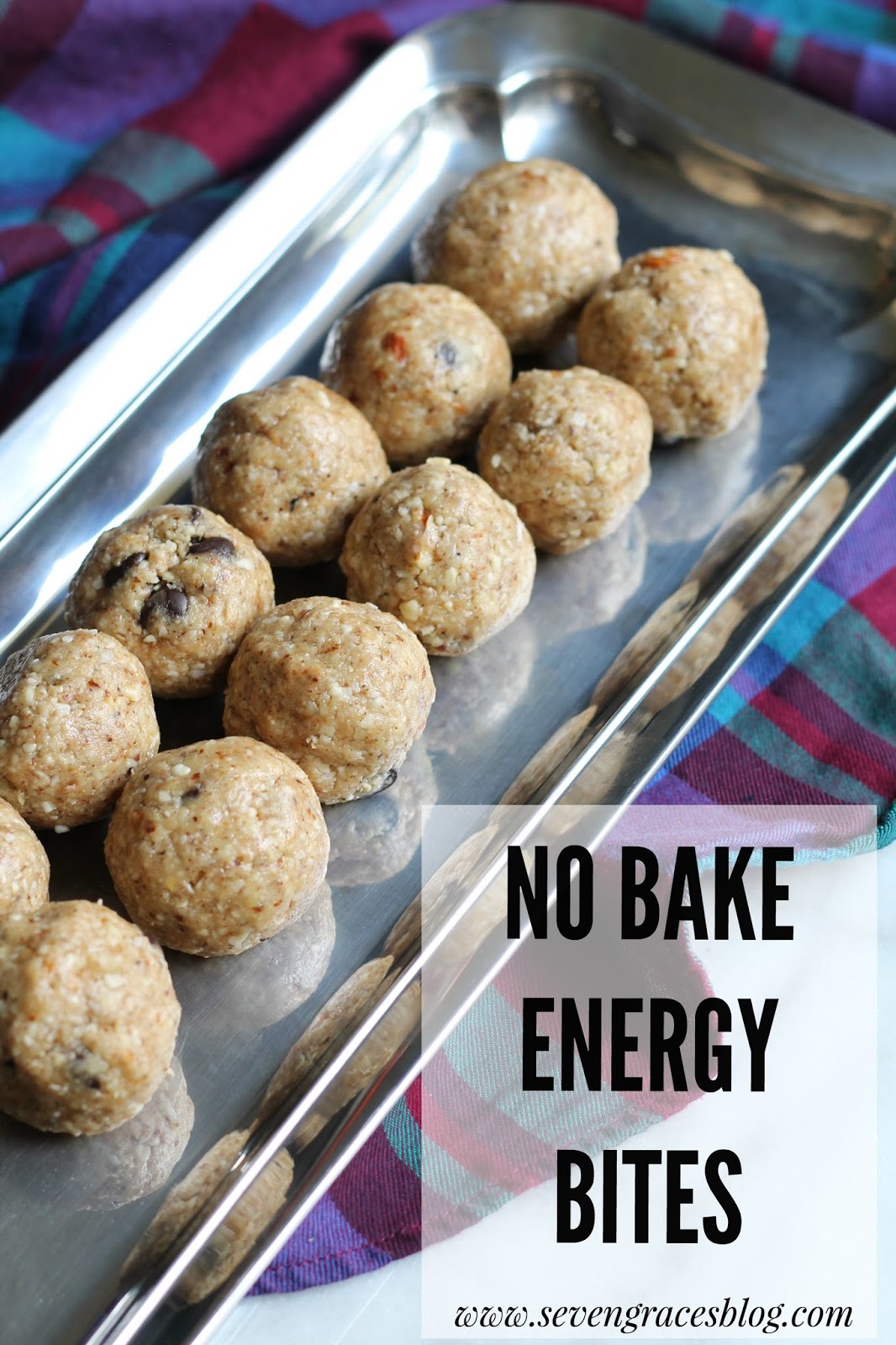 No Bake Energy Bites.
I found
this recipe
by Ashley Brooke Designs, but I tweaked the instructions. She also says this is Paleo, but I don't know which Paleo camp allows for oats, so I'm just calling them "no bake energy bites." MJM loves these because they're not too sweet and not too bland. Charlotte will nibble on them, but won't eat the whole thing. I like to snack on them with my afternoon coffee. Hope you like them!
NO BAKE ENERGY BITES
Ingredients:
1 cup Almonds
1 cup Walnuts
1 cup Cashews
1/2 cup Organic Oats (GF)
1/2 cup Organic Coconut Flakes (Unsweetened)
1/4 cup Semi Sweet Chocolate Chips (Enjoy Life brand)
1/4 cup Organic Honey
1/4 cup Almond Butter
1/2 tsp Salt
1/2 tsp Cinnamon
Instructions:
1. Dump all ingredients into a blender except for the chocolate chips, honey, and almond butter.
2. Pulse the mixture until it's finely chopped.
3. Dump mixture in a big mixing bowl, and add the remaining ingredients of the chocolate chips, honey, and almond butter.
4. Mix until the mixture is sticky.
5. Roll into one-inch balls and place on a cookie sheet.
6. Place in freezer for about 30 minutes or until hardened.
7. Store in refrigerator or freezer in a Ziploc bag.
And that's my five for the day. But one last thing…what I'm watching…is anyone else so excited about fall TV? I can't even with Scandal. Seriously, Olivia? And we loved Fear the Walking Dead. Now we're doing a happy dance for The Walking Dead's premiere on Sunday. Of course in the meantime, I've been watching
Downton Abbey
, and I'm also catching up with Nashville. See what I mean that I've been doing so much more by doing so much less? My house is also pretty spotless, too.
Since I'm blogging less, you can be sure to see me on Instagram, Facebook, or Snapchat (kristy7graces).
Hope all is well with you, and I'll talk to you soon!