Happy first week first full week of fall, y'all! This past weekend was filled to the brim with downtime, and we so needed it around here. Michael and I were able to go to a couples baby shower for our dear friends, I got a new phone (I finally upgraded to 7+), and I made a new quinoa dish for dinner that we all gobbled up. I know how much y'all love easy, simple, and delicious recipes around here, so save this one to your recipe Pinterest board, because your whole family will love it!
Last week, Colin and I were at our favorite store, Target, and we picked up 
truRoots Quinoa
. I have always been scared to try
quinoa
, but you guys, it's delicious! It's a healthy grain alternative to rice, and it's so easy to make.
truRoots
is one of the best organic brands around, so it definitely was my first pick.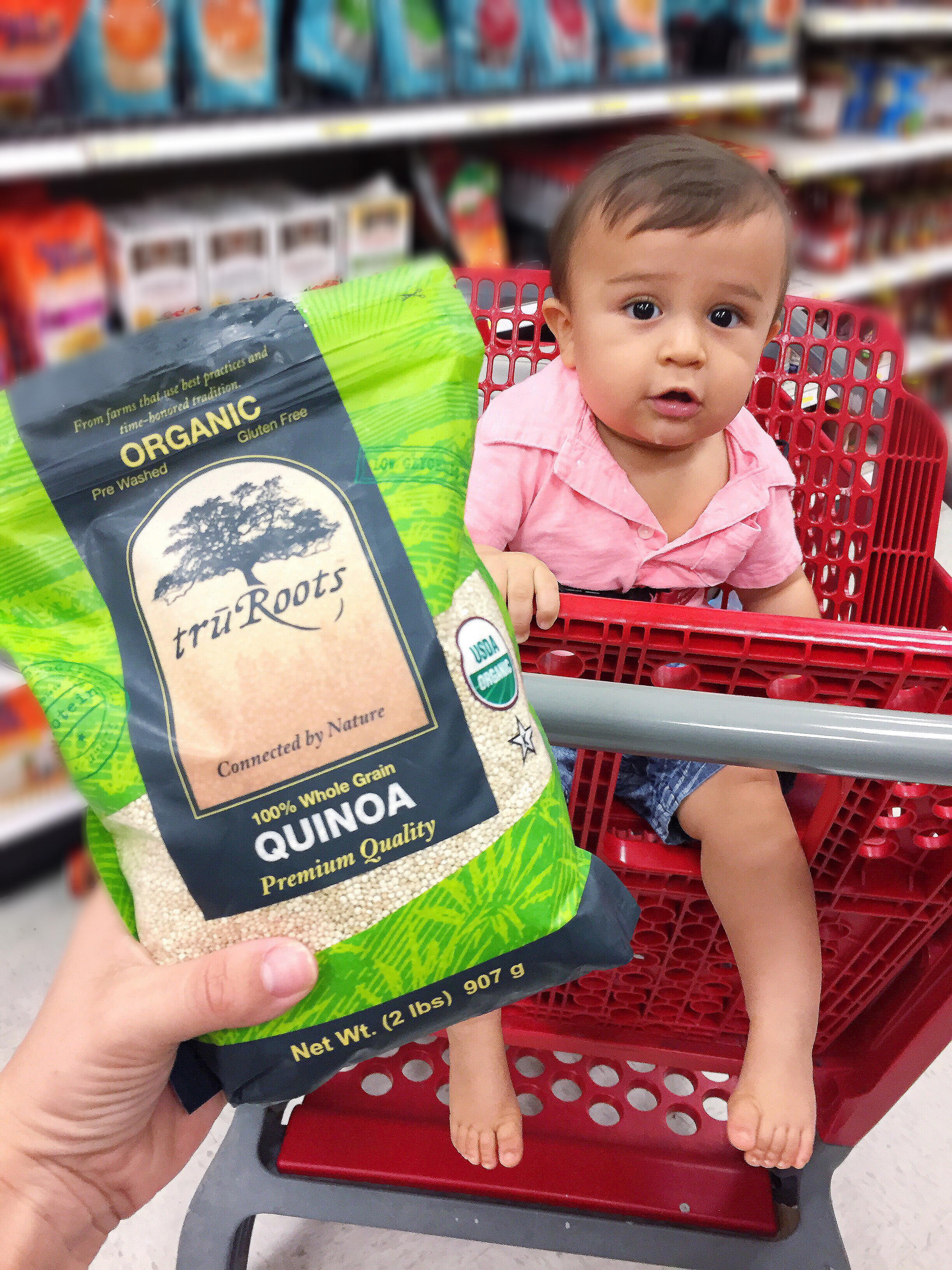 There are so many things you can do with
quinoa
. You can turn it into a great side dish or create a full meal like I did. Instead of making my boring chicken and rice, I got a little creative and came up with this delicious garlic and chicken mushroom 
quinoa dish
. Get ready to feast your eyes on a new family favorite dinner that'll be ready in 30 minutes!
Garlic & Chicken Mushroom Quinoa
Ingredients
1 cup of truRoots quinoa
2 cups of chicken broth
1 tablespoon olive oil
1 lb of sliced mushrooms
5 cloves of minced garlic
1 red bell pepper, diced
2 tsp fresh thyme
1-2 lbs. chicken thighs
salt, pepper, and garlic powder to taste
Directions
In a large saucepan, add 2 cups of chicken broth and 1 cup of quinoa. Heat to a boil, then simmer, covered, for 15 minutes following the truRoots package instructions.
While the quinoa is simmering, in a separate skillet, heat olive oil over medium high heat. Add mushrooms, garlic, red bell pepper, and thyme, and cook for about 3-4 minutes until vegetables are tender, stirring occasionally.
Throw in your chicken thighs to the veggies. Season with salt, pepper, and garlic powder to taste. Let chicken cook on one side for 10 minutes.
The quinoa should be done by now. Turn heat off and fluff the quinoa like you would rice. Set aside.
Return to chicken skillet. Flip chicken over after 10 minutes, season a dash more with salt, pepper, and garlic powder, and cook for an additional 10 minutes.
Once the chicken is cooked, combine the quinoa, chicken, and mushrooms.
Serve immediately and garnish with parmesan cheese if you wish. Enjoy!
My family LOVED this dish! Colin even loved the quinoa plain. I think we have a new family favorite!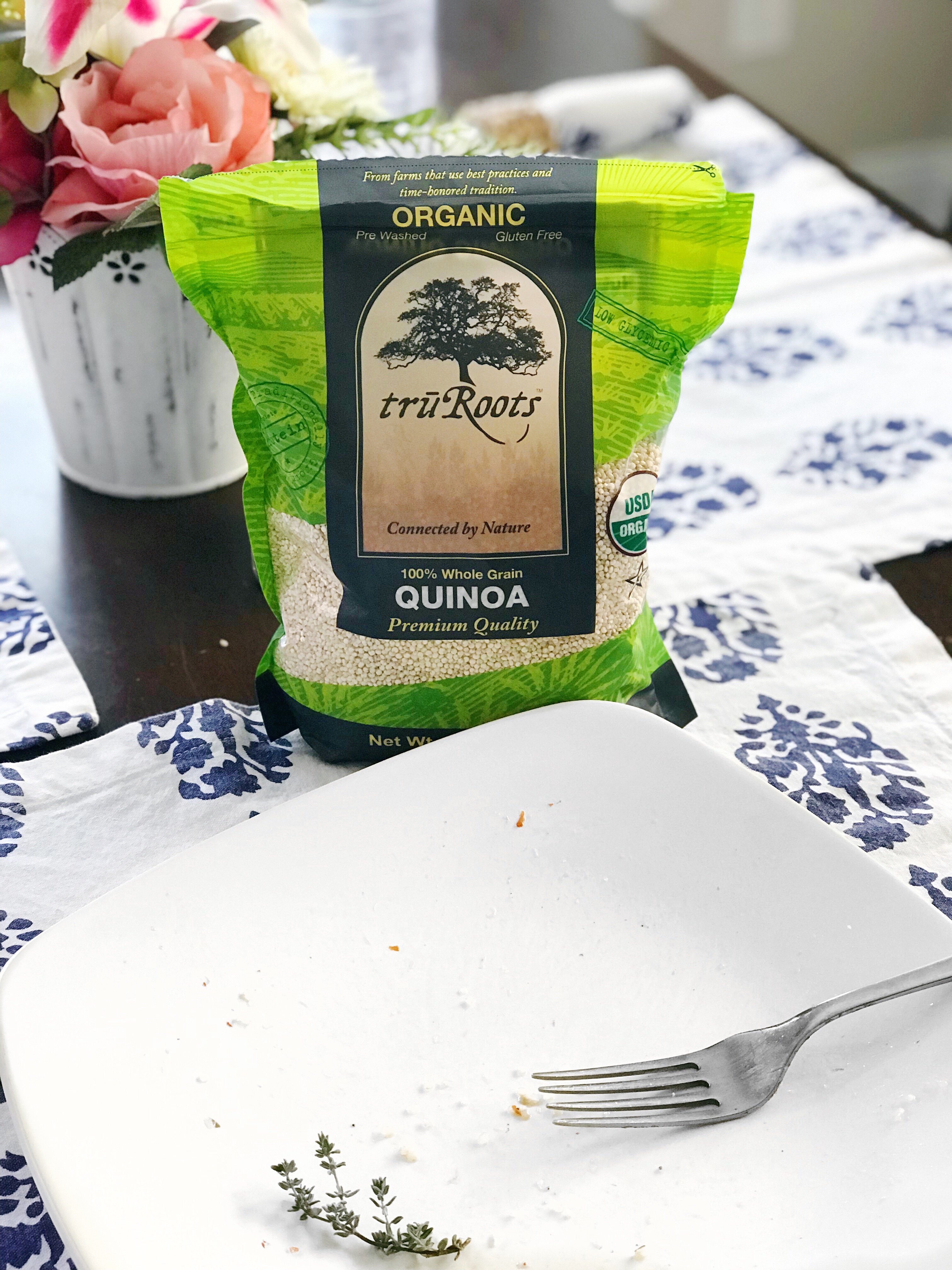 Now go and add this to your menu for the week, pin the recipe, and grab your 30% off Targeet Cartweel offer for your purchase of the truRoots quinoa! Offer is valid September 24-October 7, 2017.