This past weekend, the weather was absolutely perfect here in Houston, but I'm pretty sure our hot summer temps will be here before we know it. We've been spending lots of time outdoors lately, especially now that Charlotte knows how to ride her bike, and I'm so happy we've found the perfect snack for us to cool down. I'm pretty sure we've found our go-to healthy summer snack: the Outshine Fruit Bars!
On Sunday, I had Charlotte help me make some yummy Greek yogurt healthy frozen snacks using the Outshine Fruit Bar, and oh my goodness, they are amazing! But first, let me tell you about our little creation.
Charlotte was so excited to help and even deemed herself Martha Stewart. My girl really loves Martha, and it was all her idea to wear an apron and take the reigns. She loved every minute of making these healthy treats.
Frozen Yogurt Dipped Fruit Bars
Here's what you'll need:
plain, thick Greek yogurt
granola
parchment paper
Directions: 
Make a dipping station using two bowls, one for the Greek yogurt and one for the granola. You'll want to make the process easy for your little chef.
Set up a plate lined with parchment paper.
Have your little one dip each Outshine Fruit Bar with the Greek yogurt.
Once the fruit bar is covered, sprinkle with granola.
Place each fruit bar on the parchment paper and put in the freezer for several hours.
Enjoy anytime you want a healthy cool snack!
Charlotte's healthy summer snack
This girl loved every minute of making these healthy fruit snacks! The Outshine Fruit Bars are made with real fruit and fruit juice and have no GMO ingredients. That makes me so happy to know that she's getting something super delicious and good for her!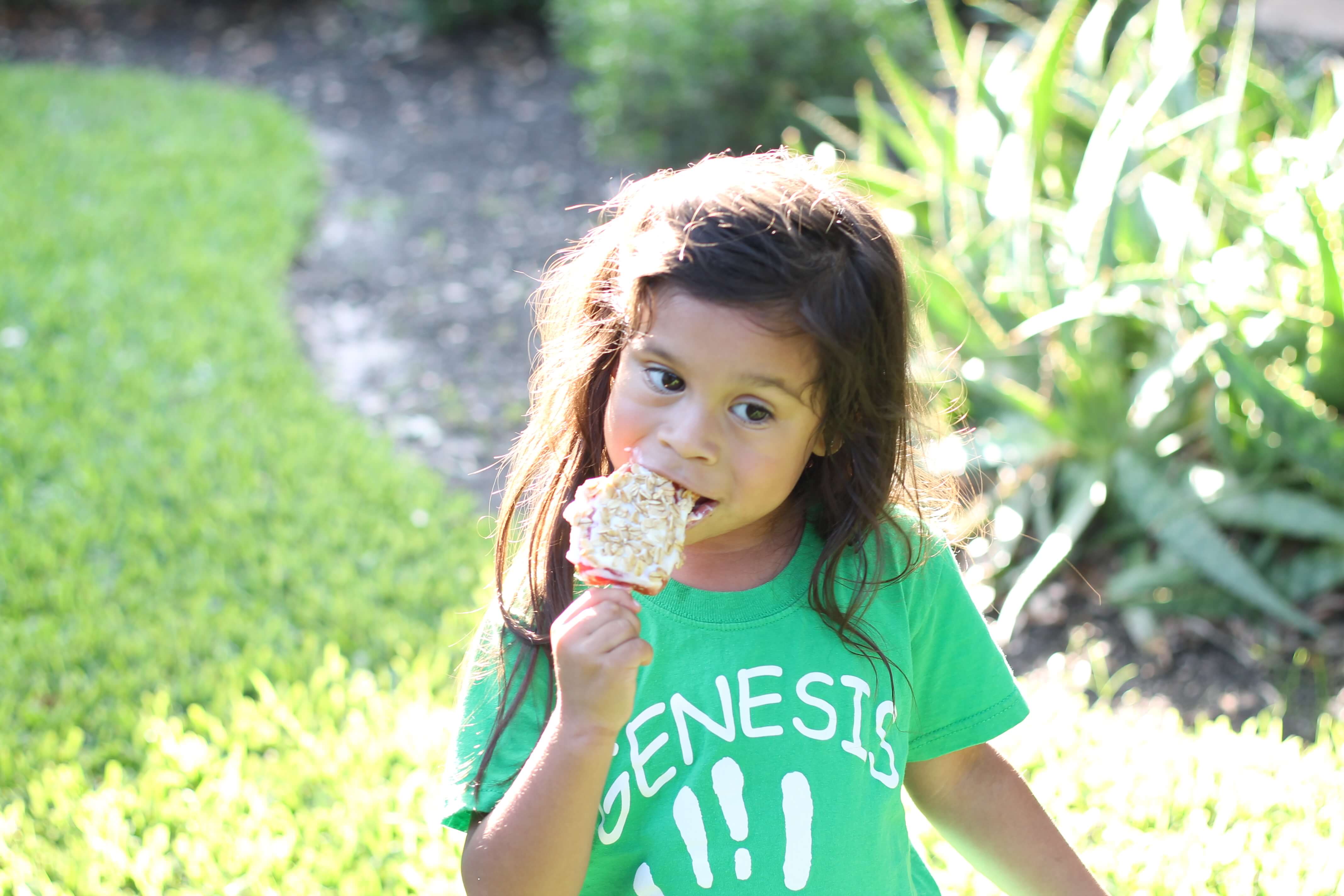 She could not wait to take them out of the freezer, and now she wants to make and eat these all the time, and I don't mind one bit. They are so good, especially after riding bikes!
We'll definitely be eating these all summer!
Be sure to check out all that Outshine has to offer on their website. You can also check the product locator to see which store nearest you sells the yummy fruit bars.
For more inspiration, hop on over to Outshine's Instagram page as well.