Happy Monday, friend! Did you enjoy any snow this weekend? We sure did, and it was the most magical time of the year for sure. But now it's time for my favorite post of the year: the little girl's gift guide!
There are only two weeks before Christmas, and rumor has it that today is really the last day to shop online for normal shipping times (i.e. not expedited). Eeep! I've been slow to put together any gift guides this season, but my gift guides from years past are still as relevant today as when I first wrote them. I've written a total of seven gift guides for the baby/preschooler, isn't that nuts?! So today, I'm giving you more ideas if you're completely stumped on what to get your little princess who has everything.
This year, Charlotte asked for everything under the sun. (Thanks, Disney Junior commercials.) While that would be nice and all, let's be realistic. Ain't nobody getting everything. Her list to Santa was a little bit shorter than her many requests to me personally: new Barbies for her Barbie house, a bigger bicycle, Nom Noms, My Little Ponies, and Shopkins. I think Santa can handle that.
I will say that I really do love the idea of giving five things: something they need, something they want, something to read, something to wear, and something to share. How fun would that be to get them only that? But when you have a big family, you get plenty of text of, "What do the kids want?"
Here are great ideas to give Santa, the grandparents, aunts, uncles and more for your little lady.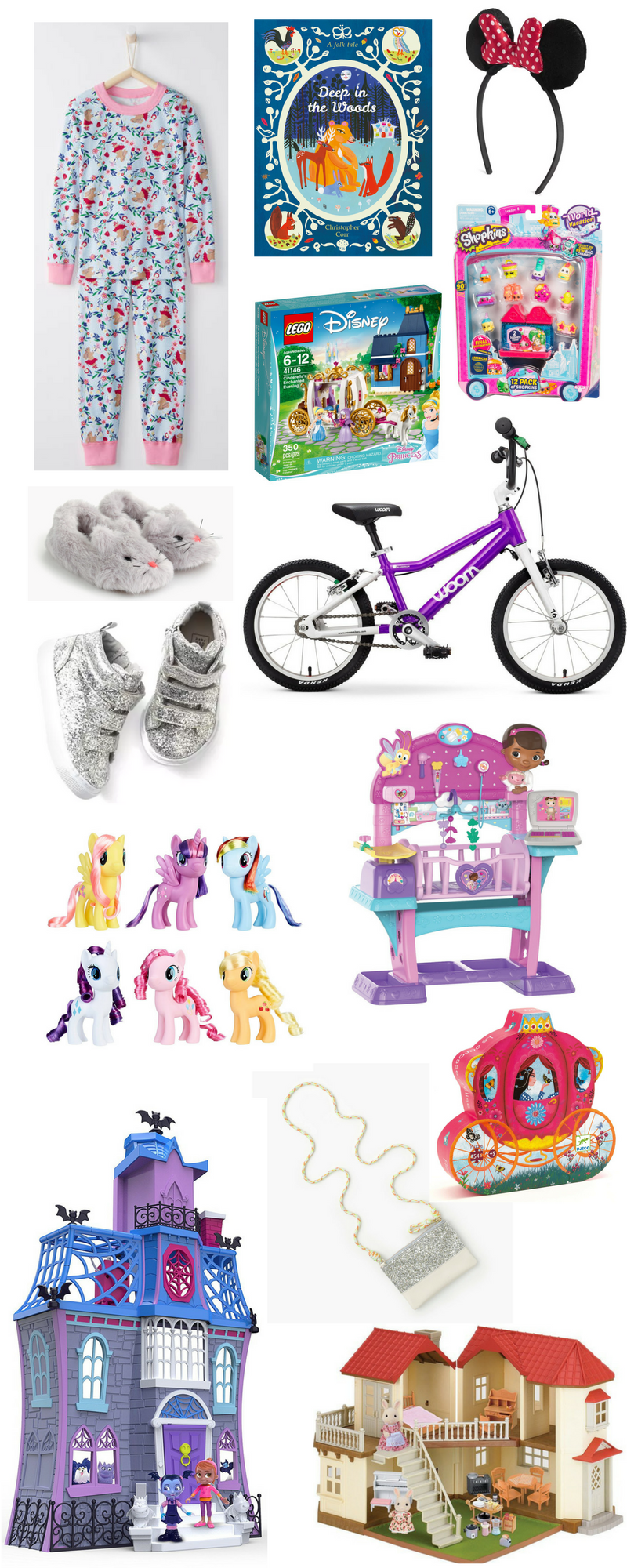 Pajamas // Hanna Andersson has the BEST pajamas, and right now they are 25 dollars, normally $40. A bit pricey for kid's pajamas, but they truly do last for more than a couple of seasons. Size up and they can wear them easily for a year. I scooped up this pair for Charlotte.
Faux-Fur Kitty Slippers // Cute slippers for the mini is a must! These are almost sold out, so try these glitter slippers from Target. So fun!
Woom Bike // I cannot say enough about this bike. It truly is the best kid's bike on the market, and we love it so much that I'm dedicating an entire blog post to it this week again. Charlotte's upgrading to the Woom 3 this year, and I can't wait for her to start riding it. To see why your kiddo needs this bike, you can read my first blog post about them here. I even have a video of how Charlotte learned how to ride her bike in one week flat! So worth the money!
Glitter Purse // Never met a girl who didn't love a good purse. This one is adorable because glitter.
Carriage Puzzle // This puzzle doubles as a cute decoration for a shelf and a fun puzzle to challenge the brain. So fun!
Vampirina Doll House // This would be so "monstrously stylish." Santa's bringing this one. Charlotte is obsessed with the new show and equally loves the book. Doll houses are clearly a favorite in this house. We could probably start a village after Christmas.
Calico Critters // This Calico Critters Luxury Townhome set is $50 off and under 80 dollars! It's also an Amazon Prime gift. Woohoo!
Doc McStuffins Animal Hospital // On major sale at Target and available for in-store pickup. Go get it! This set is adorable! Your little darling can play doctor and care giver. :) So cute!
Lego Sets // We are finally to the stage of loving Legos. Charlotte loves putting them together with the help of her daddy of course. I love this Cinderella Enchanted Evening Set and this Belle's Enchanted Castle. Both are on sale at Target with free shipping. Perfect for your Disney-loving princess.
Shopkins // Any Shopkins will do. I have no idea why little girls are obsessed with these things, but they are! :)
Fun Headband // How cute is this cat headband and Minnie headband?! Both are on sale at Gap for 55% off. Sweet! Accessories are all the rage for little girls.
My Little Pony anything // this set from Target is so cute and on sale for less than 50 dollars. It comes with all of 6, and they're the bigger size, 6 inches tall. Charlotte has asked for every one of them. If we hadn't gotten her the little ones, I would have bought these for sure.
Glitter Tennis Shoes // From Gap Kids :: Use code MERRY and STYLE for 55% off. They come out to less than 25 dollars– they're normally $50! Charlotte has these, and I love them for her, especially the velcro straps! They go with everything and would make the perfect gift for any little stylish tot. And honestly, anything from Gap Kids is a win in my book. You can't beat 55% off either. That's a bigger sale than Black Friday! Hop to it!
Unique Book // Deep in the Woods is such a beautiful book to display and to read. I couldn't pass this one up. We're book obsessed in this house.
And my go-to gifts to request for my kids when I'm not requesting anything specific are:
puzzles,
crayons,
coloring books,
socks,
underwear,
and pajamas (they deserved to be mentioned twice).
You really can't ever get enough of those.
Every year, our kids get a big gift, and this year, they're coming from the grandparents. A fun new play table with colorful chairs, a trampoline, and gorgeous room decor pieces are going to be joining our home. I'm pretty sure I'm more excited about my kids' gifts than my own.
And if you're wondering what we're getting Colin, I could have come up with a post specifically on car toys. Sounds fun, huh? He's so precious and still so little, that anything with wheels will do for him. That and building block sets. If you're looking for a baby gift guide, check out this one!
But really, don't you think these littles would be happy to open up any little thing? How blessed are they to be showered with love and gifts. It's so much fun to see the magic in their eyes, enjoying the simple joys of Christmas.
---
You can shop each item by scrolling through the lineup below. :)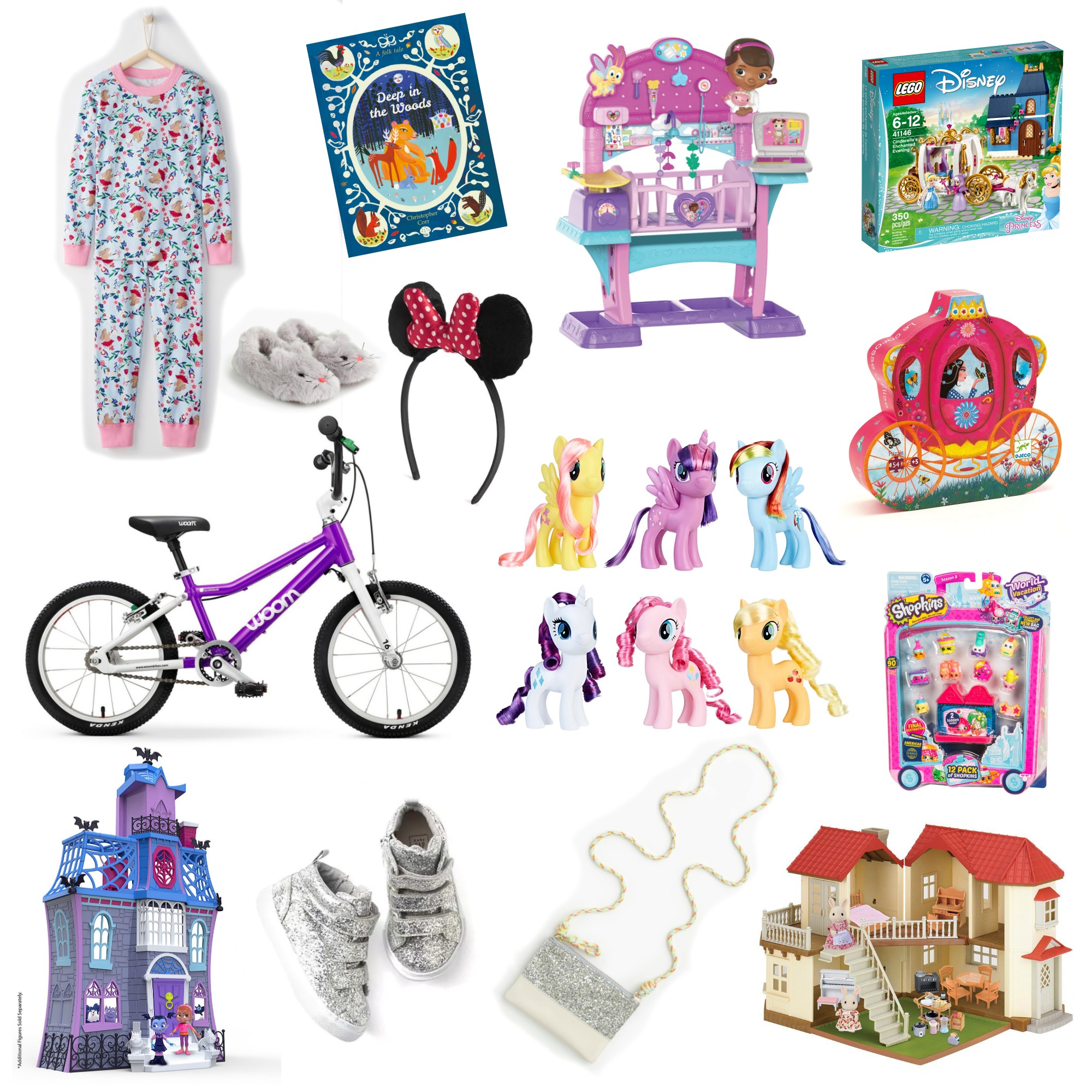 Hope that was helpful! Let me know if you need any help with more gift ideas.
Grace & blessings,
Kristy