Happy Friday, friend! Another long week is in the books. Pink Eye for Charlotte about did me in. Then she had a rough couple of nights, but essential oils for the win! Anyway, things are looking up and I am so EXCITED to share something I've been dreaming of doing since I started this blog three years ago: a style challenge!
Okay, so what is a style challenge and why am I doing one? A style challenge is a month-filled calendar with daily style inspiration to get you from frumpy to fabulous. I've talked before how I finally am starting to feel like myself again postpartum, and my hope is to help all of you feel like your best self.
If I listened to the voice of doubt in my head, I wouldn't be doing this at all. I'd come up with excuses like, "you're not thin enough yet, you know nothing about fashion, you're not a fashion blogger," and other lies to discourage me from doing something I'm truly passionate about. If you're thinking you can't join in on the fun for the same lame excuses that have held me back for so long, I'm here to tell you that YOU ARE WORTHY AND YOU ARE WORTH IT.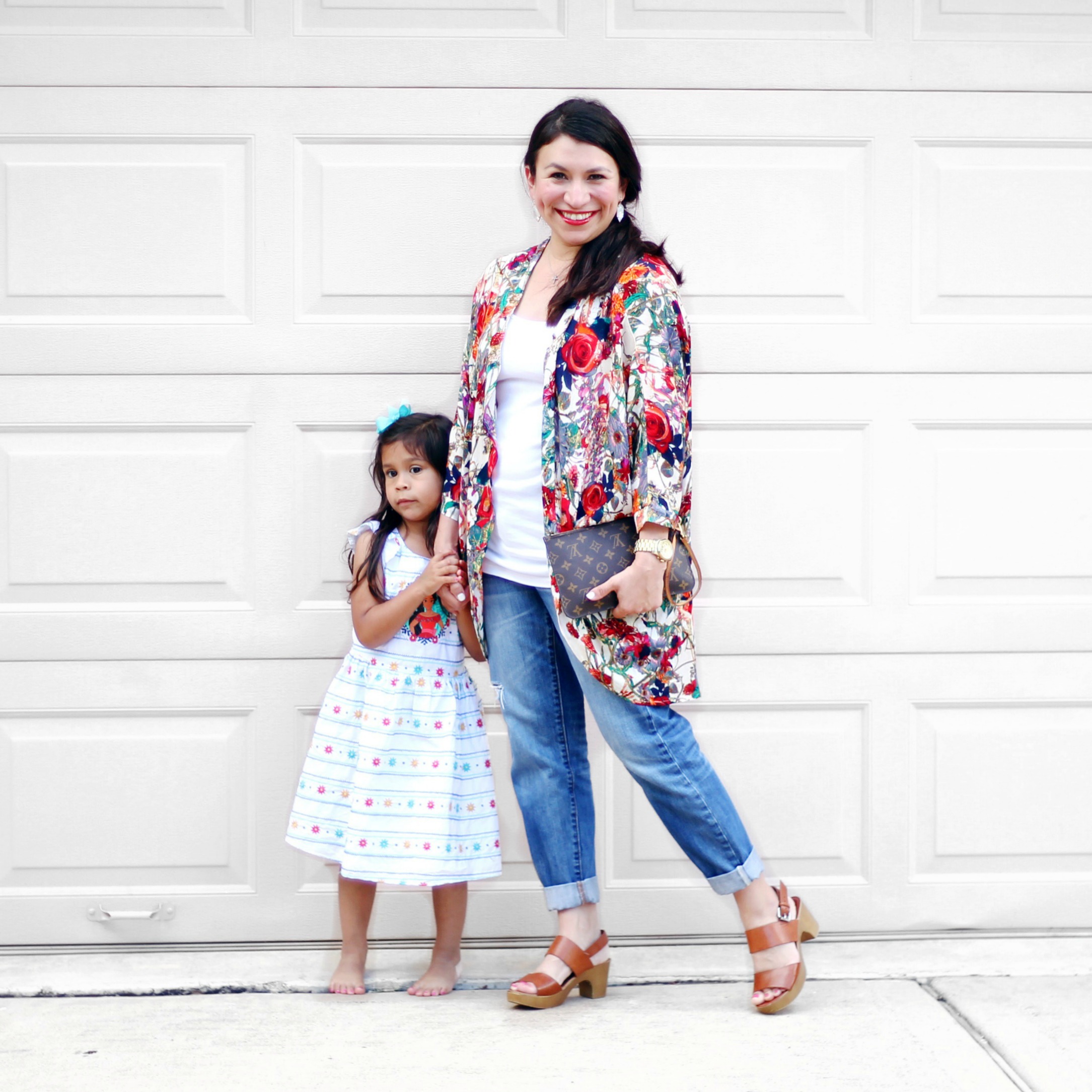 Gray Monroe Kimono (I'm loving all the new styles in Jenny's shop!) / jeans / sandals (similar) / earrings
Dressing ourselves in joy, grace, and beauty is what this is truly about. No matter your age or size, you CAN have fun with this.
How It Will Work
ONE. Where Can I See Your Outfit Inspiration?
Each day, I'll be sharing my outfit of the day based off the style prompts below that I've created for each day; I'll share my daily outfits on Facebook and in my InstaStories. Be sure you're following along in both places to get the most out of the Style Challenge.
TWO. Where Is Your (fill in the blank) from? Where can I find that?
I'll be linking outfit details I share via LikeToKnow.It on Instagram. If you're not a blogger, and you have no idea what LikeToKnow.It is, let me give you a quick tutorial.
LikeToKnow.It is an affiliate program, brought to you by a company called rewardStyle. Through the program, I get a small commission of any purchases you make through any of the links I share. Think of it as me being your personal shopper. If you were to head to the store, and I were with you, these are the things I would pick out for you. Most sales people in retail stores make commission, and thanks to programs like rewardStyle, bloggers can be rewarded for pointing you in the right direction for a product we know you'll love.
Head to the LikeToKnow.It website and sign up to receive product details from #liketkit Instagram photos. When you sign up, you'll be privy to an email with all of my outfit details directly linking you to products and clothing items I've shared. All it takes is a "like" on a LikeToKnow.It post of mine, and the email will make its way to your inbox! Sometimes I'll link similar options at different price points, too.
If you're an app person, you can download the LikeToKnow.It app, and each time you see a #liketkit enabled picture, screenshot it, and the outfit details will show up in your app shortly. How cool is that?
And if you'd rather not sign up for emails (I actually love them because they remind me of something I've seen from another blogger that I want to check out), I've created a SHOP tab on the blog. Right now, there are two categories on the menu bar on the top of my blog page–My Closet & On My Radar. Both will take you to pieces of clothing I'm rocking right now or would love to buy in the future.
THREE. Sounds fun. How can I participate?
To make this challenge a fun one, be sure to use the hashtag #MayMomStyle. When you share an outfit of the day, inspired by the challenge, use the hashtag so that we can all be inspired by YOU! Then when you're on Instagram, you can search the hashtag and be inspired by all who are participating.
I would love to do a roundup of all of the outfits inspired by the May Mom Style Challenge, so stay tuned for that!
FOUR. Are there any rules?
No rules for this, just have fun with it. Even if you're not a mom, please join us! I'm only calling it a Mom Style Challenge, because I'm a mom. ;)
If you want to participate for one day or all of them, it's up to you! Just please let us know when you do by using the hashtag or tagging me in InstaStories. Don't get discouraged if you want to do all the days but can't. Do what you can when you can!
And please do not feel the need to shop for this. If you want to, great! But I'd love for you to SHOP YOUR CLOSET for this. You'd be surprised what you already have. You may even be inspired to wear something in a whole new way. Get creative and let others inspire your outfit choices. Accessories are the easiest way to make an outfit work, too.
FIVE. Spread Beauty.
I really can't wait to see what you all come up this month! This should be a blast. Share likes and love and gracious comments to all who participate. Be the light and keep it positive. We're in this together!
THE MAY MOM STYLE CHALLENGE PROMPTS
So are you ready to get out of your pajamas and get to glowing? Here are the daily prompts for each day in the month of May. (A lot of these prompts were inspired by you when I asked what your favorite spring trends were, too.) Like I said, get creative and shop your closet. But if you feel like shopping, we have plenty of options to help you do that, too. Who's excited?!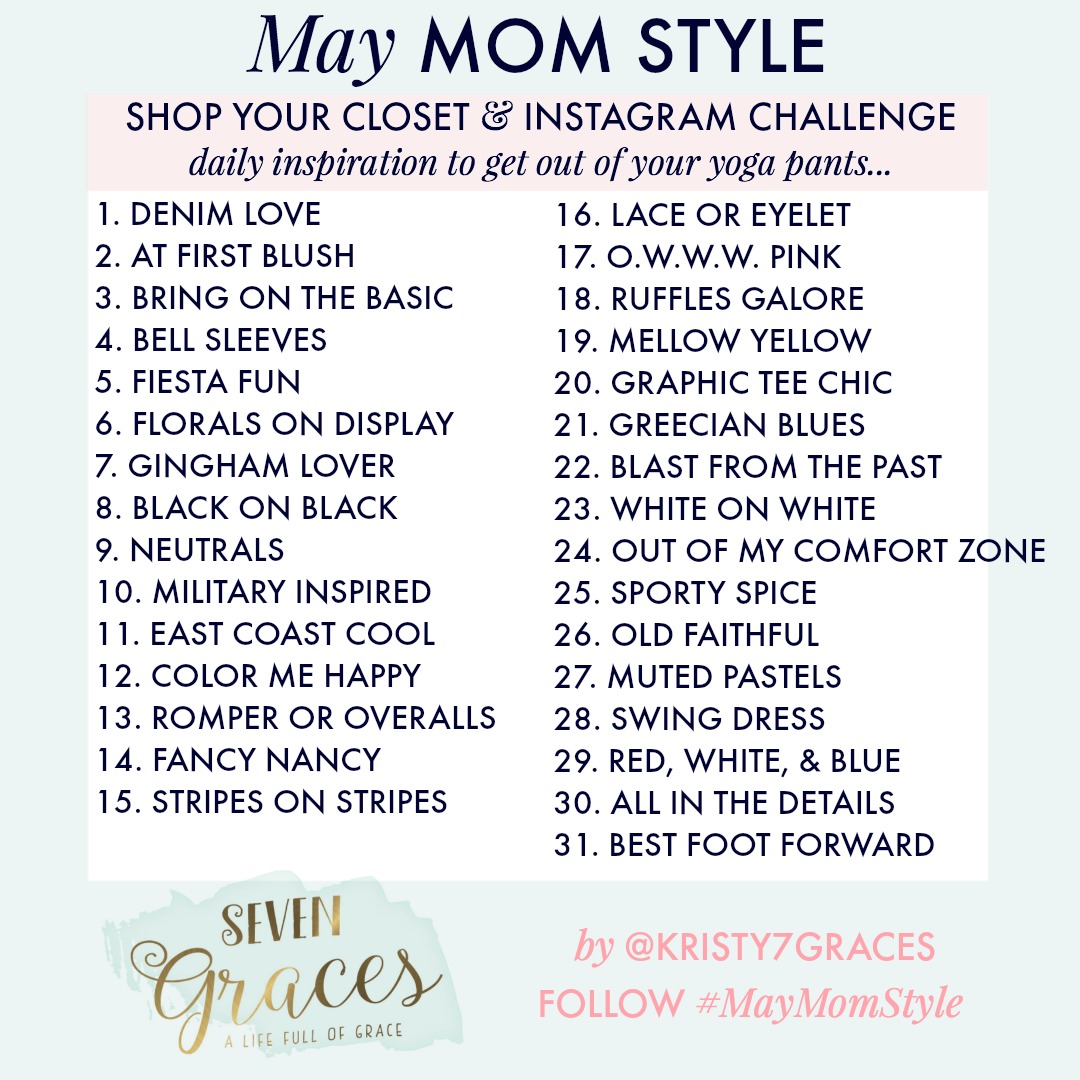 Let's rock this, girlfriend! I can't wait to see your style posts! Xoxo