I probably should start out by saying, if you're looking for a strict diet of hardcore Paleo life, you've come to the wrong place. Two years ago, I shared this Paleo post when I first danced with the Paleo lifestyle. Now that I'm older and wiser, I just do what I can do. As you know, being a busy mom means it's usually hard to take care of yourself sometimes, but it's oh so important. "You are what you eat" couldn't be more true. You eat crap, you're going to feel like crap. You eat great foods, you're going to feel great. It's funny how simple the answers sometimes are.
Let's backtrack a little. I recently shared my struggles with PPD. Because of my bout with depression, the pounds just seemed to pack themselves on in droves. After you have a baby, your body goes through the wringer. I have been a yo-yo when it comes to weight, but I know what works for me, and Paleo works. I had been eating like a college girl studying for finals, but I had to put on the breaks, sister! It's all fun and games until your pants don't fit.
Per your request, I'm breaking it down for you so you can get a better idea of how this Paleo life could work for you, too. Ready? Let's do this.
Before I get into the details, you all need to know I am in no way an expert on the matter. I'm not a doctor, especially one specializing in weight loss. I'm not a nutritionist, dietician, or anything of the sort. I'm just a mom who tried to eat better, using Paleo standards as my guide. Here's what has worked for me. 
What to Eat & What to Keep Stocked in Your Fridge & Pantry

Everything on this list above has served as my guide, and everything above is all on the good list. This is not an end-all and be-all list though. Use your common sense. Is it natural? Is it organic? Would a caveman have eaten it? If you answer yes, you're probably in the clear.
Now that you have an idea of what the Paleo food list looks like, let's get real.
How to Get Started: All the Tips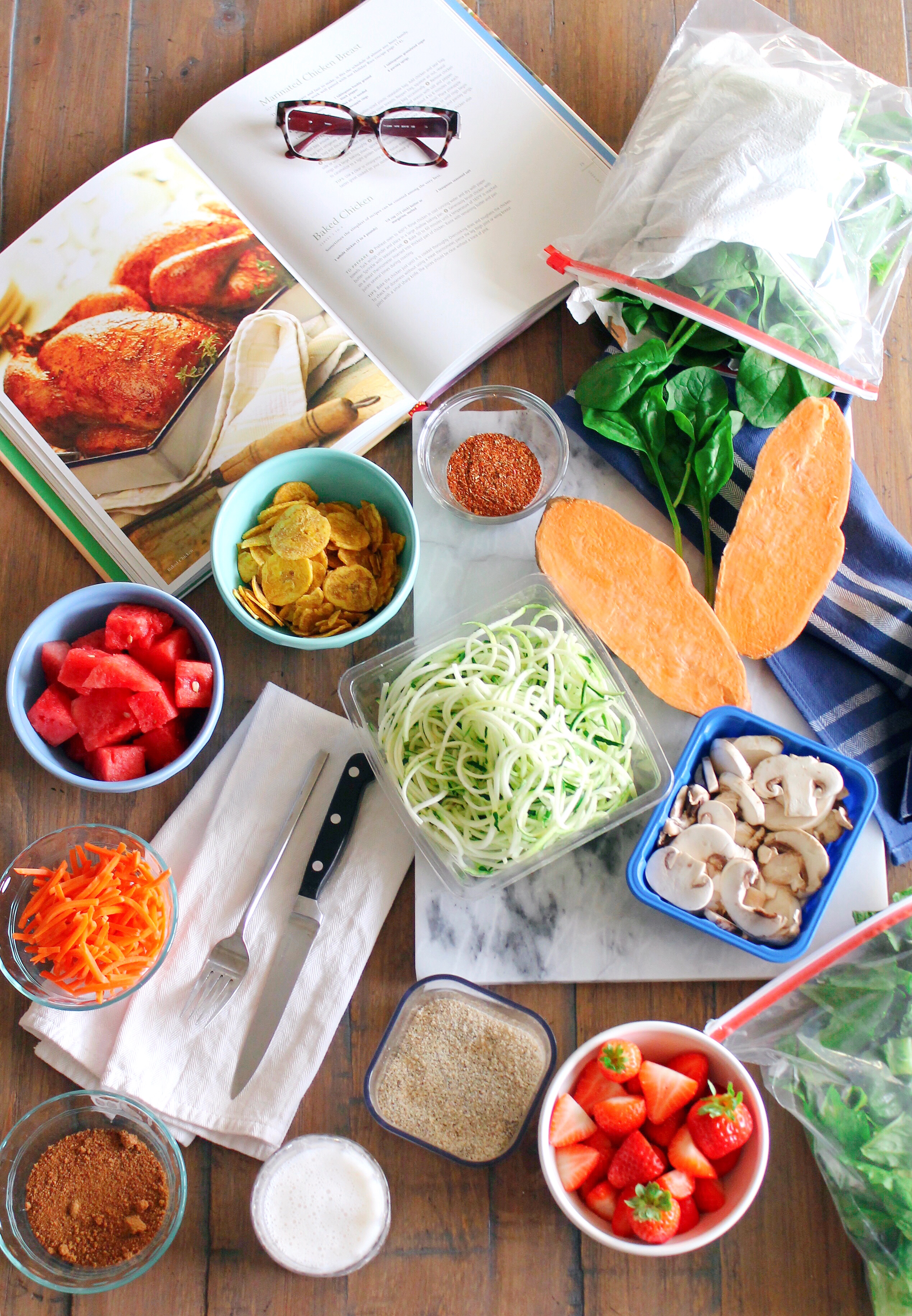 All of the above foods in this pretty little layout on my dining room table are straight from my fridge and pantry. These are staples in my house now: lots of fruit and vegetables with protein thrown in the mix.
Want to know a little bit more about the "diet?" Of course you do. Here are 10 things you need to know.
1. Your diet will consist primarily of meat, vegetables, and fruits. Focus on what you can eat, not what you can't. Just keep everything as natural as possible. Organics are a plus, and grass-fed, pasture-raised meats are preferable.
2. You won't be eating dairy, grains (including corn), legumes (especially soy), refined sugar, sugar substitutes, or vegetable seeds oils. If you can't do without dairy, take a look at Paleo 2.0. I absolutely love almond milk though. (Note: I DO use olive oil and coconut palm sugar.)
3. Some perks: You can have butter, sweet potatoes, and yams, and you can bend the rules occasionally. I mean, we're moms for heaven's sakes. For instance, I eat salad dressing of my liking every now and then if I don't have Tesame's on hand. I use "a dab a do ya" (a little dab) of real mayo every now and then, too. I cook with with olive oil, although I could easily use lard, but I keep things realistic.
4. Get creative. Replace peanut butter with almond butter. It can also be substituted with sunflower seed butter. Make cauliflower "rice." Steam cauliflower, then pulse it in a food processor. Make "spaghetti" dishes with spaghetti squash. Enjoy "zoodles" aka zuchinni sliced up like noodles. Thanks to handy gadgets like this spiralizer, Paleo is so much easier these days. My grocery store (HEB) sells these type of things prepackaged too if you don't have the time to spiral your own noodles, because life.
5. Drink tons of water throughout the day. Have the trusted 8 glasses a day. Keep a big jug like this Yeti tumbler with you at all times. You'll be surprised how many times a day you'll head to the water fountain.
6. Don't overkill the exercise regimen. Stay active, but trust your gut. Literally. And get plenty of rest!
7. If it's in a box, it's probably not good to eat. The exception for grocery shopping (for me): broths (I buy organic) and canned vegetables, and the occasional prepackaged and already cooked frozen meat.
8. Try to steer clear from alcohol, but the occasional glass (not glasses) of wine won't hurt you. Same goes for dark chocolate, and always remember, the darker the better.
9. Don't count your calories. Eat when you're hungry and eat plenty. My stomach has actually shrunk, so I am way more full on less food than I ever was before.
10. Paleo is all about trying to emulate the caveman's diet. If a caveman would have eaten it, it's probably a go for the diet. But don't beat yourself if you mistakenly have a piece in your Unwich. It'll happen. Just move and keep going full steam ahead.
My Favorite PALEO Life Hacks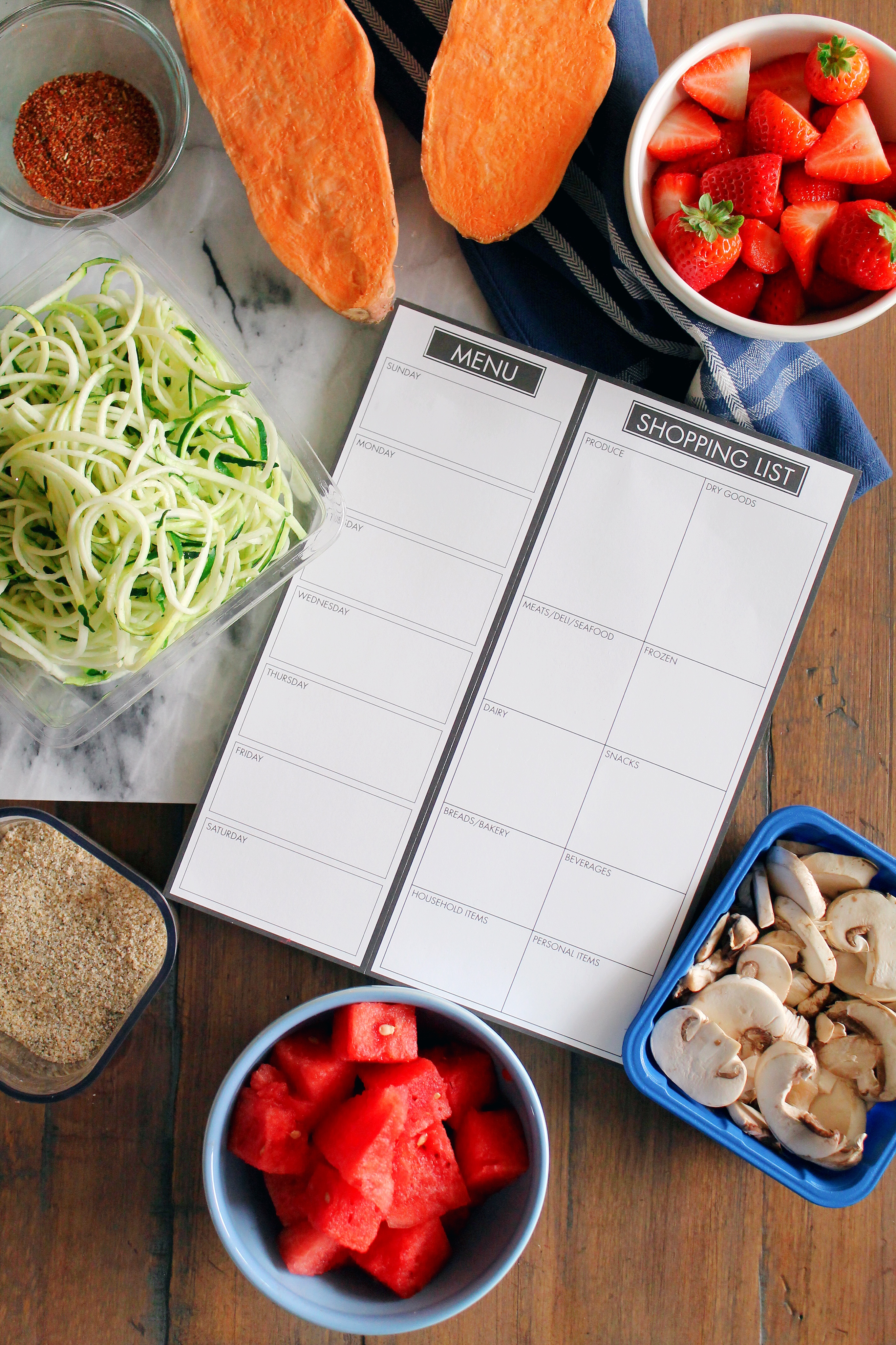 One of the key things to being successful with this lifestyle is PLANNING. Have you ever heard of that phrase, "failing to plan is planning to fail"? That's Paleo life. My personality when it comes to things like this is I'm either all in or not at all. If I set my mind to something, then I'm determined to do it. I guess that's why I've been able to run a marathon before? Anyway, here are some tips to get you all sorts of organized.
MEAL PLAN. You need this meal planner in your life. Plan out all of your meals. Plan your meals and snacks, and then plan your kids' meals and your husband's meals if they're not doing Paleo with you.
FOOD PREP. Each week after we meal plan on Sunday, my husband heads to the grocery store and when he gets home, I prep all the vegetables and fruit for the week. Cut, chop, wash, and store all your veggies and fruit! These produce saving storage containers look just perfect for this. Food prep will make life so much easier when you're needing a snack and are eyeing the cereal on the top shelf of your pantry. Nope, just grab your sliced strawberries or make an Unwich to hold you over.
Have Almond Milk and Coconut Palm Sugar with your coffee. If you're a cream with your coffee type of girl, you'll love these two things with it. I cannot live without coffee, so even if Paleo said I couldn't have it, I would have it anyway because it's my party and I'll cry if I want to.
Have Snacks On Hand at All Times. Always have snacks ready to eat. I love plantain chips and almonds, and apple slices with almond butter is my jam.
Don't freeze your meats! This will force you to stick to your meal plan because you won't want any meat to spoil now would you?
Make Your Own Special Seasonings. I make my own taco seasoning and it's great for taco salad night! I also make my own House Seasoning courtesy of Paula Deen. I use it in all all the things!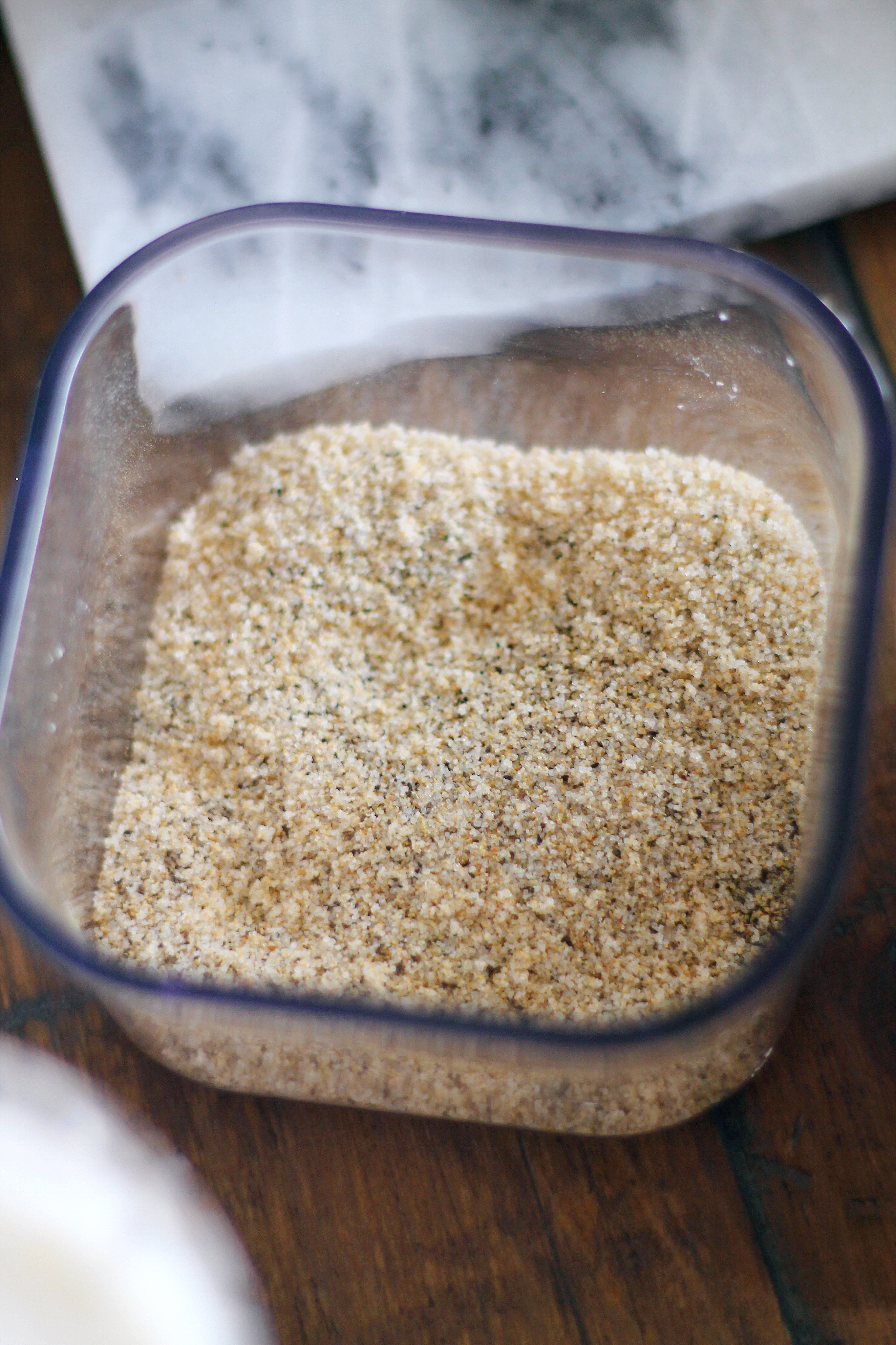 Here's how you can make yours:
1 cup salt
1/4 cup black pepper
1/4 cup garlic powder
Mix all ingredients together. Mixture can be stored in an airtight container for up to 6 months.
Go-To Easy Meals & Best Cookbooks
I'm not going to type out every single recipe I love, but I will link to some of my tried and true things, along with a great list of cookbooks for the Paleo-lifers. Get ready to pin all of these recipes!
FOR BREAKFAST
Besides plain eggs, scrambled eggs, boiled eggs, etc., here are some of favorite recipes for Paleo breakfasts.
This breakfast casserole is everything. I actually changed this recipe up quite a bit and added diced sweet potato and used fresh spinach instead of frozen. Throw in a can of drained Rotel, and get ready for some brunchy goodness! I am eating it right now for lunch, actually. Who knew I wouldn't even mind eating a casserole without cheese. I'll make this at the beginning of the week, then I'm set for breakfasts/lunches for several days.
Tomatito is a must. It's what I love to make on the weekend. My family eats it with tortillas to sop up the juice.
I kind of cheated with this and went the Whole 30 route with this meal, but bacon, potato, and egg (tacos for the non-Paleo people in my family) is a weekend ritual for us.
FOR LUNCH
Unwiches are my best friend. What is an unwich, you say? Grab two pieces of long Romaine lettuce leaves, and use it as your wrap. Stuff with Paleo approved deli meat, as in from the deli counter (turkey, chicken, roast beef), sliced carrots, cucumbers, etc. I dab a little bit of mayo and mustard in mine, and it's so good I almost forget about my love for bread.
Boiled eggs or scrambled eggs with avocado are great. I eat that with some fruit, and it satisfies my hunger.
Salads have been my go-tos for lunches at restaurants; I just tell them to hold the cheese. I pair them with the tastiest meats I can get. Greek-style lamb slices, chopped steak, or fajitas are usually what I crave.
Cocktail shrimp and homemade cocktail sauce has also become our Sunday football tradition. Who said you have to miss out on football finger foods?
FOR DINNER
You all know I'm all about the easy meals. The thing about Paleo is that some recipes call for a lot of ingredients, which is why food prep is so important. But here are some of my tried-and-true favorites.
Classic Caesar Salad :: hold the croutons and shaved parmesan cheese
Honey Garlic Butter Salmon :: I eat this with roasted Brussel sprouts, cauliflower rice, or any other veggie I have on hand. This sauteed broccolini is a favorite!
Chopped Steak with sautéed onions & mushroom sauce :: I use about a pound of ground beef, season with my house seasoning, creole seasoning, and other spice I like, make them into patties, and cook on the stove top in a frying pan. I add a little Worcester sauce to make a "gravy." I sauté the onions and mushrooms first, then add in the patties. I cook them for about 5-7 minutes a side depending on the thickness.  Serve with homemade sweet potato fries!
Chicken Pesto :: This is another meal that probably isn't technically "Paleo," but I eat it with zoodles and call it good enough.
Pulled Pork :: OMG, this pork, you guys!  Made in the slow cooker, and it truly is my favorite pulled pork of all time. Two subs I make with this recipe: I use coconut sugar instead of brown sugar and 1 cup of organic bone broth instead of the other liquids listed. Serve on top of sweet potatoes!
Chicken Piccata :: Make this and pair with zoodles of course!
Chicken Soup :: Now that the temps are sort of cooling down, this chicken soup is a must. It lasts for days, and I never tire of it.
Meatballs with Marinara :: I cheated a little and used an organic brand of frozen meatballs and warmed them up on the stove with a can of diced petite tomatoes and all of my favorite Italian spices and House Seasoning. Easiest meal ever!
You can find more of my favorite recipes on my Pinterest board for just Paleo meals, and please let me know of your favorites so I can add them to it.
Things To Add To Your Amazon Cart to Get You Started
Here are some great resources for you if you're really getting serious about Paleo. I love these cookbooks and can't wait to try more recipes.
The Benefits
I'm not going to lie to you. Paleo is hard in the beginning. But isn't everything? I feel so much better, my skin is glowing, and I've lost 8 pounds and one pant size in four weeks. My go-to comfy jeans are way too big on me now, and I'm excited to dress up again. Paleo isn't just about trying to see a different number on the scale, because it takes a long time before that happens. What Paleo does is makes you FEEL GOOD again. My energy is up, and I honestly feel healthy. I stay active but don't work out, and this is still a great option for me to feel my best.
If I can do it, you can do it! Feel free to reach out to me if you have any questions about my experience and please let me know your favorite recipes if you have any. Good luck, sister!
Be sure to pin this to share with all your friends, too!