Happy Monday, friend! Spring is in full swing over here, and we are busier than ever. 'Tis the season, I guess. Anyone else feeling like once spring hits, ALL the things start happening. We're already planning our summer activities, and I'm just trying to keep up. I usually do these Currently Confessing posts on Friday, but for one reason or another, I couldn't get it together. So here we are! ;) I have some fun things for you today (like a yummy chopped salad recipe and a spring organization DIY) to get you in the spring spirit in case it hasn't hit you yet. Let's hop to it.
ONE. Eating…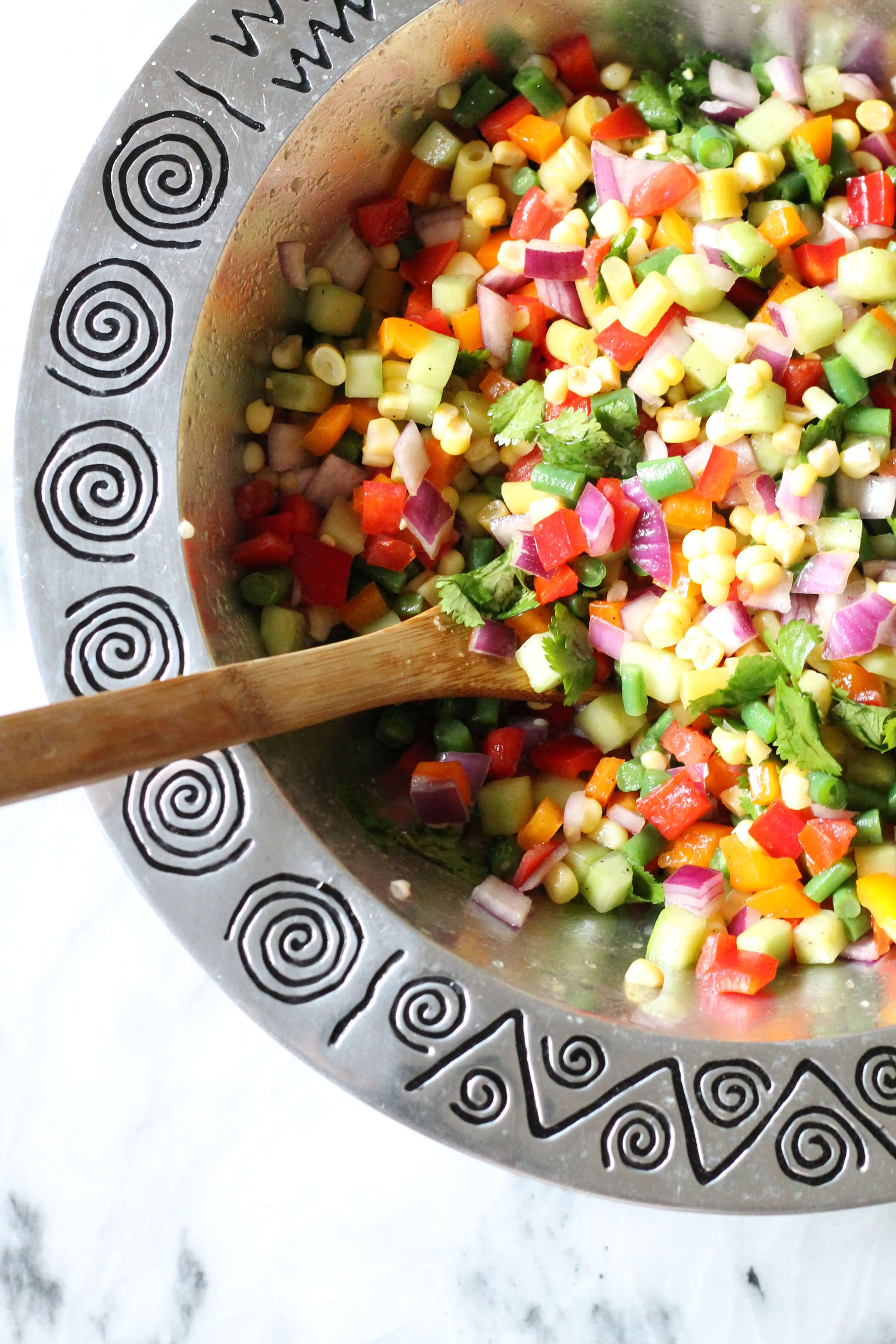 We made this chopped salad a couple months ago, and I still can't stop thinking about it. I think we'll be making this frequently this spring and summer. It's cool, refreshing, and oh-so-good. Anything Martha does is okay in my book. Here's how we made it.
MARTHA STEWART'S CHOPPED VEGETABLE SALAD RECIPE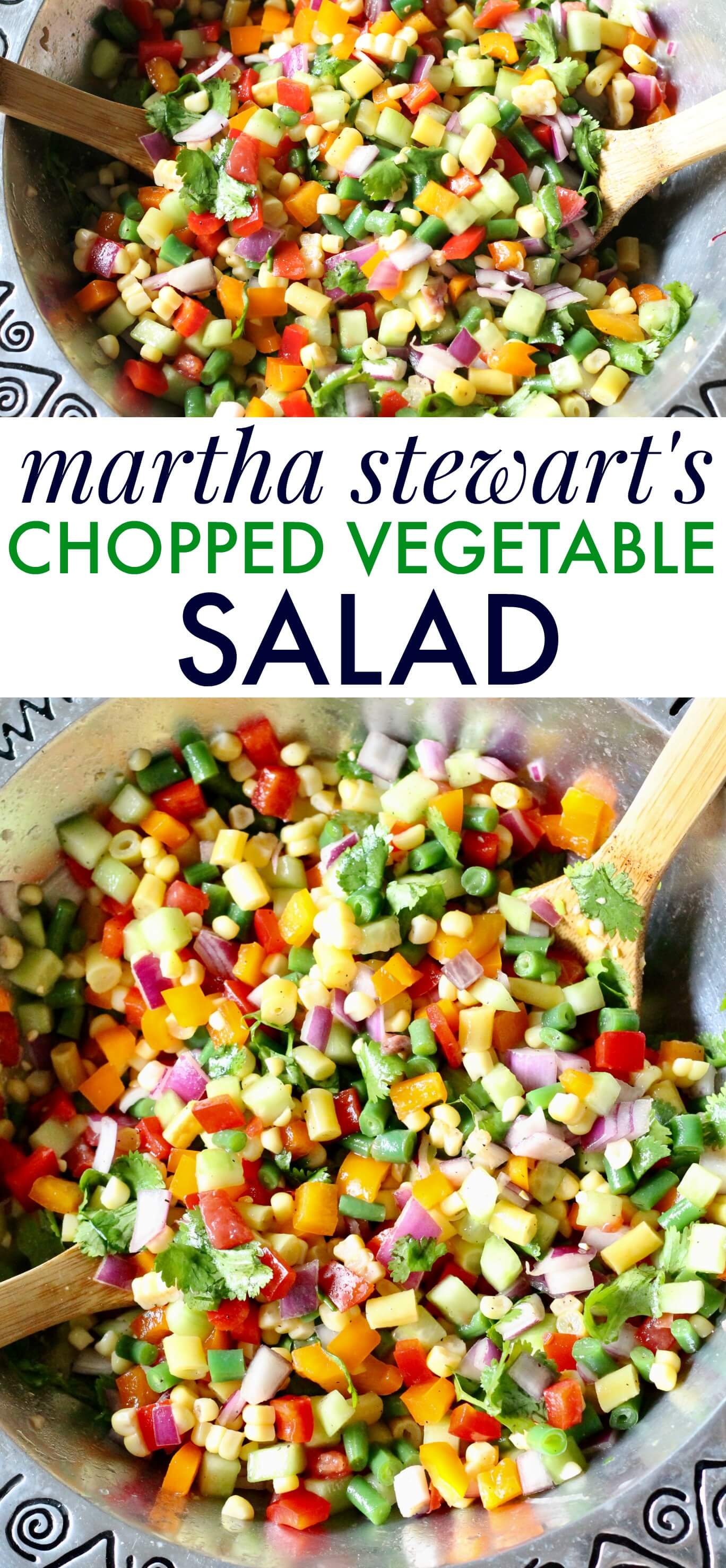 INGREDIENTS
coarse salt
2 ears corn
pinch of sugar
1/2 pound of green beans, cut into 1/4-inch pieces
1/2 pound of wax beans, cut into 1/4-inch pieces
4 plum tomatoes, seeded & cut into 1/4-inch pieces
1 small red pepper, seeded, deveined, & cut into 1/4-inch pieces
1 small yellow pepper, seeded, deveined, & cut into 1/4-inch pieces
1 small red onion, cut into 1/4-inch pieces
1 English cucumber, peeled, seeded, and cut into 1/4-inch pieces
3/4 cup cilantro leaves
2 TBSP extra virgin olive oil
2 TBSP rice wine vinegar
1 tsp freshly ground pepper
DIRECTIONS
Chop, chop, chop! Chop all of the ingredients first.
Prepare a large bowl with ice-water. Set aside.
Bring a medium saucepan of salted water to a boil. Add corn and sugar. Blanch until tender (about 6 minutes).
Remove from water and plunge immediately into ice water. Once the corn is cool, remove from the ice water.
Remove kernels from cobs using a large knife. Transfer to a large bowl.
Next, add green & wax beans to boiling water. Blanch until tender (about 1 minute). Remove from water with a slotted spoon, and immediately transfer to ice water. When the beans are cooled, drain in a colander.
Add wax and green beans, tomatoes, red & yellow pepper, onion, cucumber, and cilantro, to corn. Stir to combine. Add olive oil, vinegar, 2 teaspoons salt, and pepper. Stir to combine. Adjust seasonings to your liking and enjoy immediately.
TWO. Organizing…

Charlotte's room has been starting to overflow with all the things! Around her birthday, my dad bought her the cutest garment rack for all of her princess dresses. My friend Veronika suggested it, and it is perfect! If you have too many princess dresses scattered over your little girl's floor, you need this!
Next up was organizing all of her bows. On a whim, I saw that I had a few things to make my own little bow organizer. This is the easiest DIY on the planet.

DIY Bow Organizer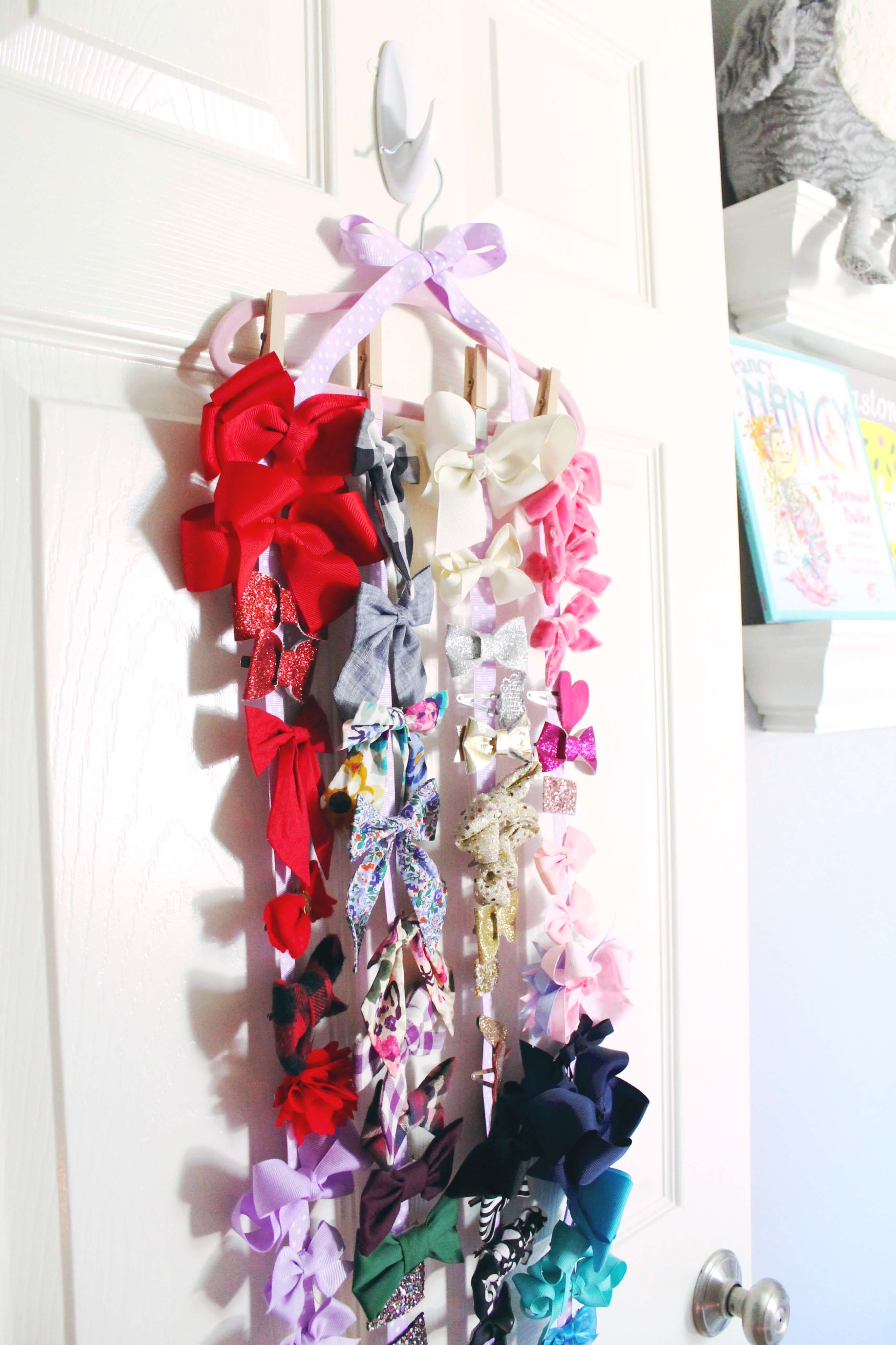 What You'll Need
child's felt or fabric hanger
crossgrain ribbon
4 mini wooden clothespins
What You'll Do
Cut your ribbon into four long pieces. You can cut them to whatever length will work best for you.
Fold the top portion of each ribbon (about an inch) over the hanger and clip the ribbon with the mini clothespins onto the hanger at equal widths apart.
Using the remaining ribbon, tie a bow on the top of the hanger.
Organize all of your bows. So easy!
You can get as creative as you want with this. It only took me about 10 minutes to put everything together. I love having them all out and in plain sight. They used to all be stuffed in a basket, and I would dig forever looking for a particular one. Not anymore!
THREE. Wearing…
I am so loving fashion lately. I've always been crazy about clothes, but both times postpartum, I let style get away from me. Recently, I found myself in a style rut. I was wearing my pajamas more often than not, and it was putting me in a funk. I found that getting dressed up (even if it's super casual) makes me feel better about myself, and it just makes me happy. I'm working on something super fun for all of us next month, but in the meantime, I'll be sharing a lot of fashion inspiration. Here are some of my favorite outfits lately.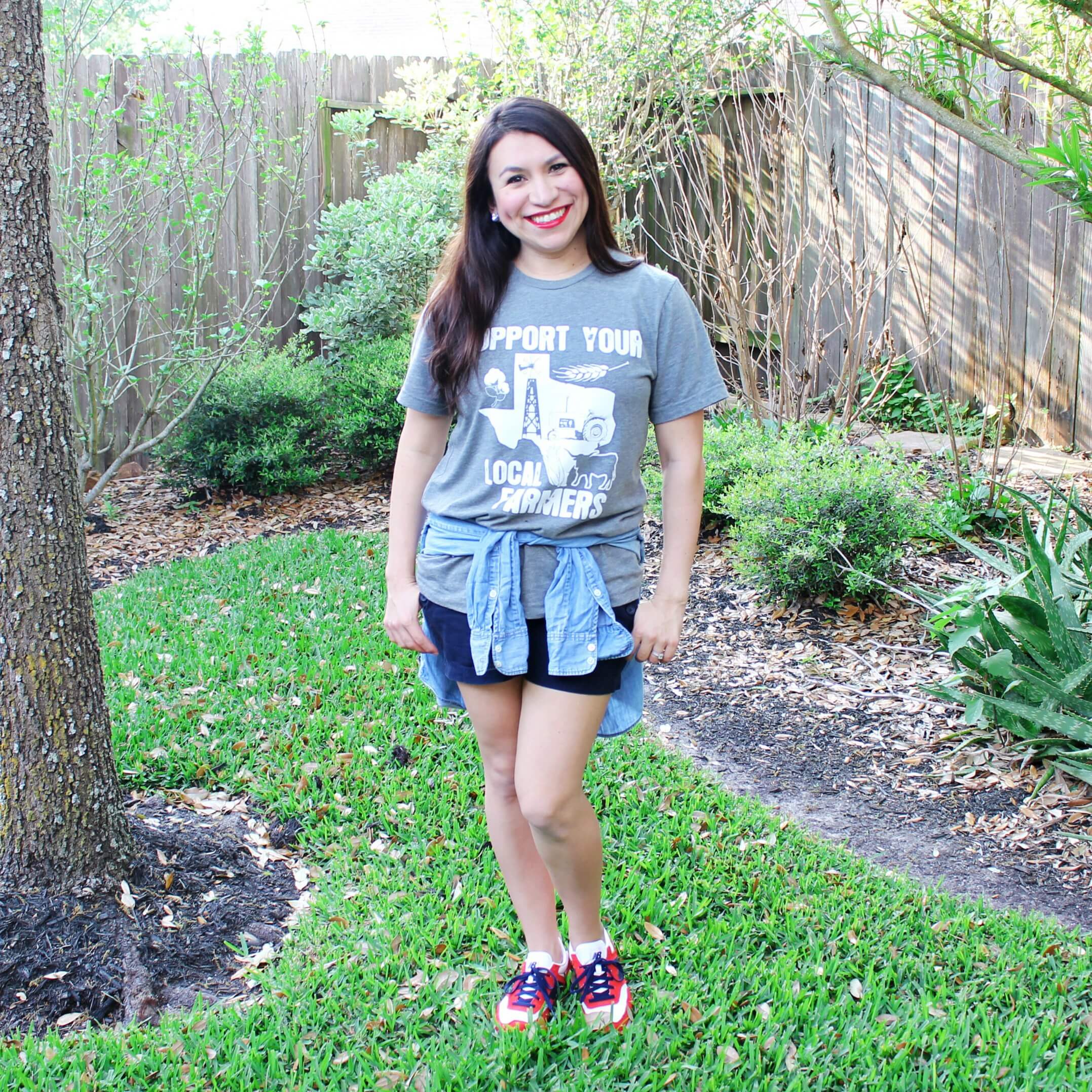 MaLyn Logic does it again! I absolutely love this Texas Farm Tee. Growing up in a small town, this shirt hits close to home, and I adore it. I paired it with my navy shorts, my favorite tennis shoes, and a chambray shirt.

The weather has been amazing lately, so these jeans and tees have been my go-to, like this comfy tee from MaLyn Logic. It's called the Soccer Mom Tee, and it is the best! MaLyn is the one who inspired me to start sharing more fashion posts, too. Thanks, MaLyn!

~ similar options listed ~
cardigan // tshirt // shorts // New Balance tennis shoes
I shared this on Instagram the other day, and I love it. I wore it for Charlotte's school drop-off and pick-up, and around town for errands when it was cool.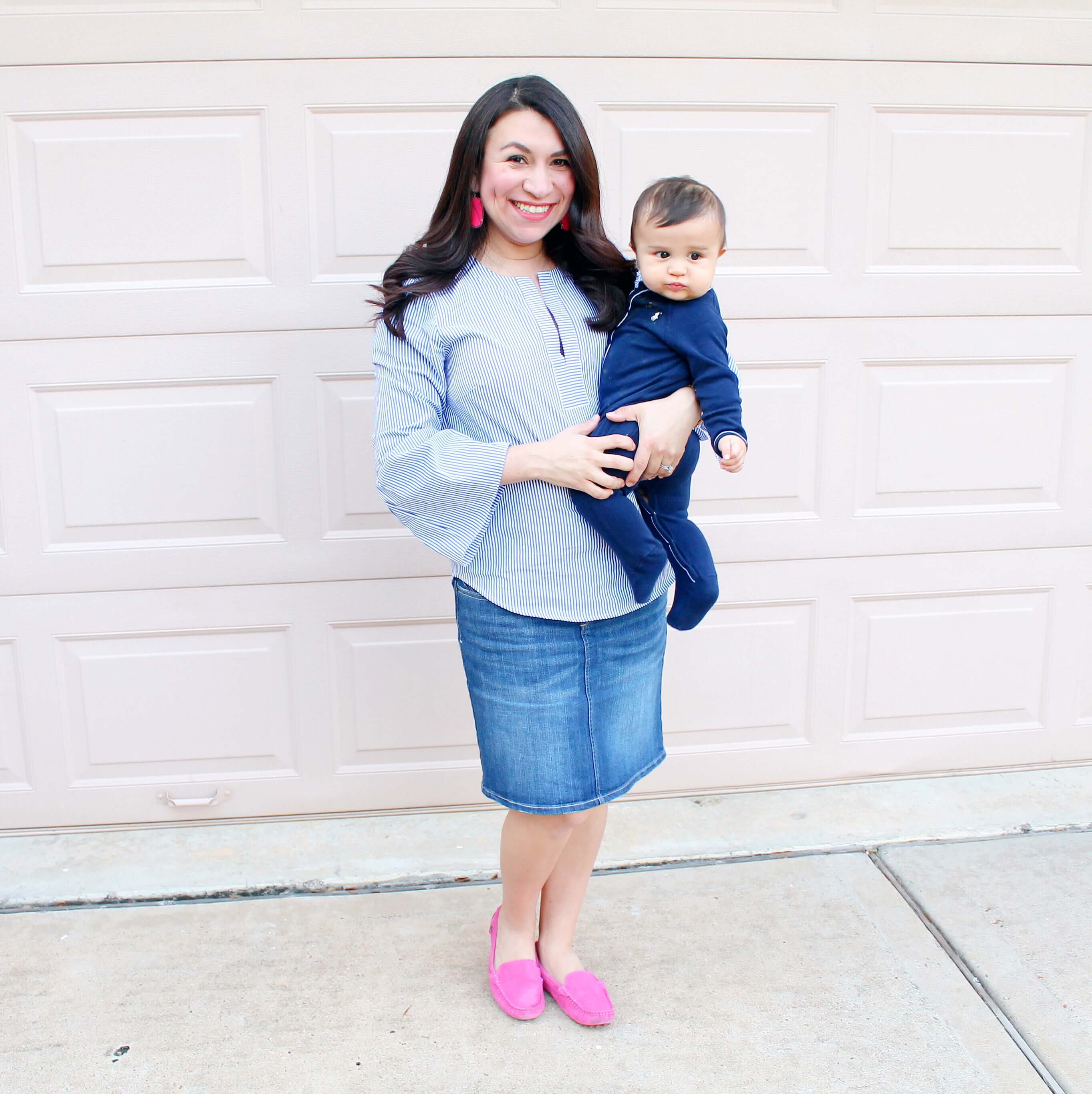 I'm still loving this J.Crew stripe bell-sleeve top, and I love it even more paired with these pink suede loafers.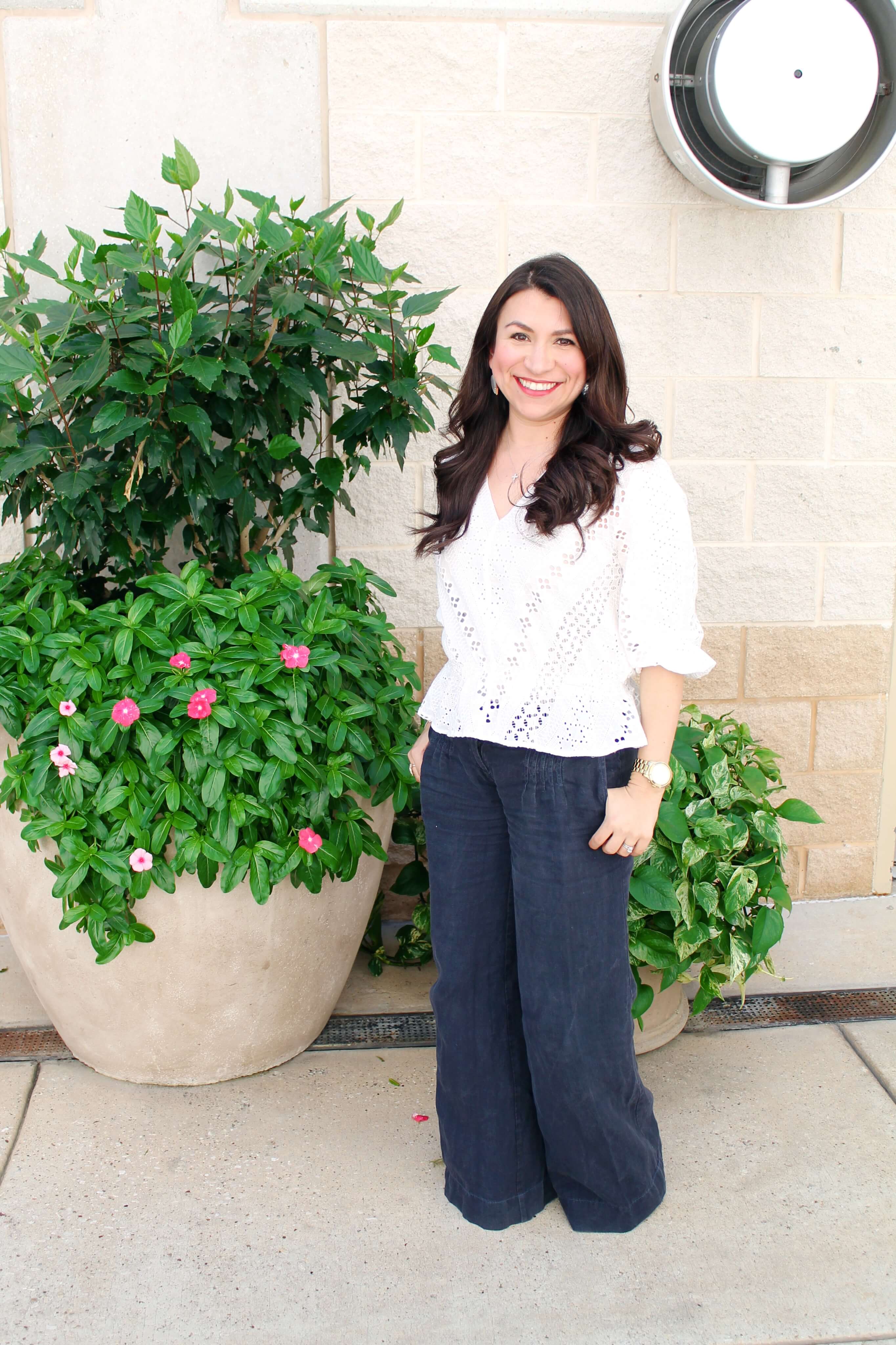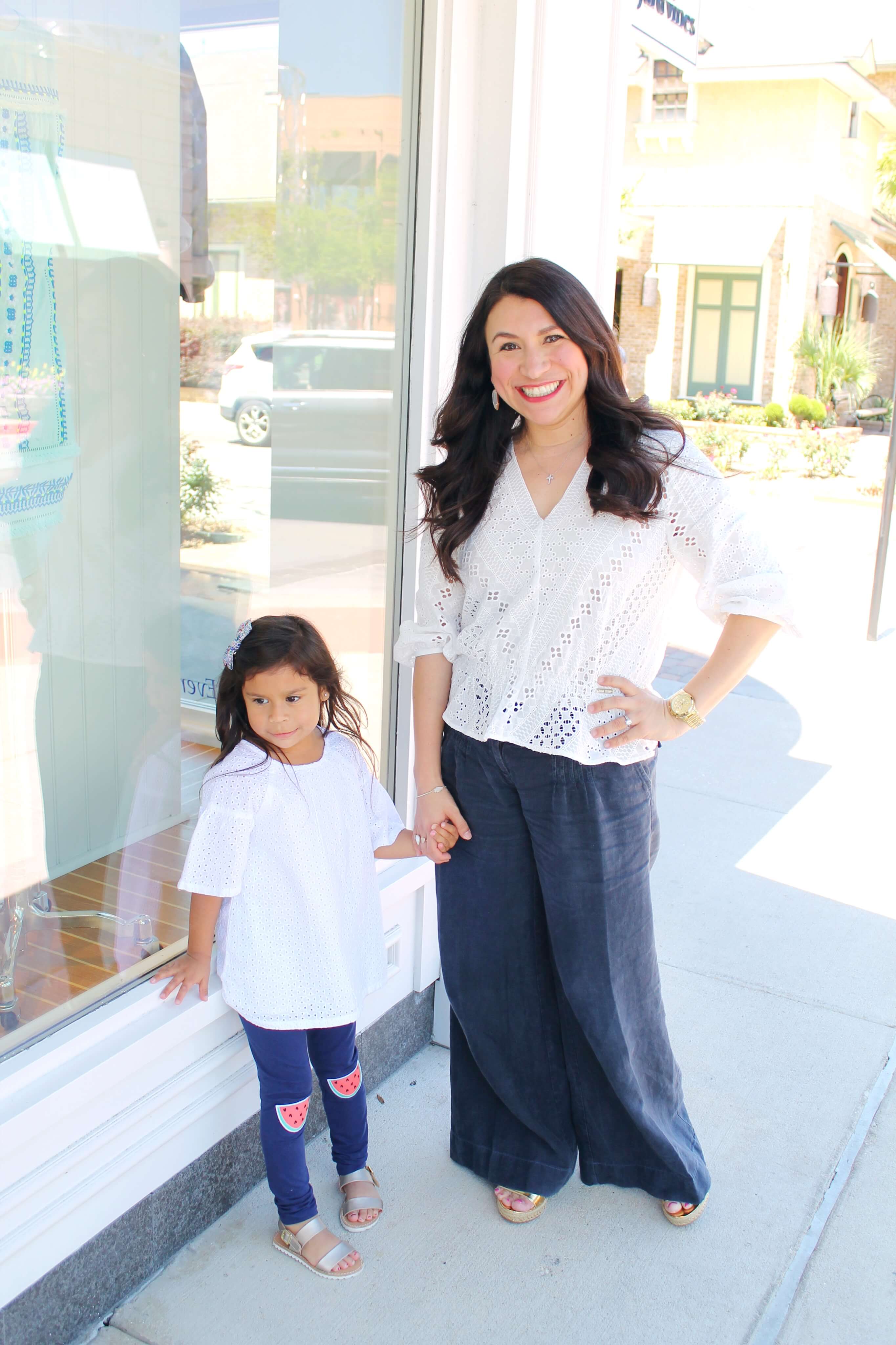 And is there anything better than twinning with your daughter? I think not. I am loving this eyelet top, courtesy of StyleWe. The sleeves have a bit of a pouf, and the ruffled waist is darling. Just use their size guide to get your right fit. I paired it with some pants I've had in my closest forever from Anthropologie, but here are some similar linen sailor pants from J.Crew.
Charlotte's outfit is the cutest eyelet top with watermelon pants. The set is less than 17 dollars from Target. So cute for spring!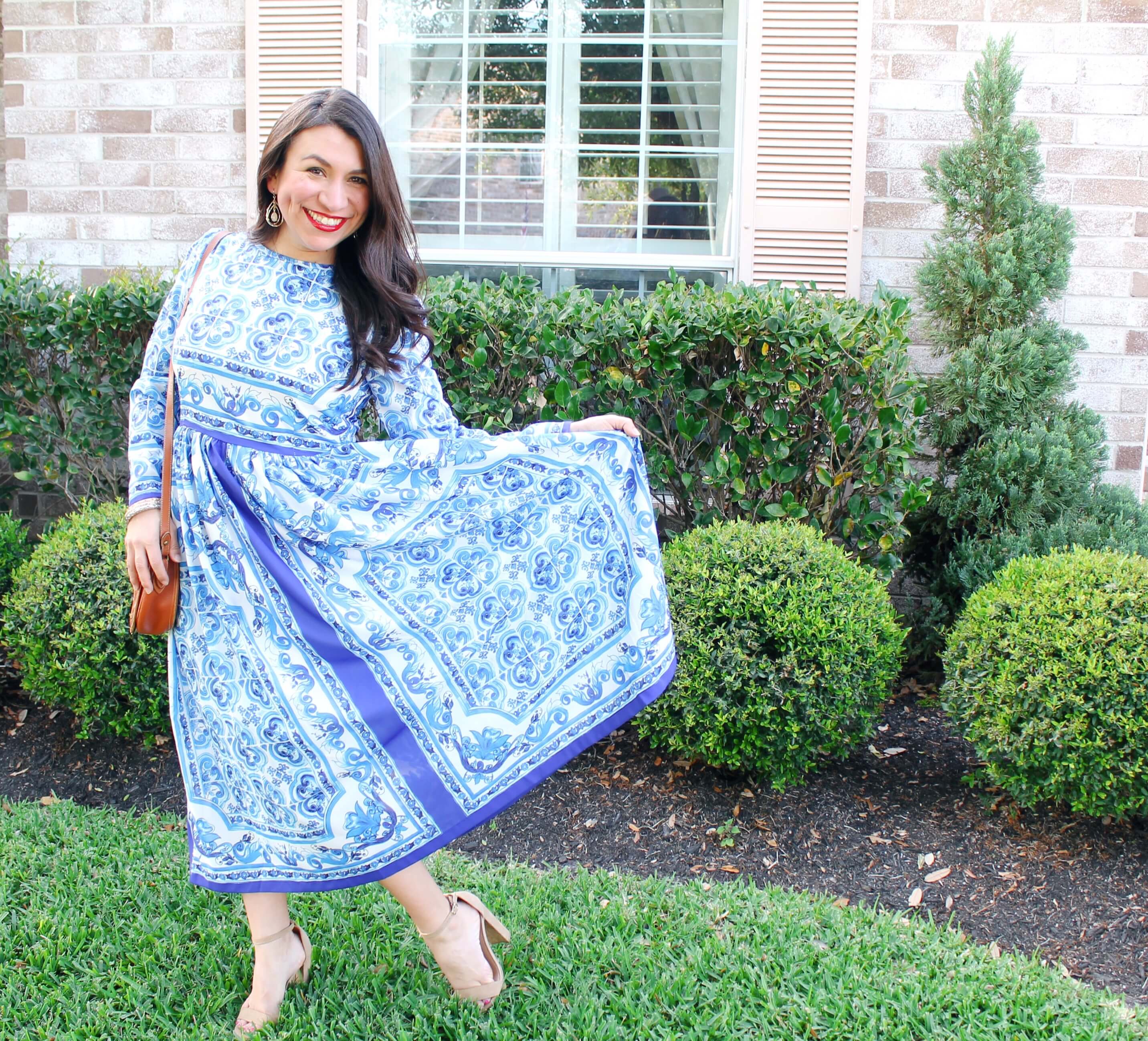 Anyone else love a good maxi dress? I am so in love with blue and white these days, and this dress is just too much goodness. This is also courtesy of StyleWe, and I absolutely love it! I'm pretty sure I'll wear it for Easter. I might even wear it for Colin's baptism.
StyleWe has so many amazing dresses and tops, and I can't wait to shop their site some more.
FOUR. Watching…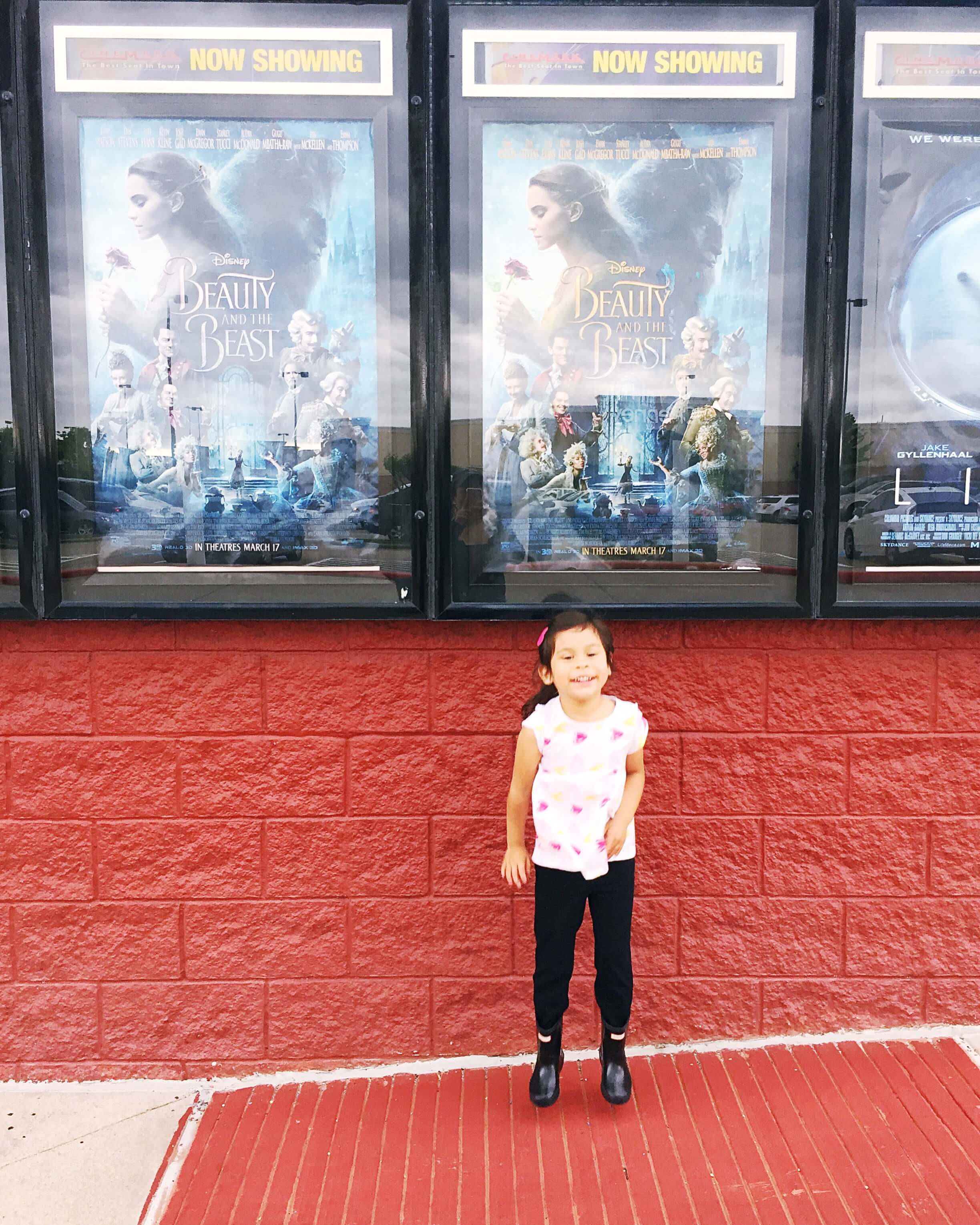 Last weekend, Charlotte and I had a mommy/daughter date and headed out to the movies to see Beauty and the Beast. I thought she would be scared at some of the scenes, but she wasn't. The movie was so beautiful and a lot like the original Disney cartoon version, which she loves.
She is getting so big, you guys. Four has been fun so far. She's so inquisitive, kind, and loving. She still pushes her boundaries and tests my patience from time to time, but for the most part, I'm really loving this age.
Now back to movies…Michael and I saw The Shack and that was amazing. You should definitely watch it if you haven't already.
I just finished Big Little Lies, and it was so good. I now need to read the book.
We're also loving Schitt's Creek on Netflix. The third season just ended, so we're officially all caught up.
Anyone else a Walking Dead fan? I wasn't a fan of this last season. It was so lackluster. Did anyone else feel the same way?
What have you been watching lately? Anything good we should start since most of our shows are done for the season?
FIVE. Excited about…
Too much! But I am so excited about getting into the swing of blogging again. Thank you so much to those of you who have signed up for emails. I will be changing things up a bit in order to add a newsletter soon, so stay tuned for that! What would you like to see in it, email sister? Exclusive recipes? Inspiration? Playlists? Let me know.
Also, if you've been reading for a while, I would love to know where you're from and how long you've been following along. I want to know more about YOU! So in the comments, let me know, or send me an email directly.
Be blessed, friend! May this week be full of smiles. Xoxo