I was going to post my summer clothes must-haves today, but that can wait. I want to talk about something that I've been meaning to share for a while now. As you all know, I'm a blogger (for over three years now), and I love this little community I've built. I follow a ton of bloggers and creatives, and I've found some of my closest friends through this space. Blogging has become something near and dear to my heart, and as I'm pushing 36, I wonder often when I'll stop. Right now, I don't see the end, so we're good for now.
Over the past couple of years, I have had so many questions about how to start a blog and how to grow it. I'm no expert, but I cheer on the ladies who are daring to dream and daring to start a new venture so I'm all about sharing my two cents of my experience and what I've learned, when asked.
With that being said, since I'm acutely aware of social media being ever-present in our society, I've seen something pop up over and over again, and I just need to shout this from the rooftops: PEOPLE, STOP APOLOGIZING FOR WHO YOU ARE.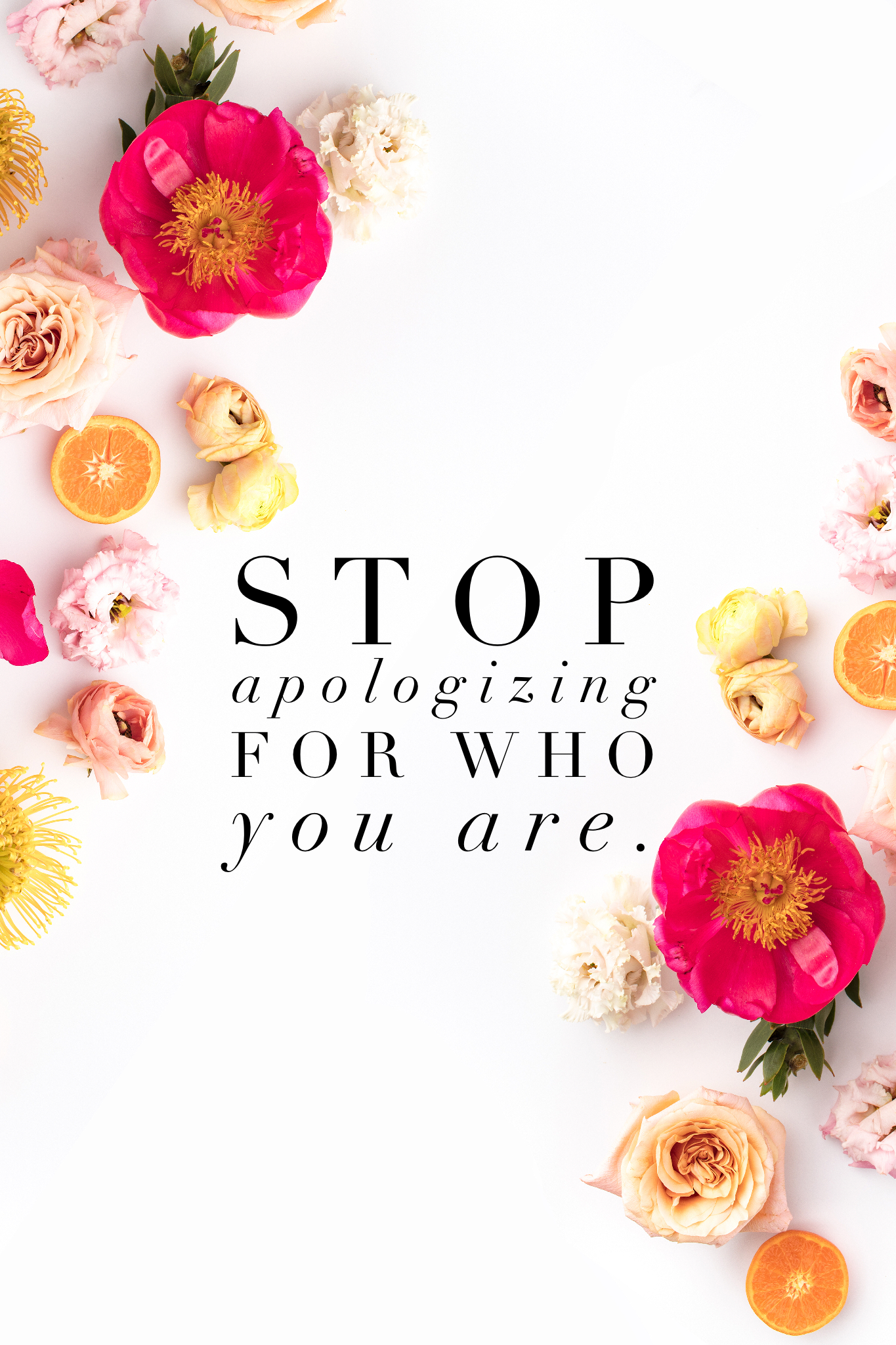 Where is this coming from, you ask? Let me tell you. On Facebook or Instagram or InstaStories, I see so many people preface their post, "Sorry to…" or "Sorry for my appearance…" or "Sorry to bother you." Why do we feel the need to apologize? The worst part is people NOT sharing in fear that no one wants to see or hear it. Stop, friend. Stop it right now. Don't apologize for who you are and what you have to share.
People are CRAVING authenticity. How do I know? Because people tell me! Your audience or followers, heck, even your family members, WANT to see you for who you are. They WANT to see the unpolished you and even the sparkly you. They WANT to hear your funny stories and ridiculous rants. If they didn't, they wouldn't be following you or checking out your life. (And if they happen to be that random troll, there's a block button for that.)
Sure, you're not going to be everyone's cup of tea. You might have insecurities, too. We all have them. But the older I get the more unapologetic I've become for who I am. Apologies were made for mistakes, and you my friend are not a mistake. Be confident in who are because you were made in God's image. I hope you never forget that.
One of the best lessons I've ever learned is that the more confident you are in yourself, the more confident you'll make someone else feel about themselves. It's true.
This message isn't just for the blogging world: it's for any and all of us who make our presence known via social media. It's not going anywhere, and neither should we. Everyone has a story to tell. So go tell it.