Have you ever wondered what it really looks like behind the pretty pictures I post on Instagram? I know you have. I've had a handful of people ask me if my life really is as bright and shiny as it seems. While I would love to tell you yes, it isn't always that way. I'm no different than you. I have just as many problems as I do happy moments. That's life. But I do know how to focus on the positive, and maybe that's a big reason why I keep my pictures bright and fun.
Thankfully, so many of you who have been following along for some time now know that I always keep it real. Whether it be in my captions or InstaStories (and you're really missing out with some real behind the scenes action if you're not watching), I'm the real deal. I talk to you as if I'm talking directly to my best friend, and since she reads my blog, it makes sense. ;)
When one of you sends me a message and tells me that you feel like you know me or that I'm relatable or that you appreciate me talking to you like a friend — that is the BIGGEST COMPLIMENT ever.
So to throw in a little "real life" for you, I thought I'd share another "day in the life" post to remind you that I'm just a work-from-home mom, struggling to get through to the next day, but still trying to enjoy every bit of this magical mess that I get to call my life.
Behold: a day in my shoes with all the grainy iPhone pics you can handle.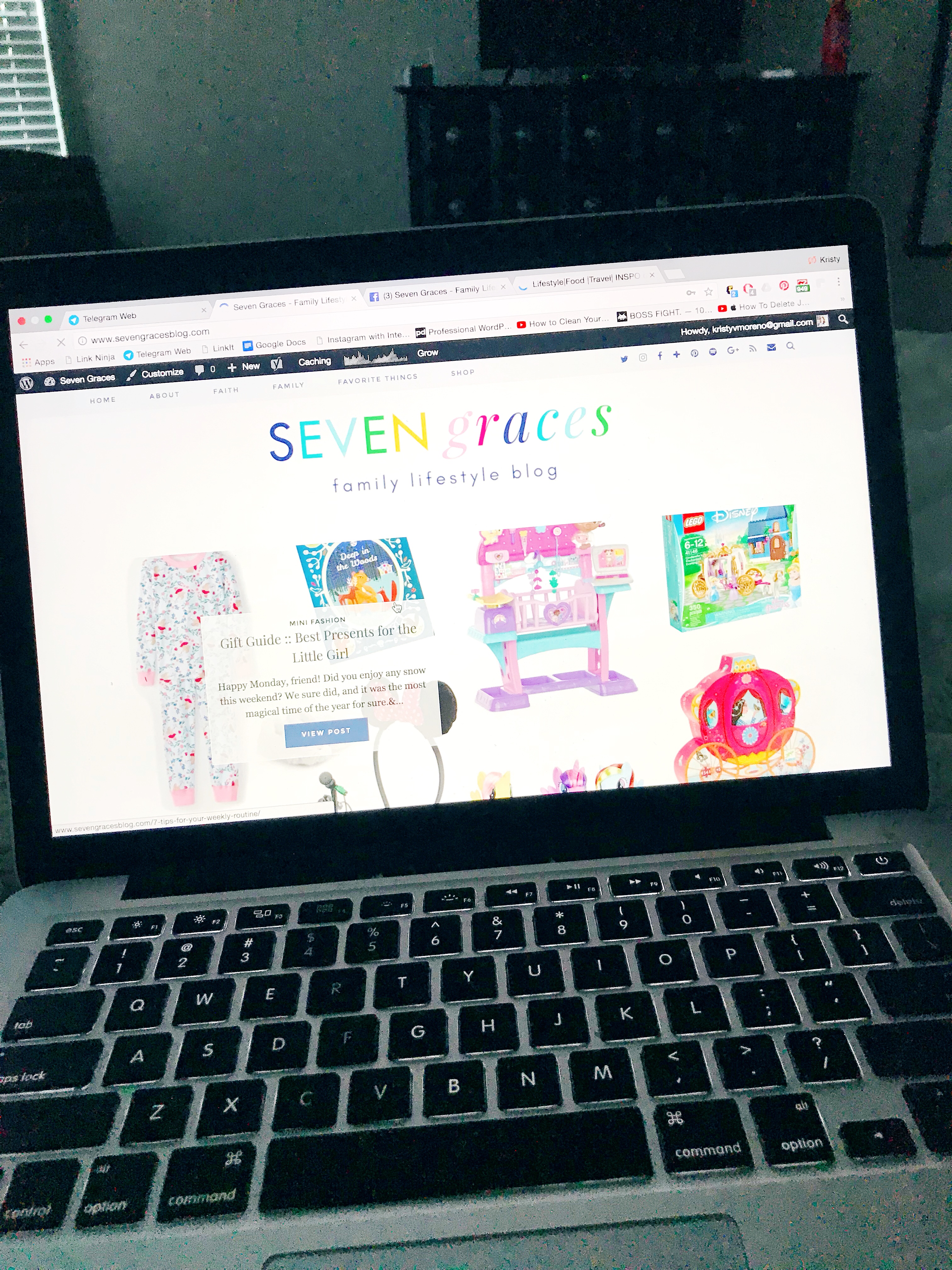 My day starts with work. Thankfully, I love what I do.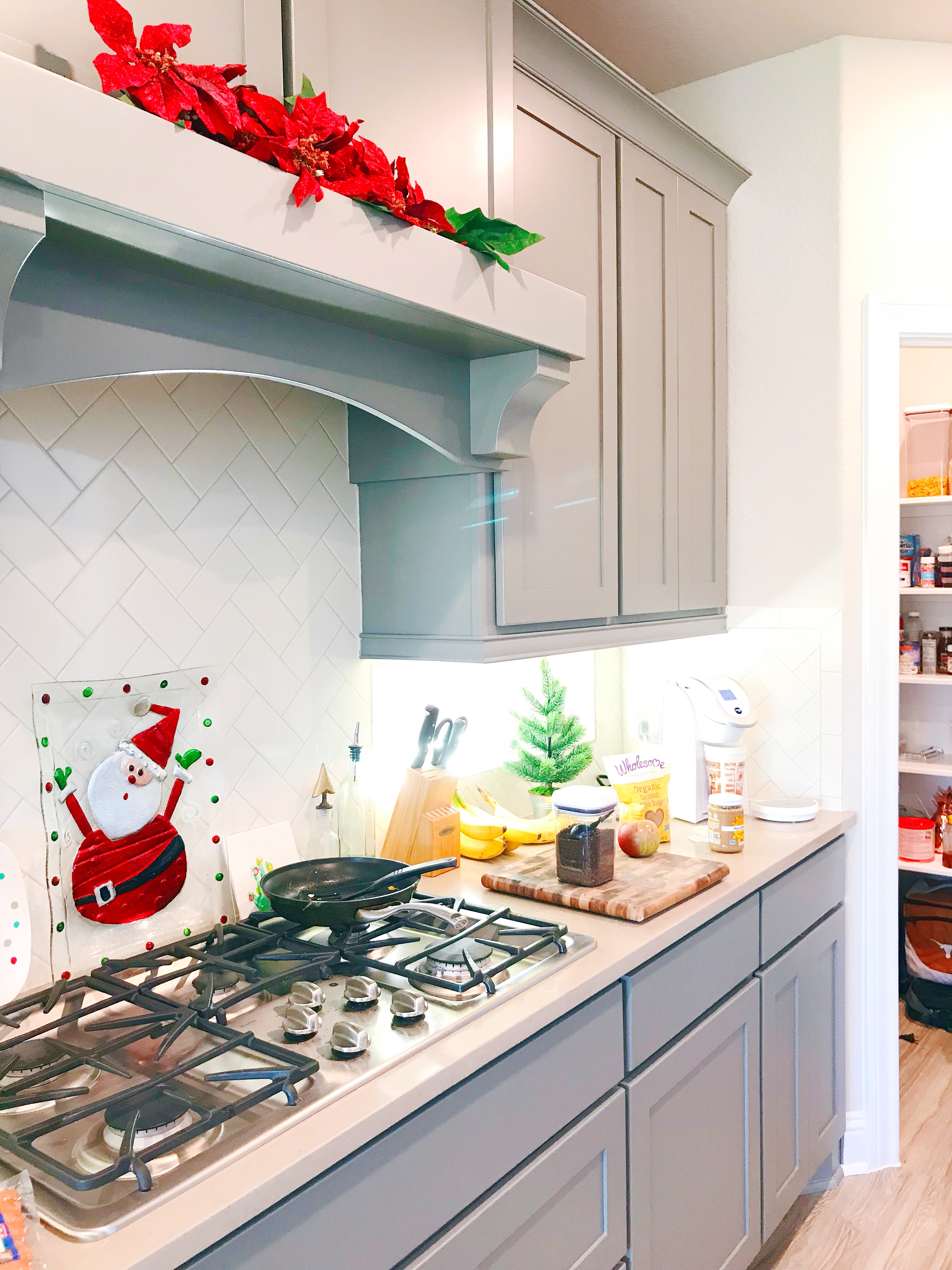 Next up, breakfast for my littles and me. It's always a slow start to our day.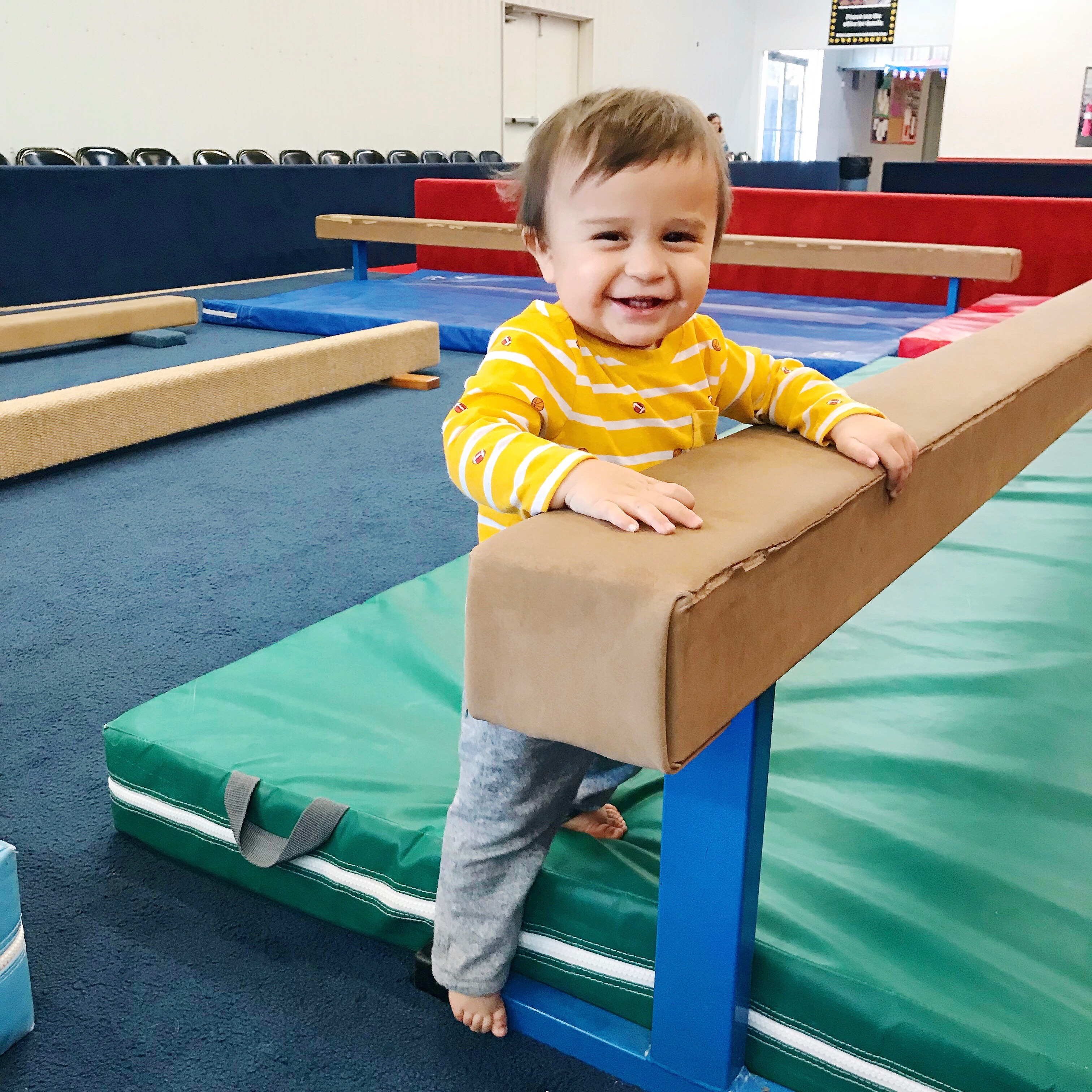 I always try to get out of the house on time, but no matter how I hard I try, we are always late. Please tell me I'm not the only one. It's a huge accomplishment when we're early or on time. We were late to Charlotte's gymnastics class, but we made it! Colin always loves playing in their little setup, too.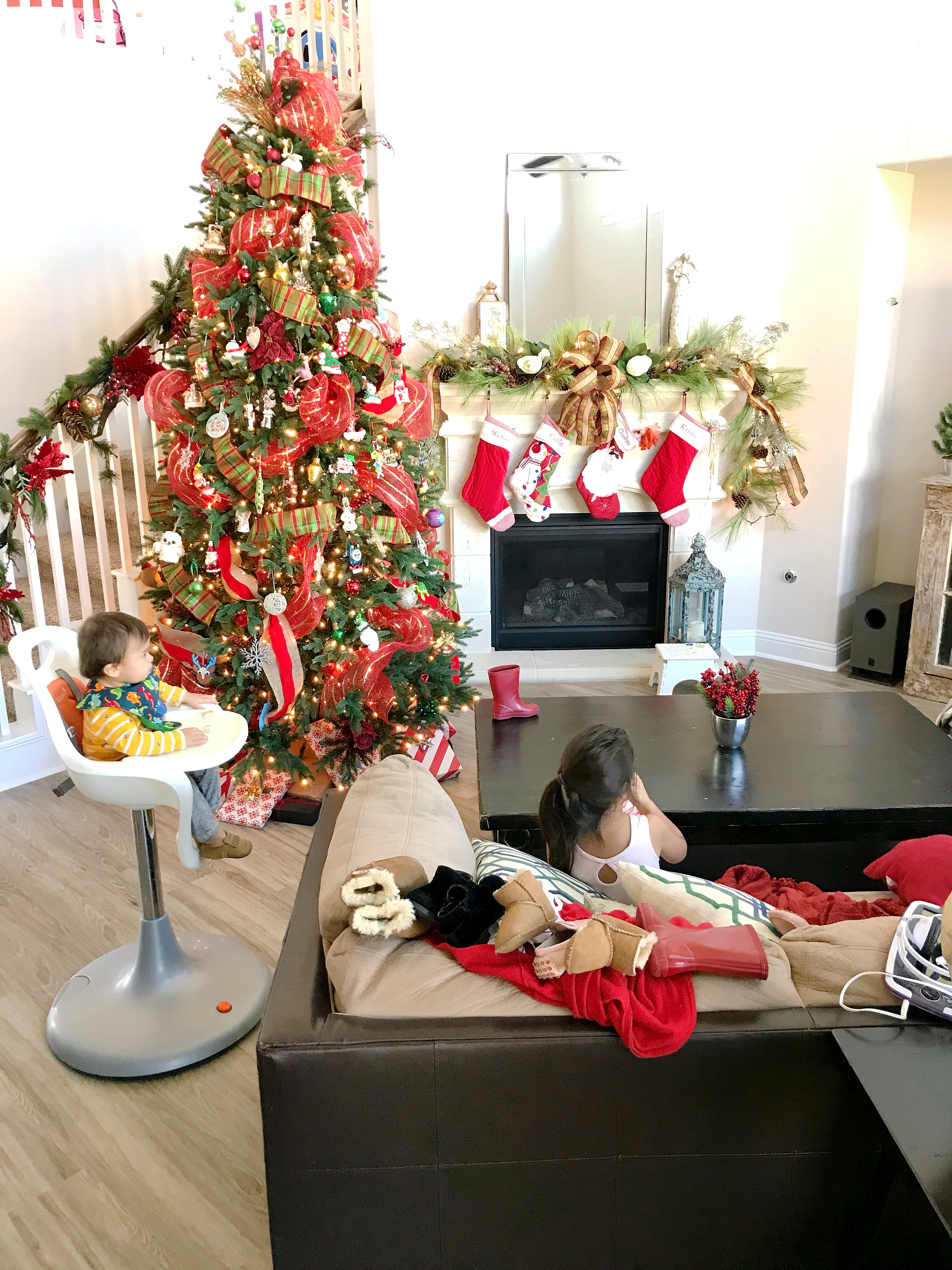 Back at home from gymnastics, lunch was served while my babes watched a Christmas movie. Charlotte's pick was Frosty the Snowman.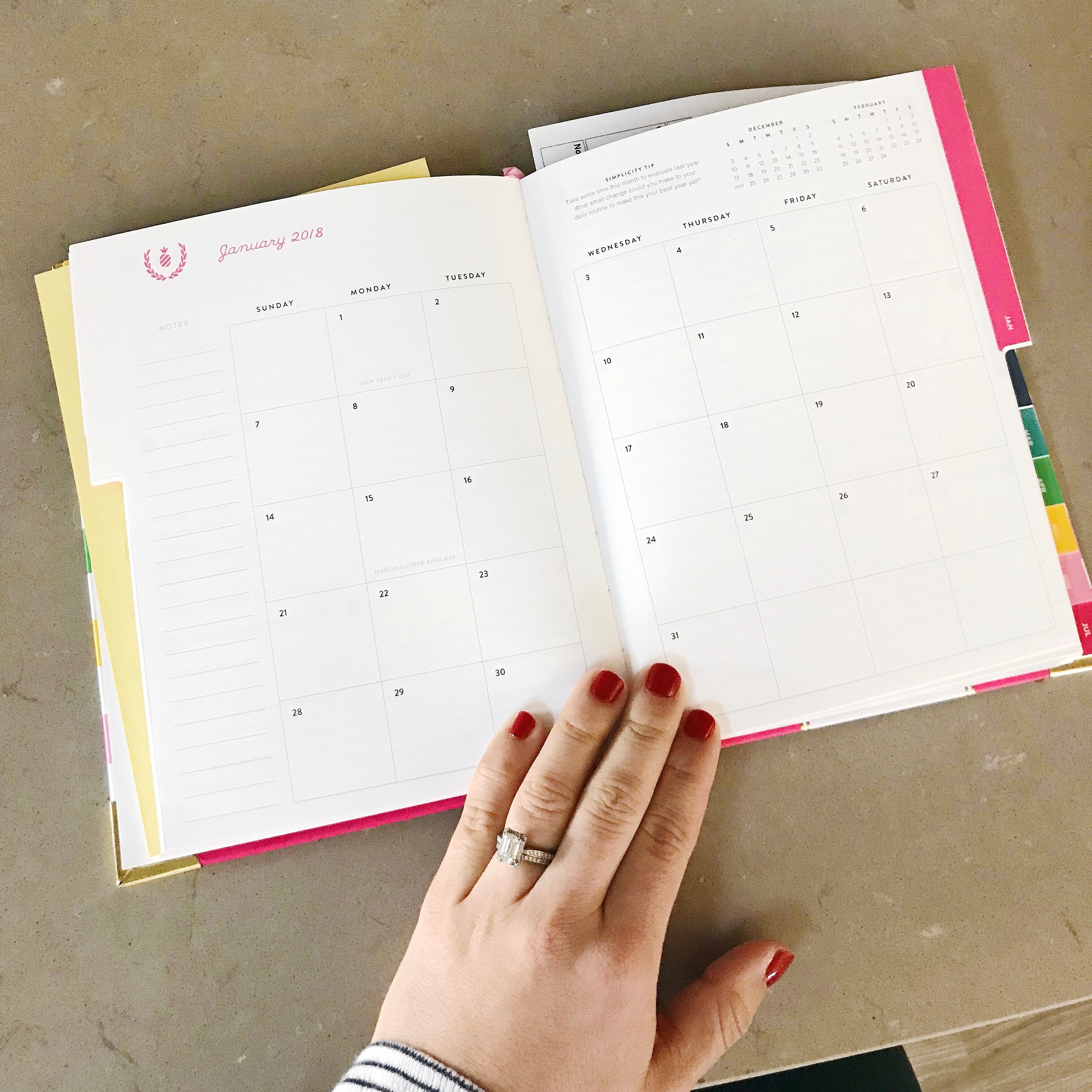 While they were occupied, I tried to do a little bit more work. I was planning for January and working on a draft for a blog post that will be up next week.
Working from home is no joke. It's so hard for me to structure my time and have disciplined time management. I seriously am thinking going back to teaching would be less work than what I'm doing now. Anyone have any insight on going back to the workforce after being a SAHM?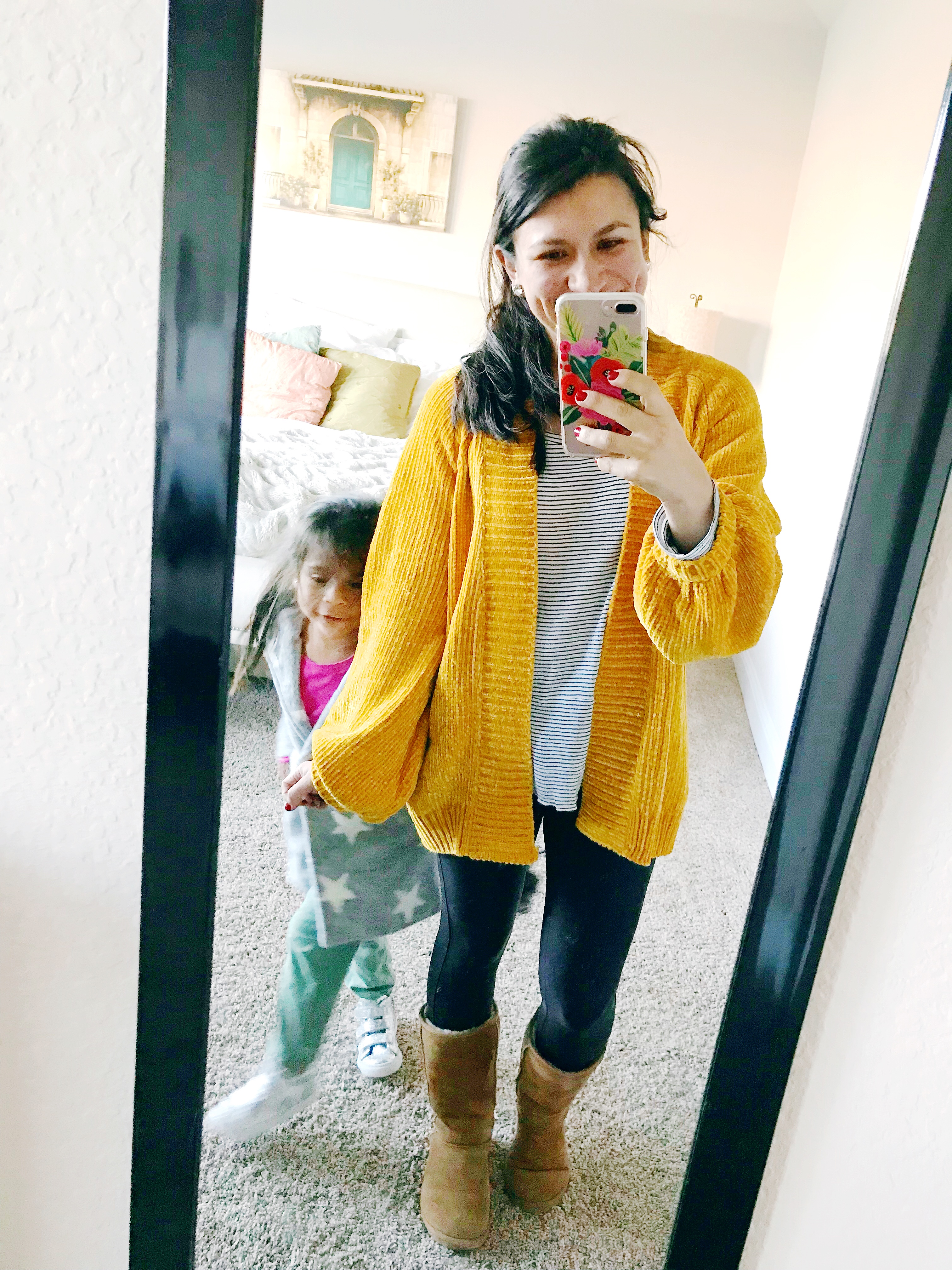 And in case you were wondering how fancy I got for a Tuesday, this is it. A cozy cardigan, a long sleeve peplum tee, Spanx leggings, and Uggs. Oh, and it was a makeup free day.
After nap time for Colin, we headed to the park. It was way too pretty of a day to not take advantage of the fresh air.
In case you were wondering, while Colin naps, Charlotte plays and I work. What does work look for me? I wrote an entire blog post about how blogging has become my job here.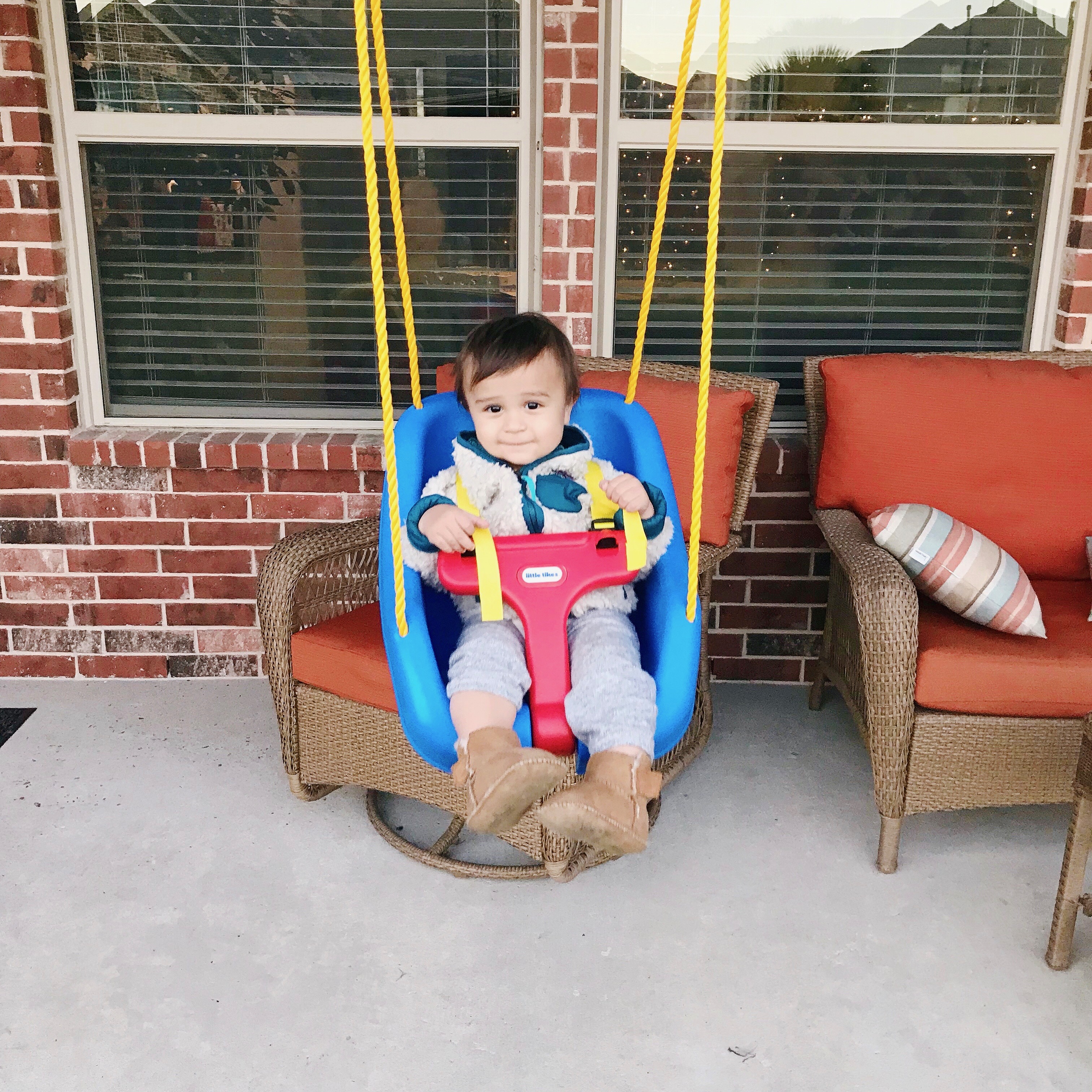 For the countdown to Daddy's arrival home, we headed back outside to our backyard. My kids are way too happy outdoors. I can't compete with that, so I let them win.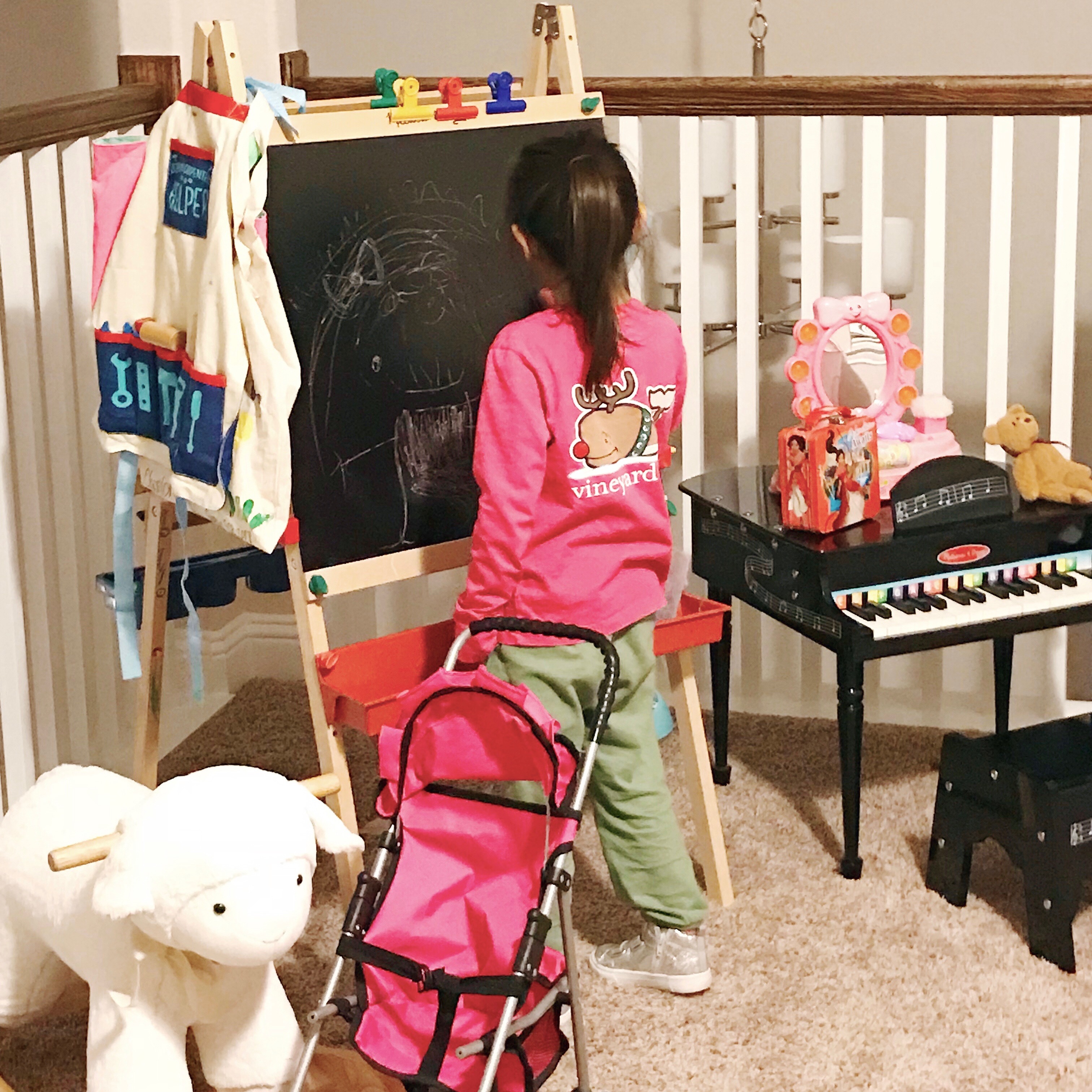 For dinner we had beef fajita tacos made by my awesome love. Michael is the best griller ever, and I love it when he grills anything for us. I had my "tacos" without tortillas thanks to me trying to be Paleo compliant during the week, but it was still delicious. I try to limit my Paleo cheating to the weekends.
Once we finished up with dinner, Michael and I cleaned together while the kids played upstairs. We joined them when we were done, and counted down to bedtime! Michael usually puts Colin to bed, and I put Charlotte to bed. As seen below.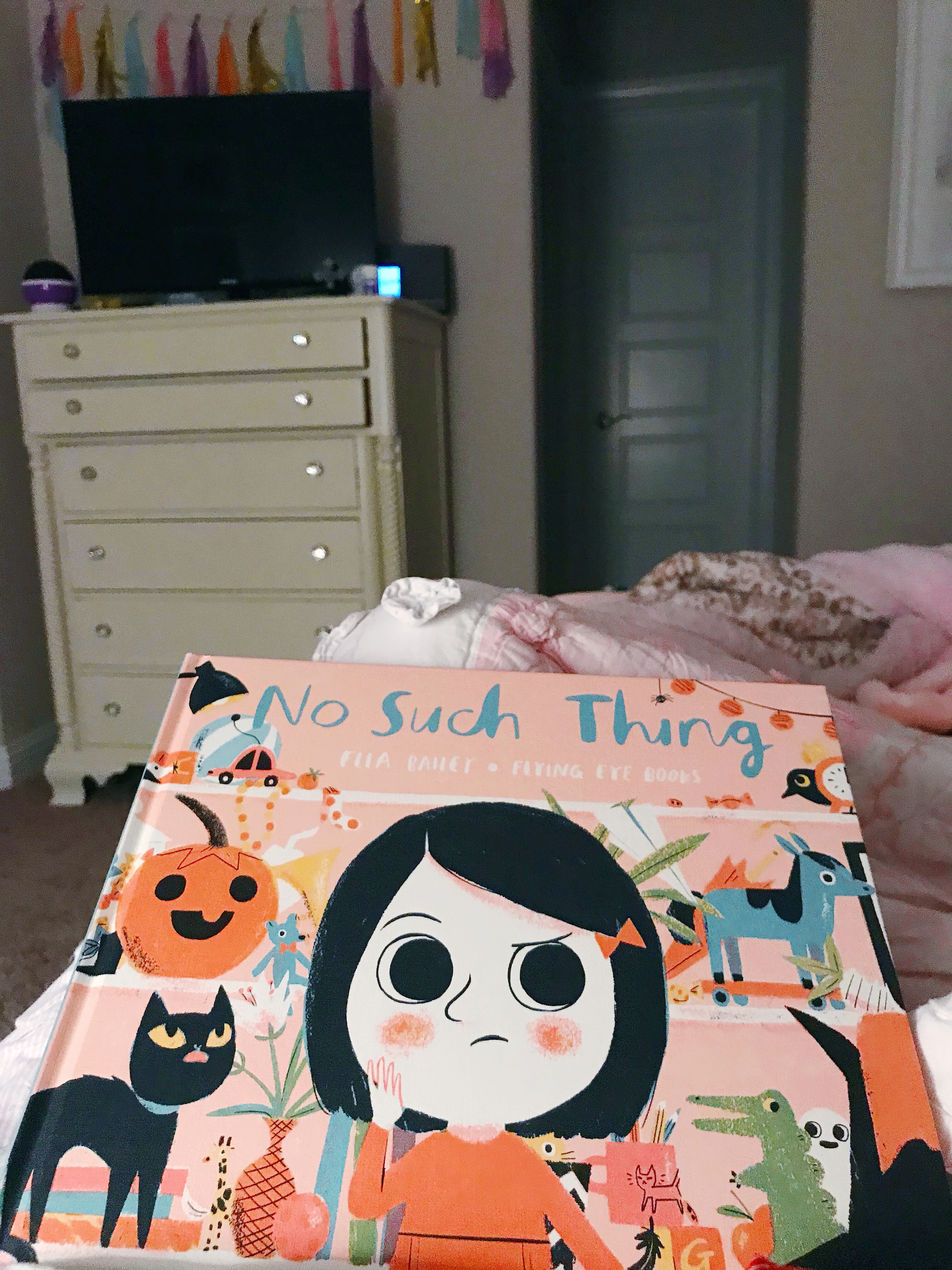 Part of our nighttime routine is reading one book before prayers. Charlotte has been picking Christmas books since Halloween, but last night she picked a Halloween book. Go figure.
After prayers, I lay down with her until she falls asleep. Some nights she falls asleep in two minutes and other nights she won't fall asleep until 10 o'clock. And for those of you wondering what ever became of the leaving her bed at night saga, she still does it. We are weak, and she beats us at our game EVERY. SINGLE. NIGHT. Michael is really the weak one because it doesn't even bother him that she comes to sleep in our bed every night. Honestly, when she tip-toes her way into our room, I'm way too tired to walk her back upstairs. She swears she'll start sleeping in her own bed at night when she turns 5. Here's hoping! She's very stubborn and headstrong, so when she says she's going to do something she does. When she was 3.5, she told a random lady at the store she was going to be potty trained "this weekend," and lo and behold she was. She just decided she was going to go potty and it stuck ever since. The joy of children.
When our kids are asleep for the night, that's our time to have some down time just the two of us, Michael and I. I love that dude like crazy and just because you hardly ever see pictures of him doesn't mean he's any less important than our two little people. I'm pretty lucky to be married to my best friend.
And that's our day in a nutshell. It looks pretty similar day in and day out, some days have more drama than others, but I pray my way through the day and drink lots of coffee. That's how I make it work. I also don't do it all. That is the real secret to making it work.
Also of note: I just started using essential oils, so I might become that person, but don't hate me. Whatever makes our lives better (and calmer) is what I'm all about, and I'll be here to share it all for as long as I can.
Hope your week has been a grand one so far! Only 12 more sleeps until Christmas!
---
The Daily Dime Linkup
Now it's time to party — add your link to the widget below and link back to one of our hosts. Next month, we'll be linking up on Wednesday, January 17th. If you aren't able to link up with us this month, sign up here to get a reminder for next month's post. If you share on social media today, use the hashtag #thedailydimelinkup so we can stop by and say hello.
This month's guest host is Kristen, from Blissfully Insane. Be sure to visit and give her lots of love today! Don't forget to visit our monthly hosts and check out all the links in the widget below.